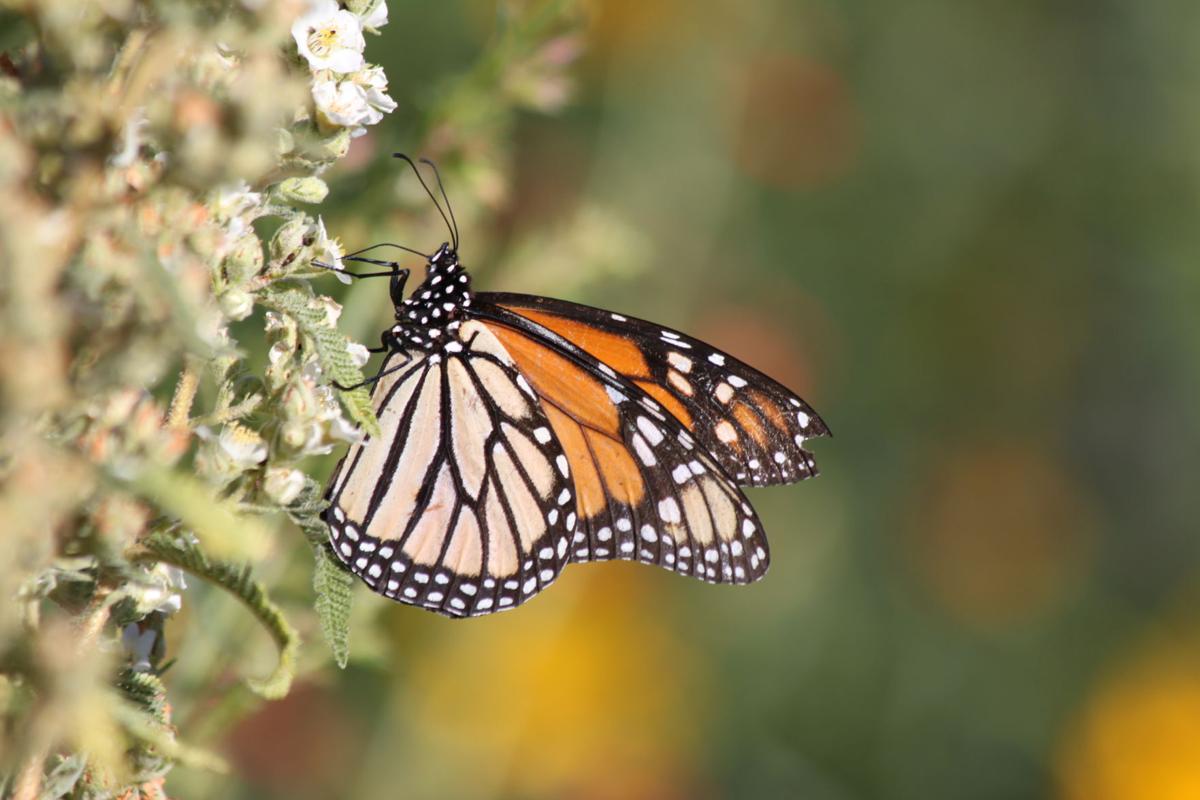 I was ambling through my yard a few days ago when I happened upon a plant that looked remarkably like a horsetail milkweed.
It was about to burst into bloom, so I returned the next day to take a look at its flowers and properly identify it. Sure enough, it was a horsetail milkweed.
Like all milkweed flowers, each was composed of a five-petaled corona set upon a corolla of five often backward-bending petals. A dozen or so of these tiny, creamy flowers were grouped together on an umbrella-shaped cluster at the top of a stalk. I have since discovered about a dozen more of these special plants on our property, and I have told my husband not to mow in those areas to protect them.
Why all the fuss over a few small plants? Milkweeds are the only food source for monarch butterfly larvae. That means this butterfly will go extinct if milkweeds disappear -- which is exactly why entomologists are concerned.
In the past 20 years, the worldwide monarch populations have dissipated by about 95%, along with a similar decline of milkweed populations. This shouldn't be surprising, given the widespread use of weed-killers and pesticides, the massive conversions of milkweed habitat to farming and land development, and the deleterious effects of climate change on milkweed.
Additionally, since monarchs rely solely on temperature cues to trigger their migration from Canada to Mexico and back again, global climate change is creating chaos in the timing of this annual event. For example, in recent autumns monarchs have had to wait longer than normal for Canada to cool down before they can take flight, causing many butterflies to perish from extreme cold upon reaching the Midwest.
Successful pollination of milkweed has always been a tricky business and is becoming even more so due to sharp declines in native insect pollinators.
I had always believed milkweeds were pollinated principally by monarchs. In truth, medium-sized insects like butterflies and honeybees occasionally pollinate milkweed as they're foraging for nectar, but are often too weak to disengage the pollen-containing sac (pollinia) from the milkweed flower and carry it to another. Large insects like bumble bees, carpenter bees, and wasps are much more capable of accomplishing this task. I've heard that spider wasps are quite adept at it, and fortunately, northern Arizona is home to many.
But let's not despair quite yet. A number of organizations, governments, and citizens are working towards lending a helping hand to both monarch butterflies and milkweeds.
One of the most promising developments occurred on April 8 when an agreement was signed between the University of Illinois-Chicago, the U.S. Fish and Wildlife Service (USFWS), and more than 45 energy and transportation companies, along with a number of private landowners. The participants of the agreement promise to carry out conservation measures to reduce or remove threats to monarchs and other related species and to maintain their habitats. Additionally, the USFWS is scheduled to make a determination on whether the monarch butterfly is warranted a listing on the Endangered Species Act in December 2020.
You and I too, can help. This fall we can plant milkweed seeds native to Northern Arizona such as: Antelope Horns (Asclepias asperula), Butterfly weed (A. tuberosa), Horsetail Milkweed (A. subverticillata), and Showy Milkweed (A. speciosa). Some gardeners I know get their seeds from Terroir Seeds, a company based out of Chino Valley. If you prefer transplants, our local nurseries often have them, but be sure to call ahead. Plant in the spring or fall, about 18 inches apart. Whatever species of milkweed you choose, research the growing conditions of its natural habitat, so you can choose a suitable site in your landscape. You'll likely need to provide irrigation during your plant's first, few seasons.
Let's not forget adult monarchs require nectar to power their flight. We can play a role in their survival simply by including nectar-rich flowers in our landscapes like coneflowers, asters, zinnias, sunflowers, and many more.
I hate to imagine a world without monarchs. But knowing that so many people are working towards assuring their survival, I am cautiously optimistic it won't come to that.
Get local news delivered to your inbox!
Subscribe to our Daily Headlines newsletter.