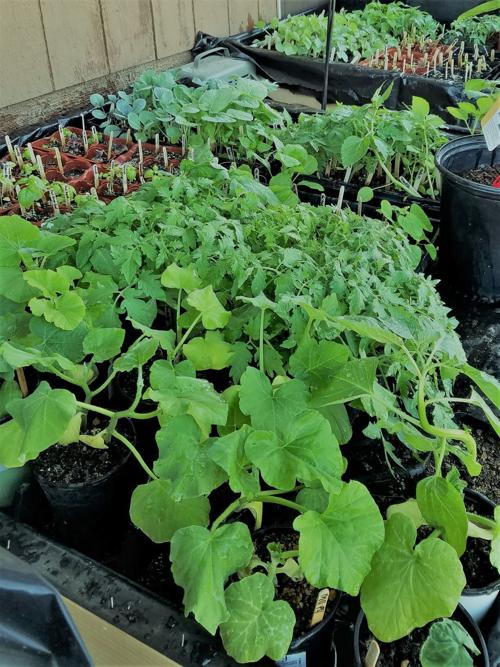 Ah, March. That siren temptress month which leads every gardener into a false hope planting season is here.
Seed packets in hand, we are ready! Then we meet April and her equally-erratic twin, May, and hopes—if not the plants themselves—wilt with a late spring frost.
What is a gardener to do? Simply put, try again. But this time, arm yourself with some of the best tips available for healthy, resilient seedlings.
GETTING STARTED
The first rule of thumb when starting seeds is follow the instructions on the package. Here you'll find invaluable information about planting depth, days to maturity, spacing, and frost/heat/sun tolerance. Use light, fine-grained soil mixes for seeds. My favorite combination is one-part sand, one-part coconut coir or sustainably-harvest peat moss, to four-parts compost. Pack this mixture into trays or seed-starting pots.
COVER AT NIGHT
Warm soil is critical for sprouting. Germination temperatures for vegetable and flower seeds range between 65-85 °F, and this means at night and during colder days, seed pots need to be covered, brought inside, or given an external source of heat like a grow light, heat lamp, or even Christmas lights. These lights can be put on timers for a certain duration or can be attached to sensors, which activate when the air temperature drops below a set degree.
LET THEM HAVE LIGHT
Once a seedling emerges, keep those weak, little stalks in direct sunlight or with an artificial light hanging two to three inches above them. Move the light up as the plant grows to ensure a strong, straight stalk. Because plants need a night cycle too, turn the lights off eight to twelve hours within a twenty-four-hour period.
CONSISTENT MOISTURE IS A FIGHT
Fragile seedlings need their feet to be consistently wet but not soggy. This may require a gardener to water more than once a day. Do a simple, frequent check by pressing a finger down in the soil next to the seedling. If the soil is wet to the touch but water doesn't pool, it is just right. Watering with a mister or watering from the bottom also helps. Housing young plants in a spot with high humidity is ideal, but if this isn't possible, consider keeping the seedlings covered with a thin, frost cloth to allow sunlight in but barricades the wind out. A word of caution, however; seedlings need good airflow to combat against damping off. Situate your covering to receive some airflow without overwhelming your plants with soul-sucking gusts of dry air.
HARDENING OFF RIGHT
At some point, those plants will need to learn to thrive on their own. Any time after the first set of true leaves appear, it's time to let them go on playdates with the sun. Start these rendezvous in small increments—say two to four hours a day, depending on the type of plant—then work up to leaving them out all day and eventually overnight (though covered until the threat of frost has passed). Most literature will tell you hardening off will take around two to four weeks, but with our high elevation sun, I have found the number to lean more towards four to six weeks.
Now armed with these tips, go ahead and embrace the March itch to plant. It can be the perfect month to start those long-to-establish vegetables like eggplants and onions. And once you have success with those, you'll feel empowered to start other varieties once the twins, April and May, come to call. Soon you'll wonder why you worried about late spring frosts at all.
Jackee Alston is the co-editor of Gardening Etc., a Coconino Master Gardener, founder of the Grow Flagstaff' Seed Library, and has been growing food in Flagstaff for 14 years. If you have a gardening topic you would like to hear about, please send your question or topic to cocogardenprojects@gmail.com.
Get local news delivered to your inbox!
Subscribe to our Daily Headlines newsletter.