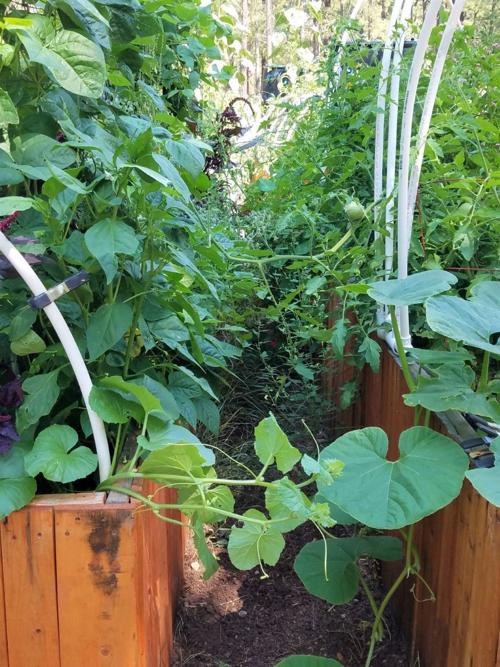 Q: I want a garden, but I don't even know where to start. What would you suggest?
A: This is probably the question we get asked the most because starting any project can be the daunting step. But there are a few questions you can ask yourself to streamline the process.
First, think about the purpose you want the garden to serve. Do you want it for beauty, food, or a hybrid between the two? Most people don't know what they want until they see other gardens or landscaping they like, so take a walk around your neighborhood and see what draws your eye. Use the components you were drawn to and work them into your yard. Many people find they want a hybrid of beauty and edibility. Depending on the amount of space you have, this is completely possible. And now that you have an idea, it's time to consider the logistical details to make your garden a reality.
SPACE
Knowing the size of the area you want to garden helps in planning how much you'll have to spend and how to lay out the design. Some people in our area have acres to work with, others, a patio with pots. All can be beautiful and productive, so don't let space be your discouragement. Simply plan with area constraints in mind.
WATER
How are you going to water your plants, and how much will they need? For me, this is what I think about last, though it should be first. Watering by hand can be time intensive and hard on the environment. Cluster plants together based on their water needs and consider burying an irrigation system or even simple drip tape to minimize your water waste. Also think about how you can utilize rainwater to cut down on municipal water use. Many drought tolerant plants can be beautiful and save you time and resources once they are established.
STRUCTURE
Gardens can be in the ground, pots, or in raised beds. Think through how you want your garden to look and consult your budget. What to grow plants in is a near-endless list — from coffee cans and hardware store buckets to landscape-designed beds and freshly-tilled fields. Even pallets as shown above can be repurposed in several, different fashions. A word of caution when working with wood: make sure to treat it with nontoxic materials to keep the boards from decomposing after a few years.
SOIL AND SUN
Depending where you live in northern Arizona, there is a danger of too much or too little sun. Throughout the day and at different seasons, watch where you want to plant and make sure you have adequate light. For full sun plants, consider areas getting 5-7 hours of sunlight. At our elevation, that amount is sufficient and if more than 9 hours, decide if those plants may need some afternoon shade instead. Your local garden center can also help you select plants able to thrive in partial shade. Many native flowers, like some penstemons, blanket flower, and Mexican hat do alright in shady areas.
Soil drainage, proper nutrition, and plenty of organic matter can't be emphasized enough. Gardeners know they've reached the next level when they realize they are cultivators of soil health more than of the plants themselves.
PLANTS
It is normal to want to start with buying plants before preparing your area and water needs. Avoid this. Picking out plants is the fun part, but unless the other details are in place, it will cause frustration. Often gardeners choose to landscape with low-water plants and save their water use for vegetables and fruit plants grown at a plot size manageable for their time, space, and budget.
Much of gardening is trial and error and it is one of the few pastimes where failing is encouraged because it is how to learn. And since each space is different, there will be failures. So, go ahead: Fail. Learn. Try. The first step isn't as daunting as you might think.
Jackee Alston is the co-editor of Gardening Etc., a University of Arizona Cooperative Extension Master Gardener, founder of the Grow Flagstaff! Seed Library, and has been growing food in Flagstaff for 14 years.
Even though the Coconino Cooperative Extension Office is closed, we are still here to answer your gardening questions. Call 928-773-6115 and leave a message or email CoconinoMasterGardener@gmail.com. A Master Gardener will return you call or message.
Get local news delivered to your inbox!
Subscribe to our Daily Headlines newsletter.