It was 7:45 a.m., nearly an hour before the start of the school day at Thomas Elementary School, when the little faces of kindergartners appeared, pressed against the front entrance windows, eager to get a glimpse into the school where they will spend more than 1,000 days in the first stage of their education.
Of the 15 Flagstaff Unified School District schools – which has more than 9,700 students and 1,300 full-time staff – 13 schools welcomed back students Thursday. Killip Elementary and Leupp Public School, which have modified year-round schedules, began three weeks ago.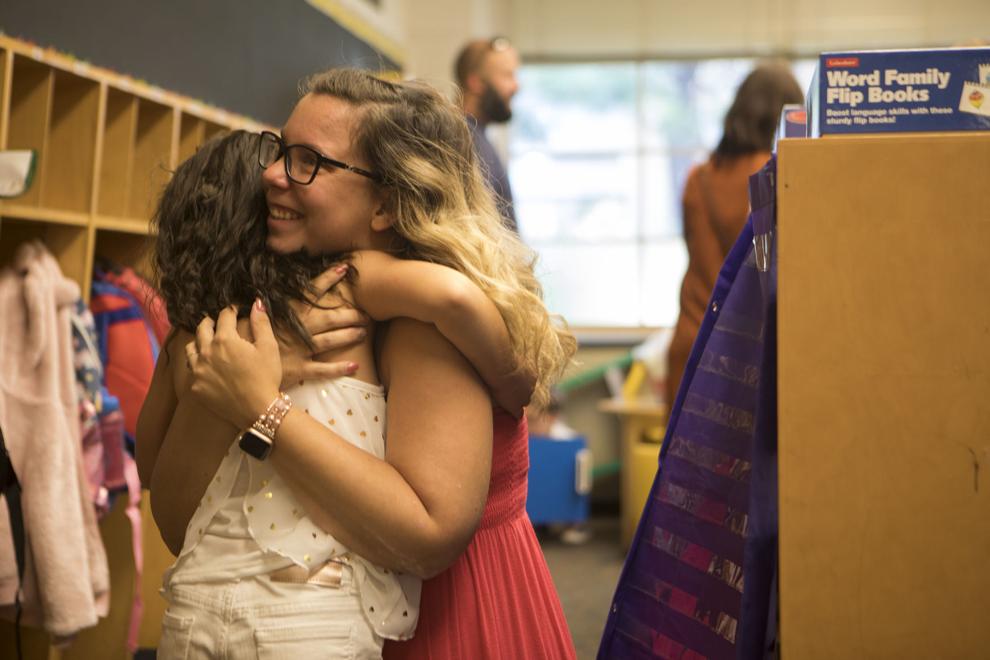 North Fourth Street, especially, felt the strain of the first day as dozens of cars squeezed onto the asphalt, inching forward in a long line from East Butler Avenue to East Linda Vista Drive as parents attempted to get their young passengers to class on time.
If new students were nervous, they concealed it masterfully.
Benjamin Tietje, 5, was ushering his parents out the door long before the final bell so he could get started in Ms. Hendricks' kindergarten class at Thomas Elementary.
"Bye, I love you. I'll miss you, Mommy," he said with a quick hug to his parents' legs before darting off to find his seat.
The now-kindergartner and his family have lived in Flagstaff for less than a month after relocating from Phoenix and are thrilled to have joined the school community.
"We love Thomas. We love all the staff we've met and the energy and feel of the school," Benjamin's mother, Julie, said.
Benjamin's 2-year-old brother, Charlie, wanted to join in the first-day activities, too.
"He was trying to convince us he was three [years old] this morning so he could come to school," said the boys' father, Mike.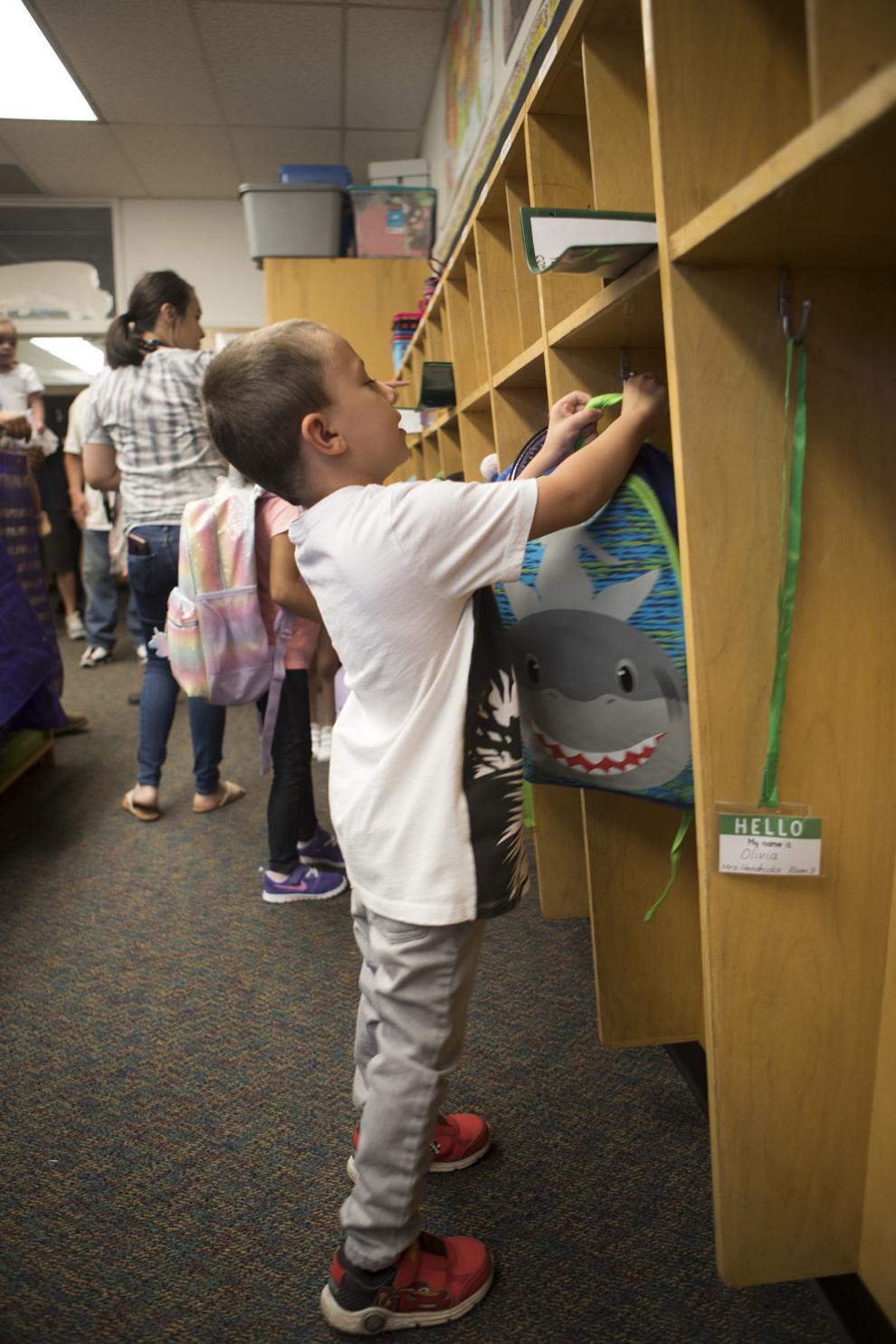 Some teachers like Marisa Hansen, a Northern Arizona University alumna, used special techniques to calm down her eager students, even before the day began.
During Meet the Teacher Night Wednesday, Hansen passed out "jitter glitter" to her kindergartners' parents, instructing them to put the glitter under their child's pillow to counteract their first-day jitters and help them sleep through the night.
Victoria Ramirez said her daughter Rubiana, 5, woke up in the middle of the night when she realized they had forgotten the glitter.
"She told me, 'My teacher said you're supposed to do this.' Then I did and she went right back to sleep," Ramirez said with a laugh.
Sixth graders beginning at Sinagua Middle School were equally enthusiastic for school to begin as they waited for friends on the school's ostentatious entryway stairs so they could begin their middle school experience together.
A fourth-generation Flagstaff local, Cristiano Cox-Martinez, 11, waited for friends with his mother and sister, claiming to be tired but with an alertness only the first day of school can bring.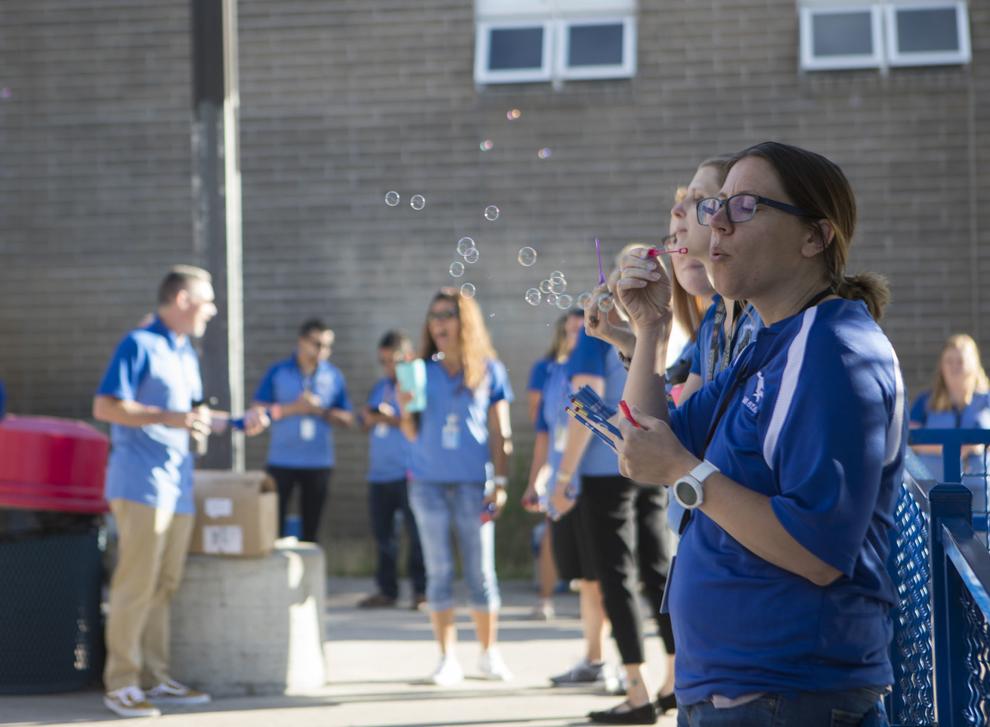 "I'm so excited for him. I went here for sixth grade so it will be interesting to hear if things are still the same and if he enjoys it as much as I did," said his older sister, Ashton, who will start classes at Coconino Community College in a few weeks.
Principal Tari Popham, who has delayed retirement to continue in her position, was the first in line to hand out blue pencils to students and their younger siblings – "future Mustangs" – as is the Sinagua first-day tradition.
Other teachers waited behind, passing out their pencils and blowing bubbles, wearing matching blue polo shirts with the words "Celebrating 10 years Mustang strong" to commemorate Sinagua's 10 years as a middle school.
"It's always exciting the first day. Everybody is excited about a new year and a new start and we have just such a fabulous staff that I'm just so excited to get it going. I love it. I never wanted to leave," Popham said.
Lance Serrano, who was hired as a bus driver this summer after retiring from the City of Flagstaff last year, began school Thursday, too.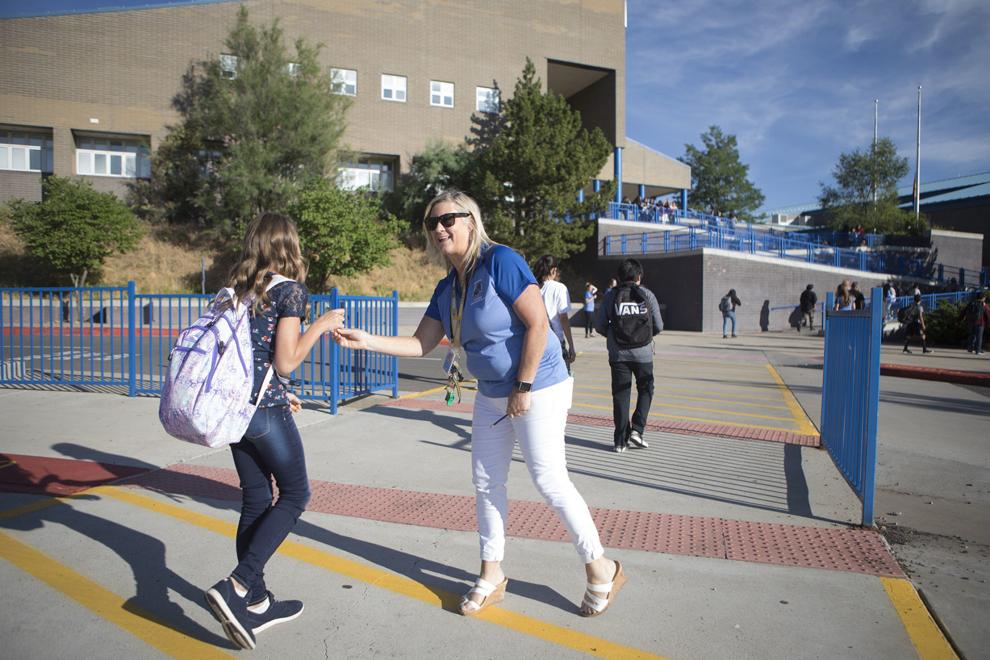 Serrano has coached linebackers and running backs for the Flagstaff High School football team since moving to Flagstaff more than a decade ago and hopes to be as helpful in his new role.
"I want to make a difference in kids' lives, no matter how small or big. There are a lot of hurting kids out there," he said at a back-to-school event for FUSD staff on Tuesday.
By the end of the day Thursday, students and staff alike were tuckered out, but the enthusiasm lingered.
When the kindergartners filed out after their half day, they looked "haggard," said Ellen Herman, the new principal at Kinsey Inquiry and Discovery School, a former fourth grade teacher at Thomas.
In her visits with both students throughout the day, kindergartners and fifth graders alike agreed they would be napping when they went home.
Melva Thompson and Emily Bachman, third grade teachers at Kinsey, are looking forward to getting back into their routines alongside their students.
Bachman joked (with a hint of seriousness in her voice) that it sometimes takes students until Thanksgiving to find that routine.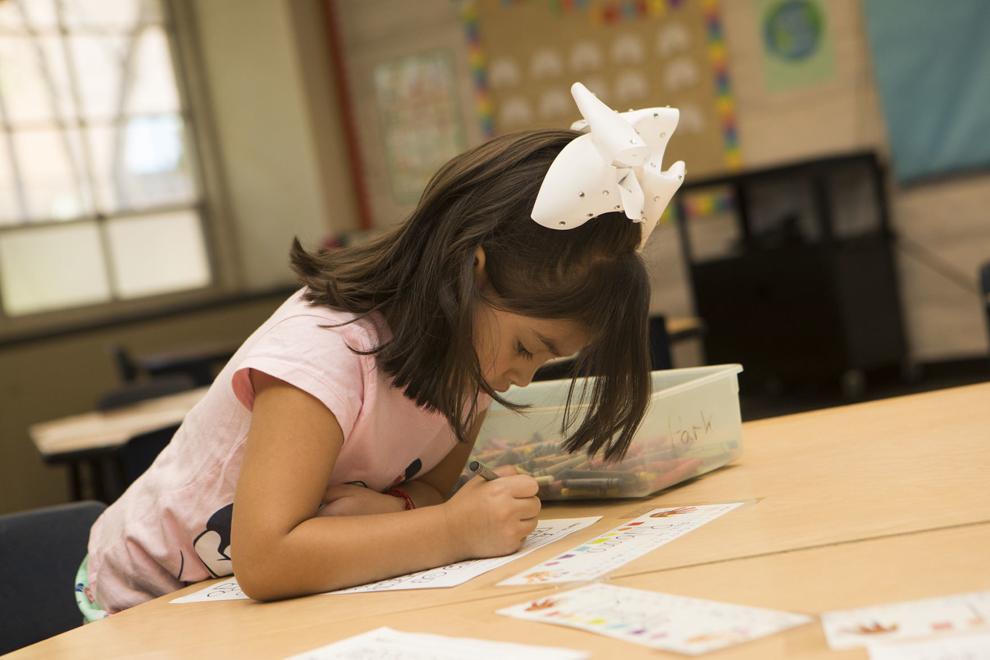 She had a student fall asleep in class twice on Thursday.
Unexpected naps and all, though, students made a good impression on their teachers, just as Kinsey teachers did on their new principal.
"It's a really sweet class this year," said Thompson, a self-named science nerd who was ecstatic to discover that many of her students consider science their favorite subject.
"The teachers here just love these kids and you just feel it. There's so much passion in this building to make a difference and showcase what all of our kids are capable of and I think it's palpable when the kids get here. You feel it anyway when the building is empty, on those teacher work days, but then when those kids arrive, you definitely see that this is what they were meant to do and who they were meant to serve," Herman said.