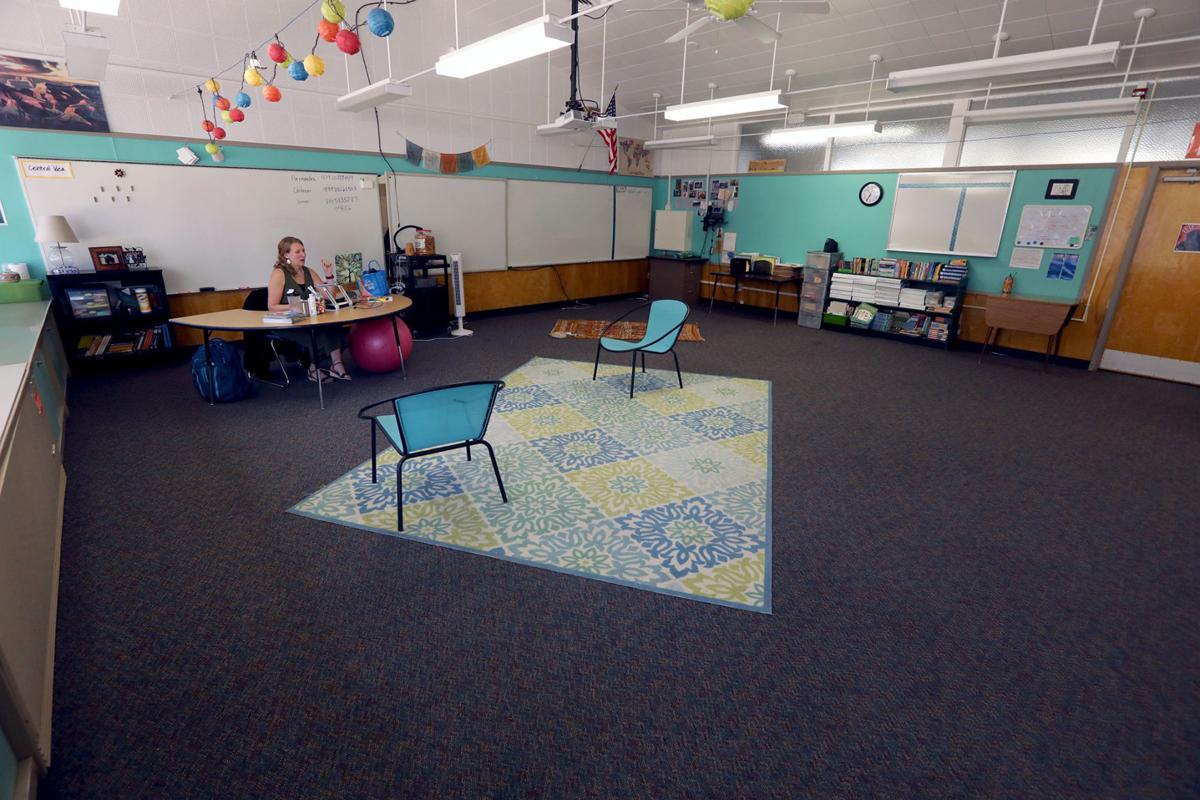 Flagstaff Unified School District has set its guidelines for a phased return to in-person classes, a process that, after certain health standards are met, will take several weeks to bring schools back to full operation, except for the families that choose to keep their students in the online learning program. 
In a virtual meeting Tuesday evening, the FUSD Governing Board agreed to use Coconino County's weekly COVID-19 schools update, which has less of a delay than state data, to determine when it is safe to reopen schools. The board set its benchmarks for reopening to be more stringent than even state requirements. 
FUSD will wait until the ZIP code areas it serves are in the moderate community spread category for two consecutive weeks, COVID-19 incidence is less than 75 per 100,000 people, and percent positivity of testing is at 5% or below before starting its phased return to in-person learning.
The Arizona Department of Health Services (ADHS) recommends less than 100 cases per 100,000 and percent positivity below 7%.
According to the latest Coconino County school report dated Oct. 2, the FUSD area falls within the substantial community spread category with 236 cases per 100,000 and percent positivity at 7%.
Superintendent Michael Penca said Tuesday the goal with these thresholds is to avoid returning to school campuses when the area is only on the borderline of the moderate spread category, which is represented as yellow in the ADHS return-to-school benchmarks.
"We want to be able to provide that certainty for our staff, our families, our students, so we want to be a solid yellow because our desire is that, once we start that phased plan, we're able to remain having that hybrid learning going on for a long period of time," Penca said.
Once these standards are met, a four-week return-to-school plan will begin, starting with staff returning to district offices and schools the first week so they can prepare workspaces and be trained in safety protocols. Teachers will continue teaching remotely until the following week, when the first students return. Each student group will return to five days per week of in-person learning.
Preschool, kindergarten, first, second, sixth, ninth and 12th grades, plus students in specialized programs, were selected to return to school first. Assistant Superintendent of Curriculum and Instruction Mary K. Walton said these grades were chosen to provide orientations to students who are at a new school and to serve those who need in-person instruction, as well as to provide opportunities for post-secondary planning for high school seniors.
This group does not include all special education students, only those who spend the majority of their school days outside their regular classroom in a specialized classroom like the Beacon and Lifeskills Programs. Other students receiving special education services, such as those with 504 plans, will return with their grade level.
During the third week of the plan, grades 3, 8, 10 and 11 would return and during the final week, the remaining grades -- 4, 5 and 7 -- would go back.
Full online learning is being offered to all families once the phased reopening begins. Penca estimated this option will be selected by 10% of the district, or about 1,000 families.
Based on current data, the earliest the first phase of students would be able to return would be the last week of October, unless the next county report still shows substantial transmission, Penca explained. In that case, the plan would be pushed back another week.
If the local data worsens over the course of two weeks — with more than 150 cases per 100,000 people and positivity more than 10% — district administrators will initiate a return to full remote learning.
"I think we're just going to have to monitor this on a week-by-week basis and we have the data available to us to do that," Penca said.
Much like in previous board meetings on the return-to-school plan, public comments were often completely polarized, with some demanding the immediate return to in-person learning and others pleading against it.
Of the 69 comments this week, a few were also submitted from parents of children attending local public charter schools, who asked the board to consider reopening because other Flagstaff schools such as Northland Preparatory Academy, Basis Flagstaff, and Flagstaff Arts and Leadership Academy often follow FUSD's calendar and actions.
Jemma Thompson, 11, a sixth grader at NPA, also submitted a letter asking for a return to in-person classes for FUSD to help not only her two brothers, who attend DeMiguel Elementary, but also students at her school. She expressed her concerns about technical and internet issues, teacher stress and distractions that have made online learning especially difficult.
"My brother and I are working so hard every day just to pass and maybe learn something new. We really hope we can go back to school as soon as possible because we can't handle it anymore. No one can. I really hope you guys listen and open our schools so not only me but everyone has a chance to learn," Jemma wrote.
Though the layout of the phased return has been approved, FUSD has yet to determine specific details such as how performance-based classes will operate as well as how teachers will be supported in balancing teaching online and in-person simultaneously. However, general COVID-19 health and safety procedures have already been established and will include wearing masks while at school.