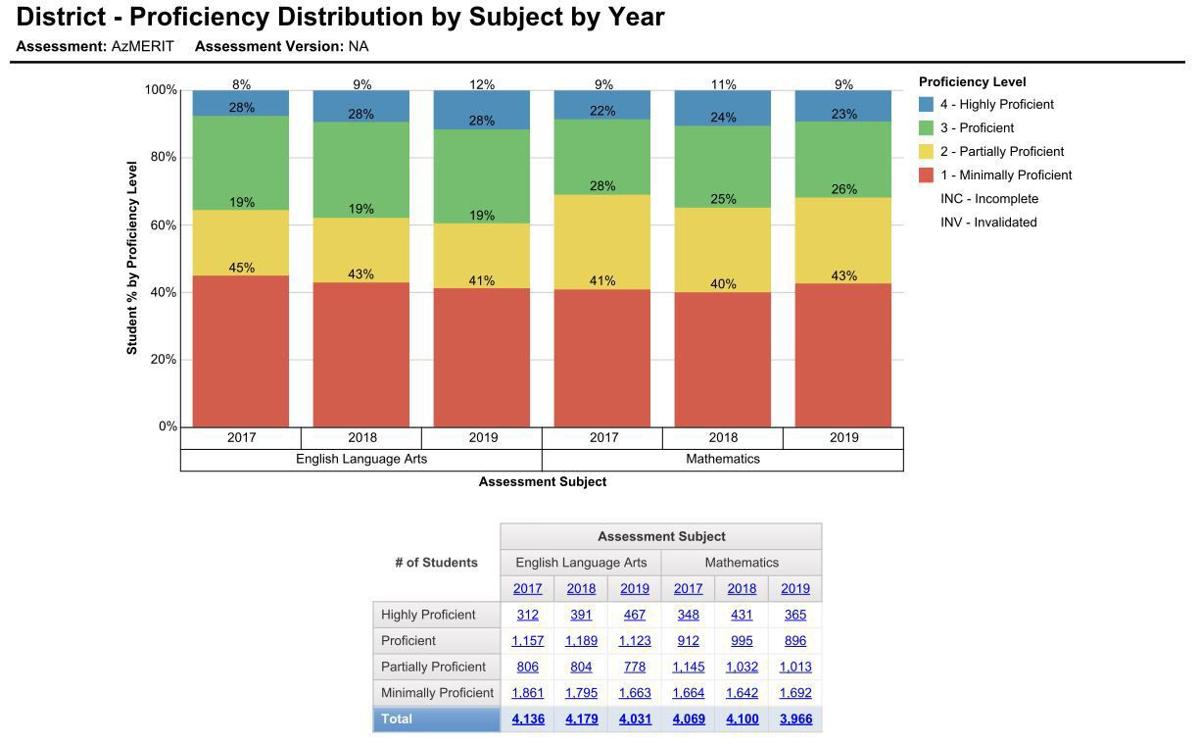 As standardized testing scores from the last school year are released, Flagstaff Unified School District is launching a new tool to help its staff use the data more effectively.
2018-19 Initial Results
The statewide Arizona's Measurement of Educational Readiness to Inform Teaching (AzMERIT) test is completed annually by Arizona students from third through 11th grade in English Language Arts (ELA) and math. Students in fourth and eighth grade also complete the Arizona's Instrument to Measure Standards (AIMS) science exam.
Throughout the district, ELA performance increased last year, with the number of students scoring "proficient" or higher at 40%, a 3% increase from last year.
Math scores, though, decreased: 69% of students scored "partially proficient" or lower, 4% more than last year.
AIMS science results were increased by 6% in the proficient categories, with 5% in the highest performing level, "highly proficient."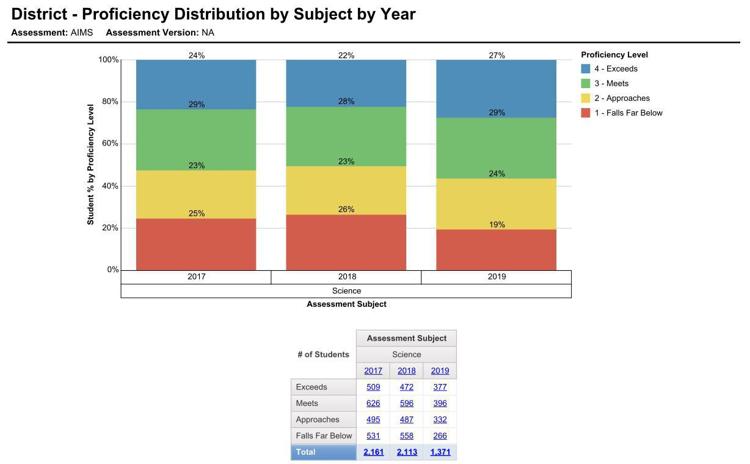 Special education students throughout the district showed significant improvement after several years of more constant results, with 6% fewer students falling in the "minimally proficient" lowest category in ELA and 5% fewer in math.
Susan Smith, director of Exceptional Student Services, said this improvement in special education results came from all schools, but especially Cromer Elementary.
Statewide school letter grades, based on AzMERIT scores, are scheduled to be released later this fall.
DecisionEd
To help teachers and other district staff better manage these results – and other student data – FUSD is implementing DecisionEd throughout the district this year.
This secure program combines test scores, grades, attendance, disciplinary procedures, enrollment and more into a single dashboard tailored to different types of employees, like teachers, principals and counselors.
"We don't have to go in blind. We can use these results … and make [them] part of our plans on how to address the weakest issues," Robert Hagstrom, FUSD director of research and assessment, said in a presentation to the FUSD Governing Board last week.
Semimonthly trainings begin next week to guide teachers and school support staff through the program and the more than 120 reports it allows them to create.
These reports can be as broad as an entire class or as specific as a single student and can be further narrowed by characteristics like gender, ethnicity or number of absences.
"The great thing for teachers is that they don't have to spend all their time gathering this data and then not having enough time to do anything about it. Once they learn how to use [DecisionEd], it's going to be there so they can focus their energy on making action plans," Smith said.
DecisionEd was purchased during the 2017-18 school year for more than $175,000. Yearly maintenance costs total $39,000, but Hagstrom told the Daily Sun that this cost is less than that of previous systems, which have been taken offline to offset the expenditure.
Once the program was purchased, it took about eight months to connect a dozen different data systems so they would update automatically. Because of this high investment – of both finances and time – Hagstrom said the intent is to keep the system around as long as possible.
Additional data not already in the system like Individualized Educational Plans (IEPs) and school bus data can still be added later.
Hagstrom described the program like a new car, with even more functions yet to be discovered.
"It's just a matter of refinement, refinement, refinement and continuously improving it and, when it's appropriate, adding those additional systems," he said.
Get local news delivered to your inbox!
Subscribe to our Daily Headlines newsletter.