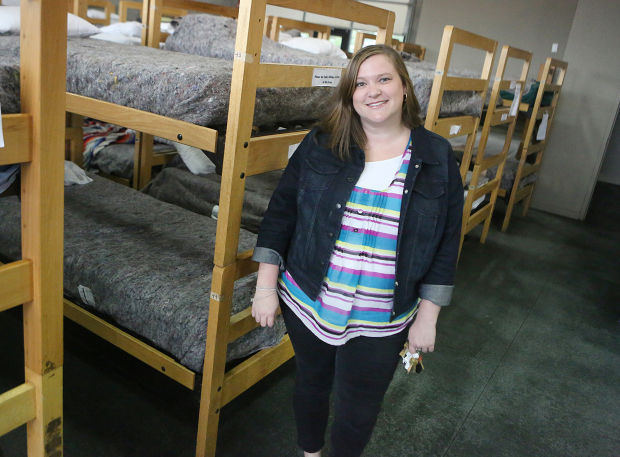 Those seeking shelter in Flagstaff will have an easier time getting connected to appropriate resources this year, after local social service providers, including Flagstaff Shelter Services, Catholic Charities and other providers who serve those in need have formalized a partnership called Front Door.
The idea behind Front Door came about two and a half years ago, said Ross Altenbaugh, the executive director of Flagstaff Shelter Services.
"We were having a general conversation about how people experiencing homelessness in Flagstaff are assisted," Altenbaugh said. "We have all these great service providers, but we were not connecting the dots for people very well."
Previously, a person or family might put their names on several waitlists for service providers, and might go to the one with the first availability, which might not be the best suited for their needs, Altenbaugh said. With the collaboration of Front Door, providers hope to streamline the waitlist process, so a person or family can sign up for one list and be connected with services around the city that are most appropriate for them.
After receiving funding from various organizations around the city and the state, including the Flagstaff Community Foundation, the city of Flagstaff and the Arizona Department of Housing, as well as the nonprofit organizations contributing money from their organizations, the program took effect in January.
Since then, Altenbaugh said 320 people have done the intake process for Front Door, which includes an evaluation process that determines the level of vulnerability a person has.
"When people come in, they do intake immediately," Altenbaugh said. "Now, there is a specific Front Door intake worker who determines the programs that are most appropriate for each person. This means that we can serve people quicker and with a better solution for their homelessness, and, in most circumstances, it's cheaper."
Along with a streamlined intake process, the service providers in Front Door now meet for weekly case conferencing, where they discuss specific cases and coordinate on which provider has the ability and expertise to service each individual.
You have free articles remaining.
"This is a way for us to prioritize those who are most likely to die on the street tonight," she said.
The singular list used by each agency will also guide all local agencies in data collection, to give a clearer idea of the statistics on homelessness in northern Arizona.
Sandi Flores, the northern Arizona Director for Catholic Charities, said another piece that came with Front Door is diversion, which Altenbaugh said is very difficult to do without collaboration.
Flores said diversion can include reaching out to family members or friends of an individual and seeing if someone close to them can help them get back on their feet. That could mean calling a person's parents and asking for them to take the person in for a while, or seeing if the person could pool money with friends and rent an apartment.
"These are alternatives that would prevent you from entering a homelessness situation," Flores said.
Altenbaugh said diversion can be difficult without coordination, but called it "the homerun" for making sure vulnerable people have shelter.
"With diversion, they never experience homelessness and the community doesn't have to support them," she said.
While the program is still new, both Altenbaugh and Flores said they had seen improvement in the services provided.
"It's about taking the burden off the clients," Altenbaugh said. "It puts the onus back on the providers to end their homelessness, and that's what we're here for."
Altenbaugh said the service also helps others in the community, like churches, libraries or people who want to help, but do not know where to direct a person in need. With Front Door, churches and other groups can direct people to a singular location, Flagstaff Shelter Services for singles and Catholic Charities for families, and know they will be served appropriately.