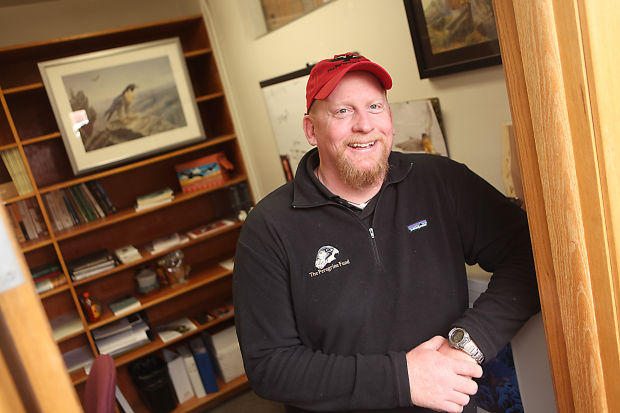 When he talks about wildlife conservation, his 6-feet, 3-inch frame appears to grow with the passion in his voice. From underneath a ball cap, his eyes search the eyes of his subject for attention and understanding.
Those qualities are easy to come by when talking with him. His boots and jeans signify outdoor work, but his manner and speech reveals the scientist within.
Chris Parish has made birds his business.
He's known for condors. But, if you ask him, his mission is a greater one of education about conservation. And it is that greater mission that saw him named the Arizona Game and Fish Commission's Natural Resource Professional of the Year for 2012.
"I thought I would go into some form of fish and wildlife management," Parish said of his journey to NAU from a rural childhood near Bakersfield, Calif. A hunter his whole life, he figured the path a natural one.
But big-game management was competitive and the jobs were scarce. Nongame work offered much more opportunity.
"I started with the black-footed ferret program with Game and Fish," Parish said. "To me, it didn't matter what species. I wanted to work in wildlife management, and, by extension, conservation."
That is why he became a biologist, Parish said. His interest in conservation and hunting made a good fit.
His gig with the condors began in February 1997, when he worked as a biologist for the state specifically for the condor program. The condor program began in 1993 with captive breeding of the birds, which had dwindled to 22 birds in the wild. In 1996, the program began releasing birds back into the wild of Arizona.
In 2000, Parish left the state and began managing the program for the Peregrine Fund. He currently holds the title of condor project director for the Peregrine Fund.
"It's just a perfect place for me," he said.
His mission beyond the condor program is one of education. To him, conservation is a concept not well-represented in the hunting community, of which he is also a member.
Case in point: Lead poisoning continues to be a leading cause of death of the condors that get released into the wild. They eat gut remnants of butchered animals harvested by hunters who use lead ammunition.
Parish is currently working on a Ph.D. at NAU on condors. He regularly makes presentations to hunters and hunter groups to find common ground on the dangers to the condor population of using lead ammunition.
His goal: To break down stereotypes and barriers to meaningful conversation.
And when he's not studying, or educating, he's working in the field. His job has no set routine. There's studying, going to classes, responding to news media requests about the program, talking biology in the community, and working as supervisor to the condor program.
He attends board meetings all over the world where birds of prey are endangered, and he even shoots video to assist with a myriad of productions that have been made about the condors.
Some days, he's driving a backhoe out to the research site in order to fix the plumbing for the birds and the biologists working out in the field.
"That diversity is what I thrive on," Parish said.
In addition to "doing good science" and getting it published, he is acutely aware of the need to follow up on policy decisions that result in the wake of the science. He talks often about "branding" and "marketing" conservation as a product, to get people to care and support conservation efforts.
For him, the story is not about saving the condor as much as what has been done to save the condor, in order to repeat the experiment and open the minds of others to inquire about other species and the roles they play in the natural resource continuum.
His passion about birds and conservation is contagious.
Book learning and field experience has allowed him to "really know birds," he said. And that creates its own sustaining enthusiasm.
"Did I think I'd be doing any of this stuff?" Parish asks. "Hell no. It's been a wild ride.