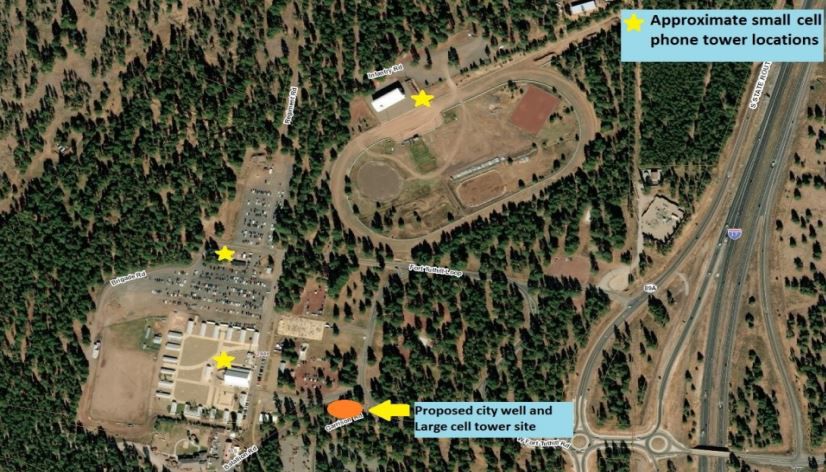 By spring 2020, Fort Tuthill could look a little different as the county and city strive to bring additional amenities to park visitors and nearby residents.
Within the same section of Fort Tuthill, Coconino County is working with cellular carriers to install several cell towers, while the City of Flagstaff is creating a second water supply well.
Cell towers
Cellular carriers Verizon, T-Mobile and AT&T have approached the county about various cellphone tower options for Fort Tuthill, where county staff say poor phone service has had a negative impact on special events, public safety and county employees.
"Especially during large events, people complain they can't make phone calls, text or bring up their digital tickets. If someone needs to call 911 or something like that, you're not guaranteed to get through," Parks and Recreation Assistant Director Brian Grube said.
The towers would be no cost to the county to build or maintain. It will cost the carriers between $1,200 and $5,000 monthly to lease the space.
This summer, parks and recreation used a portable Verizon cellphone tower vehicle ("Cellular on Wheels") during major events like the Museum Fire and the county fair, also provided at no cost.
"Through that process, it became evident that [Fort Tuthill] is an underserved area. We noticed during these large events you could actually make phone calls and get through to folks," Grube said.
The project to install permanent cell towers began in the spring. The county is now negotiating the terms of a contract with carriers and is working to obtain necessary clearances, like one from the nearby Flagstaff airport.
Four towers have been proposed: a 120-foot tower made to look like a pine tree and three smaller "next generation" towers that can be attached to the tops of existing light poles.
Both Verizon and T-Mobile have expressed an interest in the more traditional, disguised tower, which would take eight weeks to build. Construction could start in four to five months.
Grube said the three alternative towers, proposed by AT&T, are appealing for their smaller impact to the area — they do not require any additional space, unlike the tree tower, which would also require space for a power station building.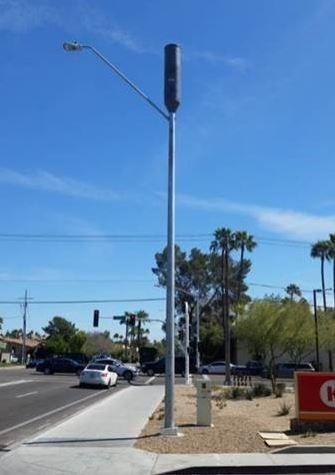 The three small towers would be spaced throughout the park, while the tree tower would be placed just east of the Military History Museum, south of the intersection of West Fort Tuthill Road and Garrison Road.
If the towers are installed as currently planned, Grube said the park "would have really excellent coverage for just about every carrier we have out here."
City well
The well would be the second within Fort Tuthill and is one of five approved by the Flagstaff City Council following a 2015 water rate study.
All five wells are planned to be built within a decade and are expected to cost $15 million in total. They are funded by the city water rate set in 2016.
The existing Fort Tuthill well was drilled in 2007 and produces more than 1,000 gallons of water per minute, making it the largest well in the Flagstaff region, where there are more than 20 wells maintained by the city.
Brad Hill, city water director, said water from the new well — one city staff hope will be as high-producing as its predecessor — will be piped into the city-wide water distribution system but will especially benefit Fort Tuthill and the Pine Del neighborhood.
"While staff is hopeful that this new well will also be a high producing, we won't know until it's actually drilled and constructed," Hill said in an email.
He said the goal is to begin drilling the well by spring or summer 2020. Drilling could last from six months to a year.
Current Fort Tuthill design plans place the city well next to the large cell tower, allowing for a possible shared electrical facility and access point between the two services. Hill said the city and county have been working together to ensure the cell towers will not interfere with the well and vice-versa.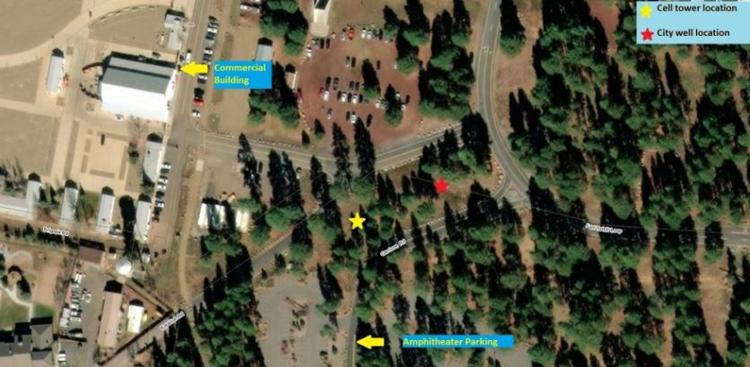 Though the two services would be metered separately if they shared an electrical facility, the county plans to use similar aesthetics to make all structures in this area look cohesive.
The city would be responsible for creating and maintaining the well.
Future plans
In addition to an additional electrical line brought in by the cellular carriers that could be used during future events, the county and city are continuing to work together on longer-term Fort Tuthill developments including the installation of a city sewer line in order to allow for more permanent restrooms.
"That would be an improvement our public would love to see," Grube said.
Get local news delivered to your inbox!
Subscribe to our Daily Headlines newsletter.