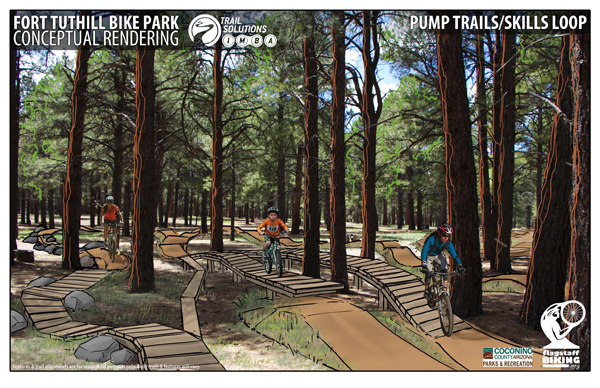 It's been a decade in the works, but it appears Flagstaff will soon be getting a mountain bike park at Fort Tuthill.
But only if the local cycling community can raise enough money to build it themselves.
The Flagstaff Biking Organization reached an agreement with the Coconino County Board of Supervisors this week that allows the cycling group to design the park, build it and hand the finished product back to the county — at no charge.
The county will operate the park, but admission will be free for all riders.
The Fort Tuthill Bike Park will feature seven acres of pump tracks, dirt jumps, skill development loops and flow trails. The goal is to have a place where people of all mountain biking skill levels can come to play and become better riders.
"There's a lot of interest for these things inside and outside of the biking community," said Flagstaff Biking Organization's Anthony Quintile, who is spearheading the project. "It's a good way to get kids outside and active."
He hasn't been able to begin fundraising because the plans have yet to be finalized and it was only just approved, but he's optimistic about the chances of starting constructing soon.
The total cost will be between $200,000 and $500,000.
"My dream is that someone comes out and says, 'Here's your $500,000 check,'" he said. "Of course, things like that never happen."
Instead, he plans to rely on the thousands of Flagstaff mountain bikers who work at and manage local business both big and small. If they're willing to spend $1,000 or more on a mountain bike, they might be willing to spend money on a park where they can ride it.
He'll also seek funding from various grant programs involved with healthy living, as well as the Coconino County Board of Supervisors' community initiative fund.
Once a final design is in place, Quintile said that FBO will hire local contractors and they, in turn, will be required to hire specialty bike park building companies. The measure ensures that the final result won't be a "bike park-shaped object," he said.
He said his dream is to build a scaled-down version of the Valmont bike park in Boulder, Colo.. The park, which cost that city millions of dollars, is considered a model.
Quintile says the Fort Tuthill project won't be complete for several years, but the park will be constructed in phases so that individual sections will be rideable as they are completed.
"I'm hoping we have something open and rideable by next summer, but if not, by the beginning of the next year," he said.