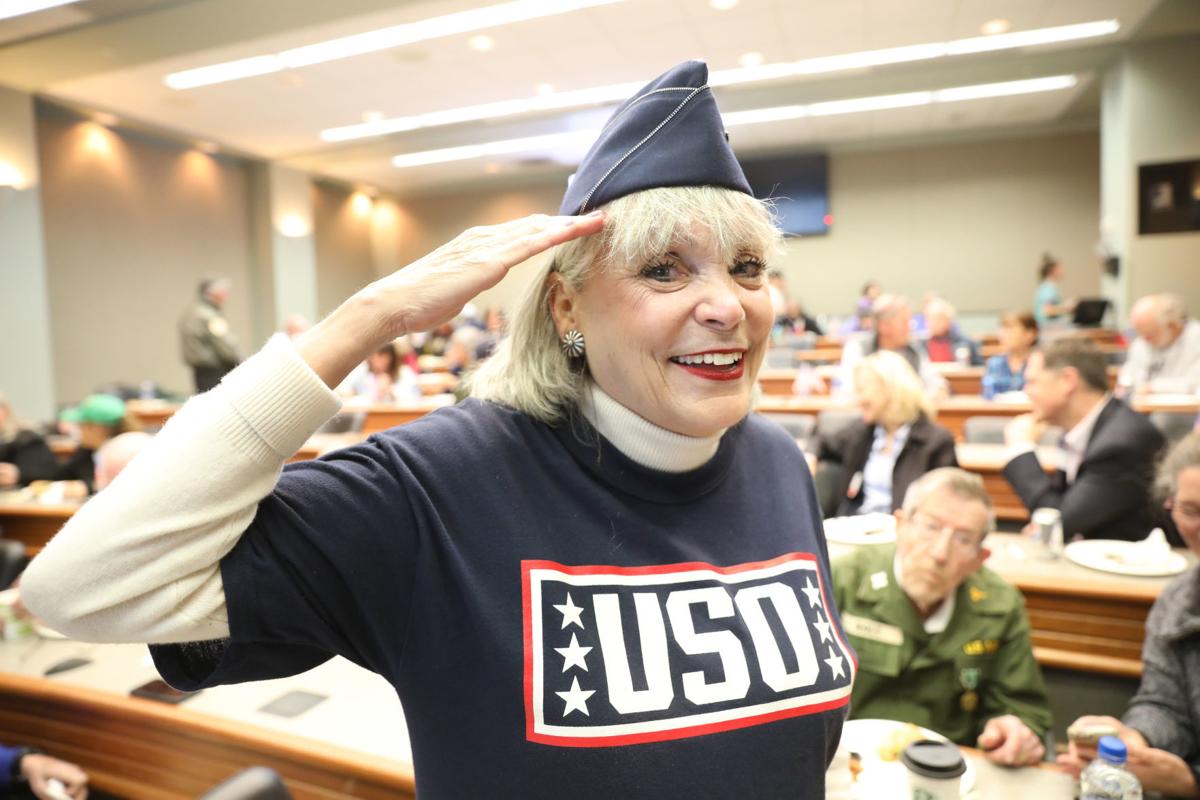 With her singsong voice and positive disposition, it would be a challenge not to be charmed by Terrie Frankel, 70, so it's no surprise she and her twin sister, Jennie, were "double the pleasure, double the fun."
By the time they were 18, the Frankel twins carried their musical talents from their home in Chicago to television as the Doublemint Twins for Wrigley's Gum and performers with the United Service Organization (USO) during the Vietnam War.
Though Jennie died in 2008, Terrie has become immersed in supporting the military from her home in Sedona (the Lucille Ball house), where she has lived for 26 years. She was selected as the guest speaker for Northern Arizona Healthcare Foundation's Veterans Day ceremony Monday morning, in recognition of her contributions to the armed forces.
Musical notes
Though the twins may have hated to admit it, their father was right. It was his vision -- and frequent letter writing -- that dramatically changed the course of his daughters' lives.
When the girls were 6 years old, he entered Terrie into a contest, where she won six weeks of free accordion lessons. He paid for Jennie to join her and six weeks eventually turned into 10 years: "child abuse" in Terrie's opinion.
"I wanted to play the piano, but our father said, 'You cannot carry a piano with you,'" Terrie said. "We performed everywhere and anywhere we could because he wanted us to become famous accordion players."
In 1966, when Terrie and Jennie were 16, they were selected to be the Doublemint Twins because of a letter their father wrote to the Wrigley Company.
"He said, 'I have two very talented twins. They sing, they dance, they play accordions and they would make very good Doublemint Twins,'" Terrie recalled.
The sisters auditioned together and were selected for the part, filming several television advertisements for the chewing gum brand, singing the ever-catchy tune, "Double your pleasure. Double your fun. With double-good, double-good, Doublemint gum."
Two years later, their father wrote another letter to the United Service Organizations (USO) in response to a newspaper ad for an accordionist. Within a matter of weeks, the twins were on a plane to Vietnam, to perform for troops there alongside the Sig Sakowitz Show.
It this experience, Terrie's first connection to the military, that prompted her lifelong support of servicemen and women.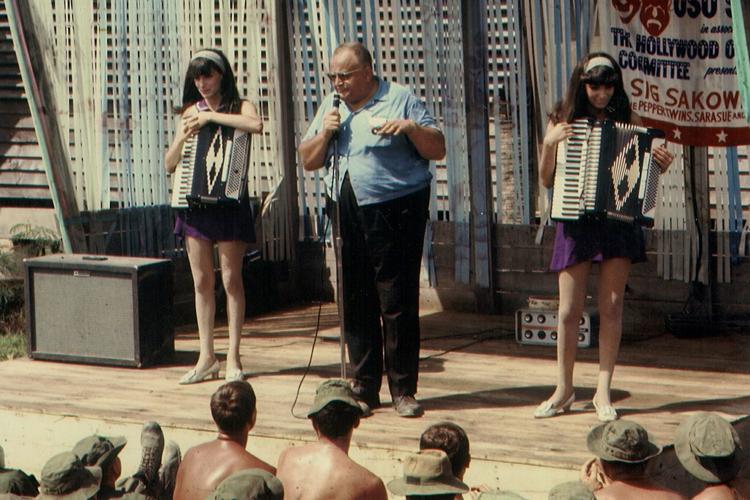 Touring Vietnam
The USO group, including comedians Tony Diamond, Joey Bishop and Martha Raye, performed a total of 36 shows in different locations throughout South Vietnam in the course of a month, from November to December 1968.
For each performance they were taken by Jeep, helicopter or plane from their headquarters, the Hilton Hotel in Saigon, to remote parts of the country, where Terrie said troops would wait for hours in the sun to see them. The Frankel twins sang folk songs and played their accordions, clarinet and guitar. Terrie's accordion is now displayed in the Doublemint Twins room (#204) at La Posada Hotel in Winslow.
"It meant so much to them. You always feel like you didn't give enough. I wish I could have gone again and again," Terrie said with tears in her eyes. "Until the day Jennie died, it was the most profound thing that we accomplished."
Terrie said they were admired like movie stars during performances and guarded like colonels in a moment when the fighting got too close.
One evening when it was too late to fly back to their hotel from where they were performing in "the boonies," Terrie said, the performers slept in tents until 2 a.m., when they were suddenly evacuated by helicopter because the U.S. troops had spotted rebel Vietcong attackers approaching. Terrie recalled servicemen breaking out the windows and shooting into the night sky.
"They got us back safely and to this day, I wonder how many of them made it back and I wish I could thank them," she said.
Military service
Unable to return to Vietnam as she had hoped, Terrie instead devoted herself to supporting the military locally. She received the Vietnam Veterans of America President's Award for Excellence in the Arts in 2014. She is also an active filmmaker and songwriter.
Terrie attributes part of her more recent accomplishments to her sister.
"She was the talented, funny one. She was outgoing and I was shy and when she died, something happened and I became her personality," Terrie said.
Eleven years since then, Terrie is a Lifetime Member of the Sedona Marine Corps League Detachment #1237 and is on the Verde Valley Military Service Park Committee. She previously served as Honorary Commander of the 944th Aeromedical Staging Squadron and is currently the Honorary Commander of the 944th Medical Squadron at Luke Air Force Base in Glendale.
"For me it's a thrill just to get to see how the military works and to see all the sacrifices they give and they do for our country," Terrie said.
In her speech Monday, she honored the many individuals who served in times of conflict, but especially those of the Vietnam War, including the sister who traveled there with her.
"[Jennie] would have loved to be here … but she is somewhere in heaven right now with a lot of other heroes looking down on us," Terrie said.
Get local news delivered to your inbox!
Subscribe to our Daily Headlines newsletter.