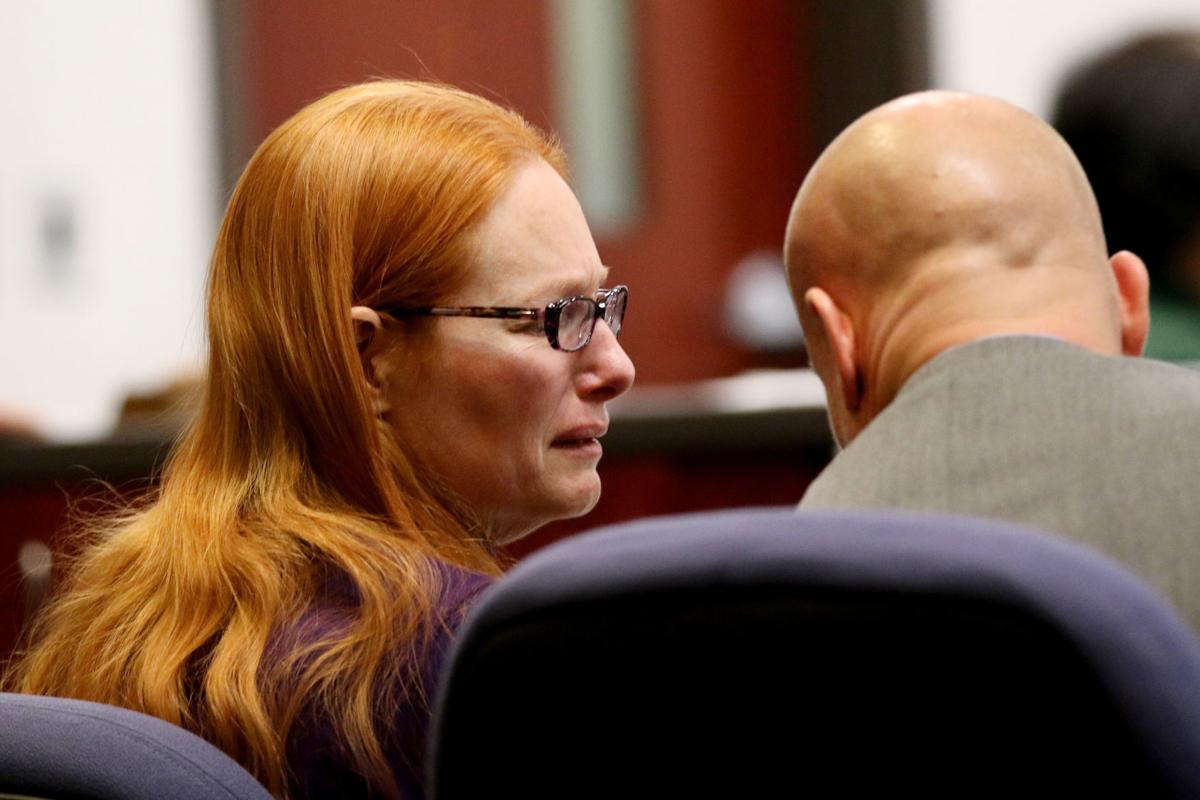 Former cop and expert witness Carli Moncher was sentenced Friday in Coconino County Superior Court to four months behind bars and three years of supervised probation for theft and perjury.
Moncher was crying before and throughout the sentencing hearing, while more than 10 people appeared to support Moncher. She spoke and admitted to wrongdoing for the crimes of perjury and theft.
"I deeply regret my actions, and any fallout that may have occurred from them," Moncher said.
Moncher worked as a Flagstaff Police Department officer and a forensic investigator for Northern Arizona Healthcare's Safe Child Center, where she interviewed and testified for children who were victims of physical and sexual abuse. Moncher committed theft from NAH by informing her employer that she was working for them, while also being paid separately by the courts she attended for her work.
In addition, she falsified her expense and travel records and allegedly forged official subpoenas to justify her payments. Moncher paid over $8,000 in restitution to NAH for her crimes.
She received four months in prison for the theft charge and three years of supervised probation for the perjury charge.
Moncher spoke after submitting a sealed statement that, according to her attorney Matt Long, detailed the history of her sexual and physical abuse by her stepfather. She cited her lack of paid leave after several surgeries related to the disease she has lived with — Cushing's syndrome — and an instruction from her bosses to reduce the services she provided to the surrounding counties as her motivator for turning to theft and alleged forgery and fraud.
"This is where my child abuse history influenced my judgement and created a skewed view of the situation and how to handle it," Moncher said.
Representatives from NAH said they were greatly disappointed in Moncher's actions, and believed that Moncher's work in outlying counties interfered with her ability to care for patients at Safe Child Center, according to a statement delivered on behalf of the company from Sophia Papa, spokesperson for NAH.
"As Safe Child Center's forensic interviewer, Moncher was asked to put our patients first by setting aside her expert work in non-Safe Child Center cases," the statement said. "We did this to prioritize our obligation to our young and vulnerable patients."
Todd Lawson, assistant attorney general with the Arizona Attorney General's Office, counters Moncher's claim that her decision to break the law was made in the interest of the children in outlying communities in a memorandum he filed in the court.
"The state fully rejects that the defendant had any necessity to defraud her employer," Lawson wrote. "The defendant is not the only witness available to testify to her area of expertise, and the cases she participated in while committing fraud would have proceeded without her — and would not be subject to review now — if she had, said simply, just made ethical choices."
Because Moncher's perjury charge could directly affect the strength of convicted cases in Coconino County, La Paz County judge Matthew Newman ruled over the sentencing to soften conflict of interest concerns. Newman ended up granting Moncher a super mitigated sentence and probation.
"I believe your remorse is real," Newman said. "I don't believe anything this court could do to you can possibly measure up to or accomplish what you [can do to yourself]."
Rachel Mitchell, the deputy county attorney with the Maricopa County Attorney's Office, was one of four women to testify to Moncher's character as a friend in an attempt to secure the lowest possible sentence length. Mitchell, a sex-crime expert, was hired to question now-Supreme Court Justice Brett Kavanaugh and his accuser Christine Blasey Ford during the recent Senate Judiciary Committee hearing.
Mitchell acknowledged the seriousness of the crimes, but still felt Moncher deserved a reduced sentence.
"Carli had told me the details of this abuse years ago. In fact, she disclosed to me that she was an abuse victim well over a year before these investigations started," Mitchell said. "The irony is that because of her own childhood abuse I think she'd rather lose a limb than hurt a child, especially an abused child."
Despite Mitchell's plea that Moncher had no intention to hurt children, her perjury charge could end up undermining the cases of children she had previously helped. Mark Brnovich, who was recently re-elected as Arizona's Attorney General, called the number of cases that could be influenced by Moncher's perjury charge "countless."
"Sadly, her actions could impact some of those cases where justice was served," Brnovich said. "There is no excuse for anyone to lie on the witness stand, especially for financial gain."