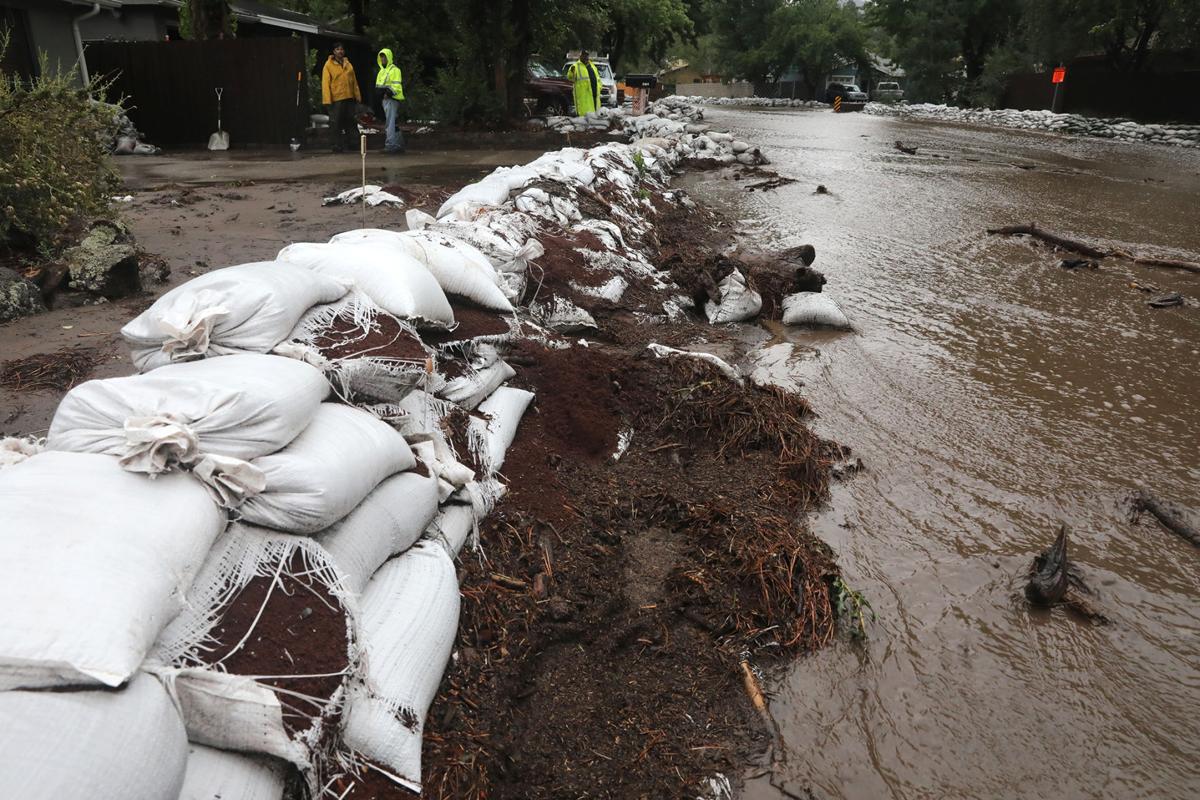 For the second day in a row, streets in the Spruce Wash watershed experienced significant flooding off of the 2019 Museum Fire burn scar.
Just like the day prior, the flood appeared to overwhelm city stormwater infrastructure and pour into the street, funneling down sections of Linda Vista Drive and Grandview Drive before hitting Cedar Avenue, spreading throughout streets in Sunnyside and even closing traffic at Route 66.
Throughout the afternoon, numerous flash flood warnings were issued for areas across northern Arizona by the National Weather Service.
NWS meteorologist Darren McCullum said the Museum Fire burn scar received a significant amount of rain starting at about 1:30 p.m. Wednesday. At that time, between 1 and 1.5 inches of rain fell on the burn scar, prompting the flooding.
The burn scar had already received rain earlier that day at about 10:30 a.m., although it was not enough to issue a flash flood warning.
After Tuesday's debris flow overwhelmed drainages and tested sandbag walls, city and county staff, as well as area residents, found themselves working throughout the day to prepare for new flooding.
Those in the flood area when it started, just before 2:30 p.m., said Wednesday's flooding began as a small stream running down the street. Within just five minutes, however, the flow of water had grown significantly and soon, water was swiftly flowing. 
Flash flooding seemingly unrelated to the burn scar was also reported across other parts of the east side. In the neighborhood of Greenlaw, and as far east as Fanning Drive, flash flooding was seen clogging streets with swift moving mud and water.
On Steves Boulevard, a video posted to social media captured flood waters sweeping several vehicles downstream.
Those areas are not within the Spruce Wash.
Meanwhile in Sunnyside on First Street, Toni Estrella was standing on the sidewalk holding a pitchfork as flood waters ran down the road.
Using her fork, Estrella walked up the street clearing storm drains of debris as she went. She said she lives out near the mall but her family does own Estrella Laundry in the neighborhood. And Estrella added, clearing the drains just seemed like the right thing to do.
Just hours before Wednesday's flood, resident Kim Kahler was talking to neighbors and calling anyone she could think of to get help improving the sandbag walls along Grandview Drive and her home.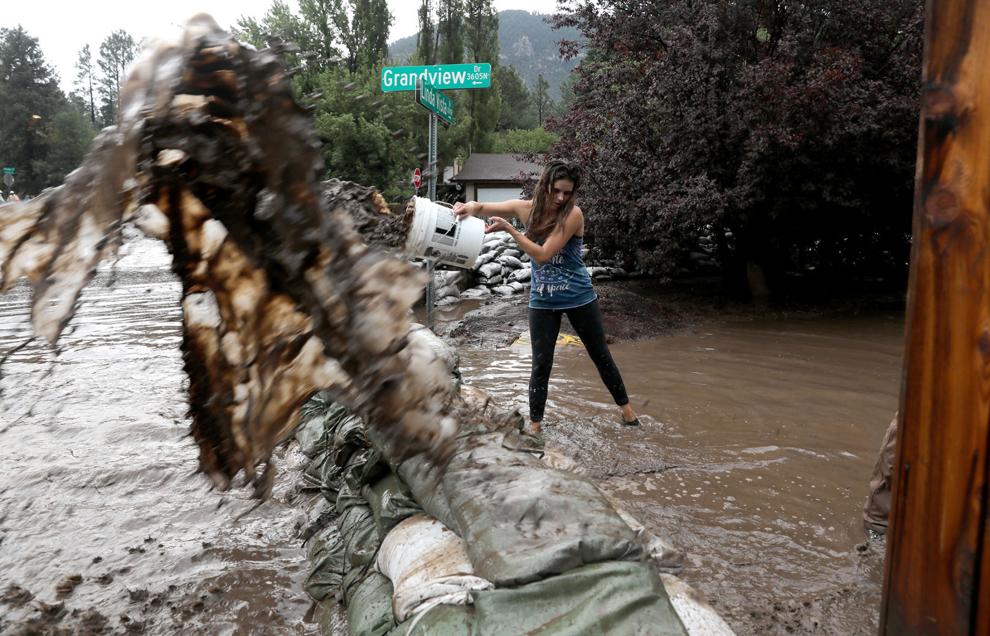 Kahler said she and her neighbors had spent hours the day before shoveling out mud and debris from their yards after the flood came over the top of their sandbags.
"I mean it breached all of these bags, it went right over them, like it didn't [expletive] stop anything," Kahler said. "We're going to get [flooded] again probably, either today or tomorrow, I don't know. Sorry about the language, it's been a [bad] day."
While her yard and was buried in several inches of mud, Kahler said some water also made it into the house and garage.
Kahler said she believes they would have been fine if the drainage underneath Linda Vista hadn't been overwhelmed.
And she said she was frustrated that more hadn't been done to stop the flooding before it reached town. She was angry that it was seemingly up to just herself and her neighbors to build up all the walls that were needed. 
Kahler said when they moved into their home in April, she and her husband knew about the flood risk. Her husband works on the Flagstaff Hotshot crew and actually helped fight the Museum Fire.
But after talking to some of their friends, and seeing all that the city and county was building, Kahler said they figured the flooding would mostly stick to the channel or be blocked by their sandbag wall.
"When we bought it, because there hadn't been flooding, we weren't too concerned," she said.
Kahler said members of the hotshot crew were on their way to help her and her neighbors reinforce the walls before the flooding hit.
"It's a race against time right now," said Scott Richards, another of Kahler's neighbors.
One county employee said Wednesday afternoon that when the flooding started, a county crew was in the middle of helping Kahler's neighbor, who lives on the southeast corner of Grand View and Linda Vista, build up and improve their walls.
But all that work had to stop when the flooding caught up with them. Several long concrete barriers still sat on a flatbed truck 40 yards away from where the residents used buckets and shovels to bail out their yard as the flood waters rushed past.
Flagstaff resident Sarah Buss found herself walking Grandview on Wednesday morning as well, mainly to see what improvements residents of the area would be making, and how that could impact her home down in Sunnyside.
"I'm checking this out because once they fortify up here, guess where that water is going to go? To me," Buss said, "Sunnyside is devastated; Main Street got hit really hard."
Frustration was a common theme from residents, especially those in Sunnyside.
Several residents said they didn't want to be named but felt that the city and county was focused on protecting the homes to the north of Cedar Avenue while letting Sunnyside residents fend for themselves against the flood risks.
Flooding outside Spruce Wash
It wasn't just flash flooding below the Museum Fire burn scar on Wednesday that impacted parts of Flagstaff.
Simultaneous with the alerts of flash flooding in east Flagstaff, much of city experienced an intense downpour as well.
NWS Meteorologist McCullum said the city received between 1 and 2.5 inches of rain depending on the area. Much of that fell within about a 40-minute span Wednesday afternoon, McCullum said.
Water running down the street, nearly to the top of the curb, was reported in several areas including throughout the Southside neighborhood and on parts of Milton Road and West Route 66.
The National Weather Service forecast calls for another 70% chance of rain Thursday, with at least a 50% chance of precipitation and thunderstorms each day through next Wednesday and high temperatures in the upper 70s.
Adrian Skabelund can be reached by phone at (928) 556-2261, by email at askabelund@azdailysun.com or on Twitter at @AdrianSkabelund.