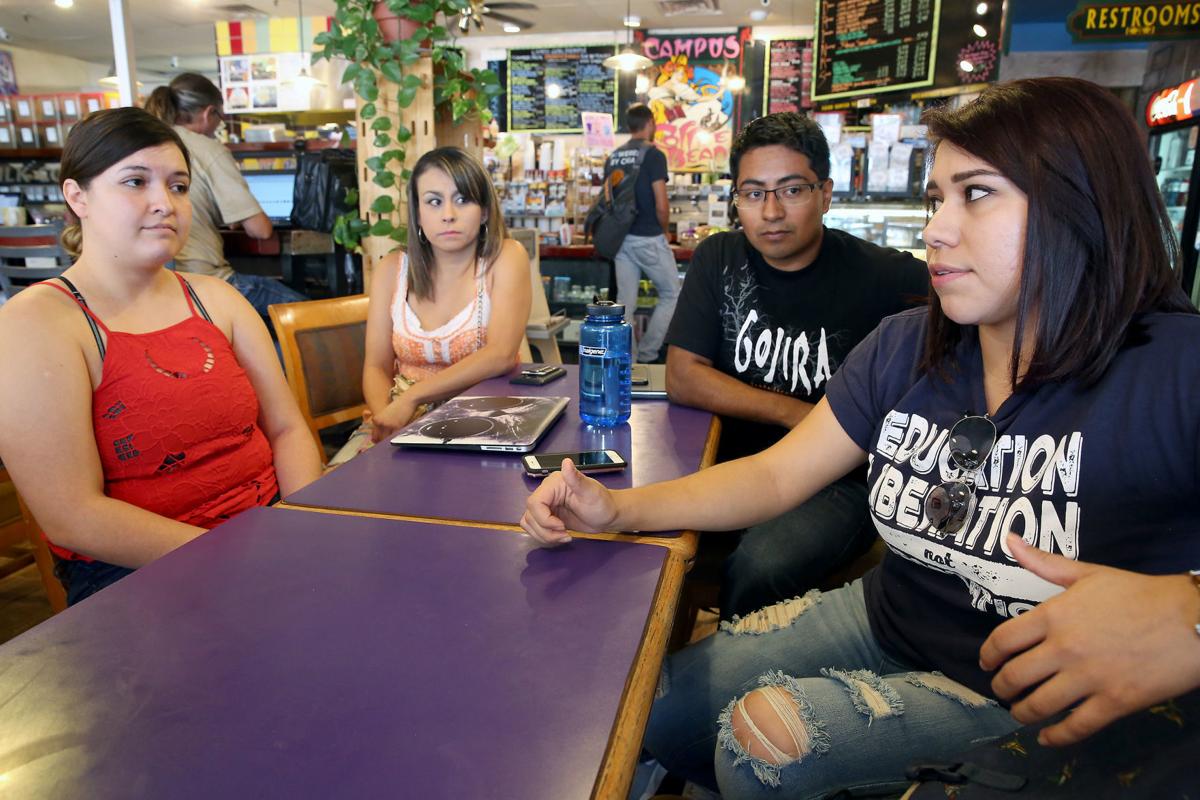 Kassandra Carrasco is a full-time student at Northern Arizona University, pursuing a degree in hotel and restaurant management while working full time as a food service manager on campus.
Nely Gutierrez is an employee at Flagstaff Medical Center and just started her first semester of nursing school at Coconino Community College.
And Omar Gomez holds down a full-time job in healthcare while studying for a degree in biological sciences at NAU. He expects to graduate in May.
All entered the country illegally as children and have been protected from deportation under the Obama-era Deferred Action for Childhood Arrivals, or DACA, program. They have pursued college educations, gotten jobs in the community and support family members here.
But they say all of that has been thrown into question with President Donald Trump's decision Tuesday to end the DACA program.
Without the deportation protections and work permits that come with DACA status, those three and others said they worry about their job security, question whether they will be able to finish college and will have to consider the prospect of being forced to leave the homes they have created in Flagstaff.
"I am just trying to prepare myself from now until when my permits expire," said DACA recipient Maria Lopez, whose two-year work permit expires next September.
Lopez owns a Mexican restaurant in town and is working toward a degree in physical therapy at NAU. With the DACA program's days now numbered, Lopez said she has started to make arrangements so her family members can take over the restaurant.
"I won't be able to own the business anymore," she said.
She also has two or three employees under DACA who she will have to let go or figure out how to help in some other way, she said.
For Gutierrez, the consequences of an end to the program could also be severe. She could lose her job at the hospital "in an instant," she said, and without a Social Security number she also would lose the certified nursing assistant license that is crucial for her work. Without a job, she can't continue to pay for school.
Gutierrez hasn't found a clear answer about how the Trump administration will treat DACA recipients, also known as "Dreamers," under its deportation policies and said she's worried about being kicked out of the country not only for herself but for her siblings, mother and father, who she helps support here.
"The government has all of our information. They could either choose to help us or choose to use it against us," she said.
Carrasco, on the other hand, said that she feels relatively safe in a place like Flagstaff. Her mind is on her family in Phoenix, who have more of a fear they will be deported. Then, she will have to face a difficult decision, she said.
"What will I do? Will I go back or stay here?" Carrasco said.
Carrasco said she also has started thinking about moving to other states like Colorado or California that are more lenient toward and supportive of Dreamers. She said she wouldn't return to Mexico, where she was born, unless she is deported, though she has contemplated that as a possibility.
Gomez, too, has started thinking about moving to another more Dreamer-friendly state or even to Canada.
"(DACA) was an executive order so we always knew there was a chance another administration could end it," he said.
Even so, Trump's decision felt like a "low blow" after the president talked about Dreamers with such admiration, then on Tuesday sent the message that Dreamers are just taking American jobs, Lopez said.
LIFE CHANGING
When DACA was first created in 2012, Carrasco was in her final year of high school. She said she didn't know if she would go to college at that point. Thanks to the program, she was able to enroll at CCC, where she got an associate's degree and was able to work legally so that she could pay for her education. Now at NAU, Carrasco has been able to move up at her job at Sodexo, the campus dining contractor on campus, from a pizza cook to a manager.
"Without DACA, none of that would have been real," she said.
Gutierrez told a similar story, saying that the program allowed her to do everything from drive legally to get a job that not only aligns with her career path but also pays enough for her to afford school.
"For me being DACAmented has opened pretty much my entire life," Gutierrez said.
Anamaria Velasco Ortiz, who has worked with undocumented immigrants in Flagstaff since about 2010, said she worries that without DACA, Dreamers will be faced with only under-the-table job opportunities and will struggle to find a place to live.
"It's going to make a lot of people be put in a position where they never thought they would have to be back in," Velasco Ortiz said.
ACTIVISM AND LEGISLATIVE ACTION
Lopez and others had varying levels of optimism about the ability for Congress to, in the next six months, pass legislation that would extend deportation protections to Dreamers or implement some other type of immigration reform.
Whatever happens, Lopez said she isn't expecting anything to be quick. She also fears that the president is playing on public sympathy for Dreamers that will force action on DACA-like legislation but in the negotiation process will win concessions like more money for a border wall.
"He is using us as bait, basically," she said.
Even if that's the sentiment, though, the president's actions are also propelling more Dreamers into activism, she said.
"A lot are willing to start fighting, to come out of the shadows, to say we are here, we are DACA and we're going to fight for something," Lopez said.
With their protections going out the window, Dreamers truly have nothing to lose, Velasco Ortiz said.
"It's like it's all or nothing. They are going to fight so their families get a better life as well," she said.
Gutierrez is one of those who, after Trump's announcement, feels compelled to tell her story, even though she worries about how it will affect her and her family's safety.
"I want people to see we aren't undocumented, DACAmented, illegal aliens," she said. "We want to work for us. We want to become someone here. This is our home."
"I am just trying to prepare myself from now until when my permits expire"