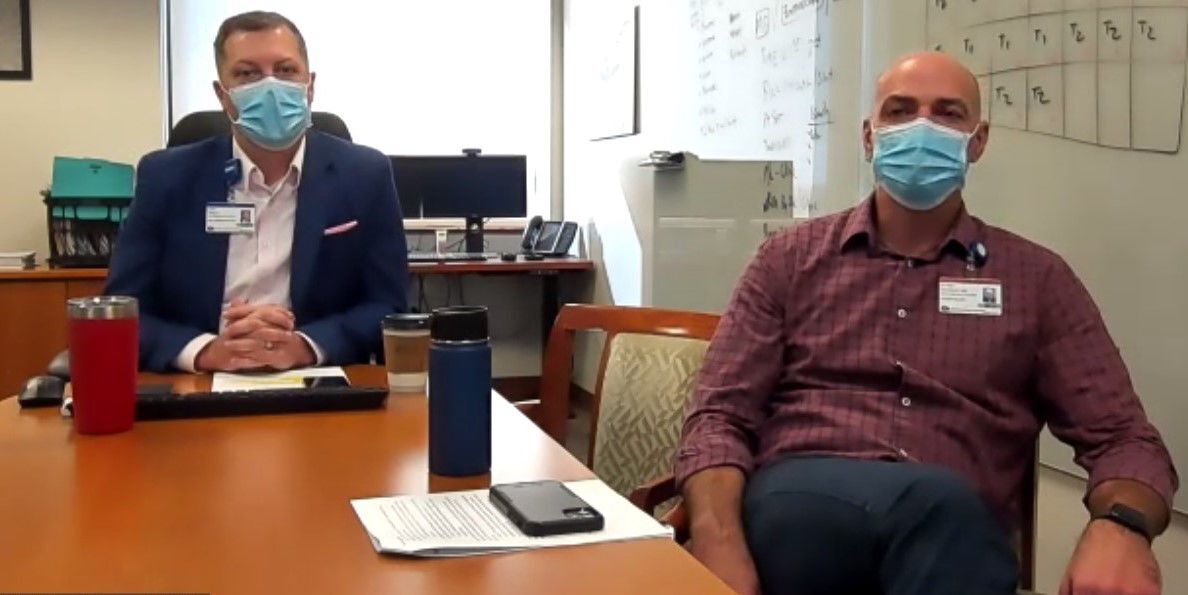 Another surge in COVID-19 cases is coming, Flagstaff Medical Center leaders say, and as they prepare to assist with vaccine distribution, they are looking to Thanksgiving as an indicator of when the region may reach its next peak in cases.
"We continue to be concerned as we're watching our rates in both Coconino and Yavapai County and the effect that is having on the health of our communities," said Flo Spyrow, CEO of Northern Arizona Healthcare, which operates both FMC and the Verde Valley Medical Center, in a media briefing Wednesday.
As of Wednesday morning, FMC had 32 positive COVID-19 patients in house and a total hospital census of 205 beds full out of just more than 300, with 36 patients in the intensive care unit. At its highest point in the pandemic, it was seeing up to 49 COVID-19 patients at once, but Dr. Derek Feuquay, FMC chief medical officer, said that was before the Arizona Surge Line was implemented to transfer patients to hospitals in the state that have capacity to prevent one from becoming overwhelmed.
FMC depended on this partnership early in the pandemic when it sent patients coming from the Navajo Nation to hospitals in the Phoenix area, Feuquay said, and in June reciprocated by taking in patients from as far as Yuma. He said the Surge Line is still active, but with the current spike in cases throughout the state, more patients are being kept locally.
Though the hospital has seen a small number of children hospitalized with the disease, he said the primary hospitalized population continues to be the elderly and those with obesity and diabetes.
The hospital's business intelligence team is still working to align its electronic medical record program with the state's system in order to begin reporting its percent of patients who have COVID-like illnesses for use in calculating the benchmarks for reopening businesses and schools.
Coconino County saw a 72% increase in COVID-19 cases the week of Nov. 7, which set a record at 526 cases, and has continued to see elevated case counts, according to reports by Coconino County Health and Human Services. As of Tuesday, 6,428 total cases have been recorded in the county.
At FMC, which is seeing more cases from Flagstaff than ever before, visitor restrictions have once again been heightened as staff prepare for an even larger surge in cases in the coming weeks, alongside the potential distribution of a vaccine.
NAH has applied to be a point of distribution for the vaccine and will likely focus on vaccinating its employees and other candidates first, based on state guidelines, though Spyrow said the leadership team is still discussing whether or not the vaccine will be mandatory for NAH employees.
Unlike early in the pandemic, when securing enough personal protective equipment (PPE) for all staff was the priority, now the concern for NAH is having enough staff to care for patients.
"We partner with some firms to get travel nurses, et cetera, and the firm we work with now currently has 20,000 open nursing requests across the country," said Josh Tinkle, FMC chief administrative officer. "So as you can imagine, as other states surge across the Midwest, everyone is looking for caregivers to provide the care. So currently, we're OK, but certainly if it spiked to the 50% or 60% positivity rate that you're seeing in some of the other states, that would be a challenge for us."
Based on current trends in case counts, he anticipates a possible peak in cases sometime in December or January.
"Social distance, sanitize and wash your hands, wear your masks. That's going to help us out more than anything," Tinkle said. "And predicting that peak really depends on how well the community does in following those precautions, so for Thanksgiving, if everyone gets together in a room, I think we could peak certainly faster. If everyone social distances and maybe does virtual Thanksgiving dinner, we may be able to push that curve out a little bit."
The Centers for Disease Control and Prevention suggest the safest way to spend Thanksgiving this year is to celebrate among individuals from the same household. For celebrations occurring with individuals from several households, CDC advises people to wear masks; have guests bring their own food, drinks, plates, cups and utensils; hold meals outdoors when possible; and limit the number of people in food preparation areas.
"We're all really concerned. And I think that we can't overemphasize that," Dr. John Mougin, NAH chief quality officer, said of local COVID-19 conditions. "There's some hope with vaccine on the horizon, but, man, we're going to have a tough time before we get enough of the population immunized to really get a handle on this thing. … We are concerned and we need everyone to follow the recommendations to try to level down the curve that we're seeing right now."
"Social distance, sanitize and wash your hands, wear your masks. That's going to help us out more than anything. And predicting that peak really depends on how well the community does in following those precautions, so for Thanksgiving, if everyone gets together in a room, I think we could peak certainly faster. If everyone social distances and maybe does virtual Thanksgiving dinner, we may be able to push that curve out a little bit."

-- Josh Tinkle, FMC chief administrative officer