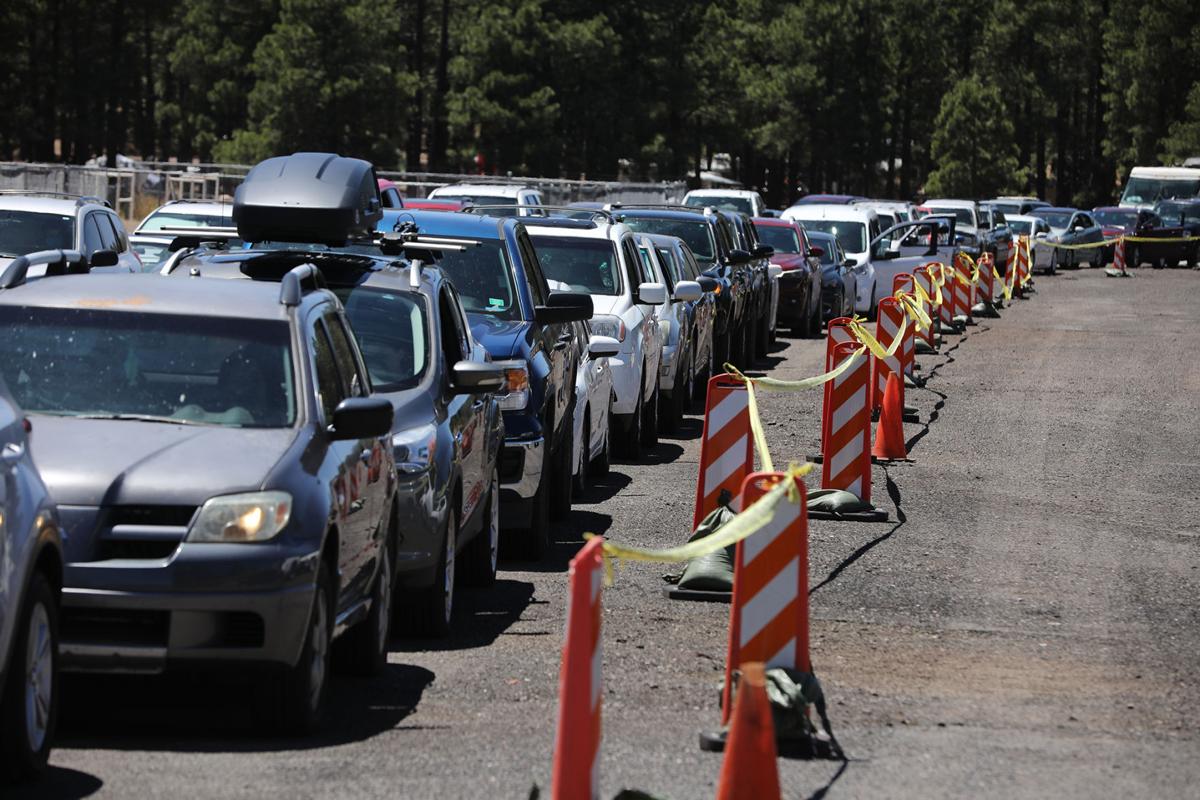 Flagstaff Medical Center is already seeing an increased number of COVID-19 patients, but hospital leaders say they are prepared for another potential surge in cases similar to those seen in Coconino County this spring.
As of Thursday, the hospital reported 14 positive COVID-19 patients. Verde Valley Medical Center, the other location operated by Northern Arizona Healthcare, had two. The previous week, there were 10 such patients in Flagstaff and one in the Verde Valley.
Coconino County Health and Human Services (CCHHS) recorded 83 new cases throughout the county on Thursday from multiple days of testing. On Monday alone, though, 71 tests came back positive, a number county epidemiologist Matthew Maurer said is both very high and similar to the case count seen during the spike in cases in June.
Starting in mid-July, though, Maurer said the county was averaging about 21 cases a day -- which increased to about 42 cases in mid-September but dropped again to about 30 a day in early October.
This weekend, as CCHHS works to resume normal staffing levels, its daily coronavirus report will shift to being published Monday through Friday. Monday reports will include results from Friday, Saturday and Sunday.
Recently, FMC's lowest new case count was the week before Sept. 20 with five new cases, while the week ending Oct. 11 was the high at 17 new cases. At its highest point since the start of the pandemic, the hospital was holding about 40 COVID-19 patients at a time.
In response to this small increase, the hospital will continue its COVID-19 procedures as they currently exist, including its visitor restrictions, sanitation measures and temperature checks of employees and patients.
The latest COVID-19 patients have mostly been from the Flagstaff area and are generally not as sick as patients were at the beginning of the pandemic. However, Dr. Derek Feuquay, FMC chief medical officer, explained that at that time, many patients were coming from the reservation and had medical comorbidities such as diabetes and obesity.
"We're seeing a little bit of an uptick now, so of course we're concerned, especially with respiratory season coming. But what I will say is we are definitely prepared for it. We've done everything we can possibly do to get ourselves ready, and we did that urgently at the beginning of this. We're waiting for it and ready for it if it comes," Feuquay said.
The NAH leadership team explained during a media briefing Wednesday that the healthcare organization is in a better position not only with its supply of personal protective equipment (PPE), which it continues to sterilize and reuse when possible, but also in terms of how it is treating patients. Lately, medical staff have been keeping patients off ventilators as long as possible and using promising treatments including steroids and Remdesivir, an antiviral medicine that on Thursday became the first drug to be fully approved by the Food and Drug Administration for treating COVID-19. It had been cleared for use on an emergency basis since the spring.
"Really, we feel so much more prepared now if we do see an increase in cases, we have experience and expertise," said Dr. John Mougin, NAH chief quality officer. "This is no longer new. Our providers know how to address this disease and we're ready to tackle things."
Mougin said the organization is starting to prepare to assist state and county health officials in vaccine distribution when it becomes available. NAH is also working toward a test for use in its emergency rooms that will test COVID-19, influenza and other viruses in a single nasal swab.
He said he hopes community members take the initiative to reduce the impending spike in COVID-19 cases by continuing masking, distancing and other safety procedures.
"Since we've been through this, we know what helps to quell any sort of increase or surge, and hopefully we'll see that, because people know the right behaviors … that will keep this from getting as bad as it was before," Mougin said.