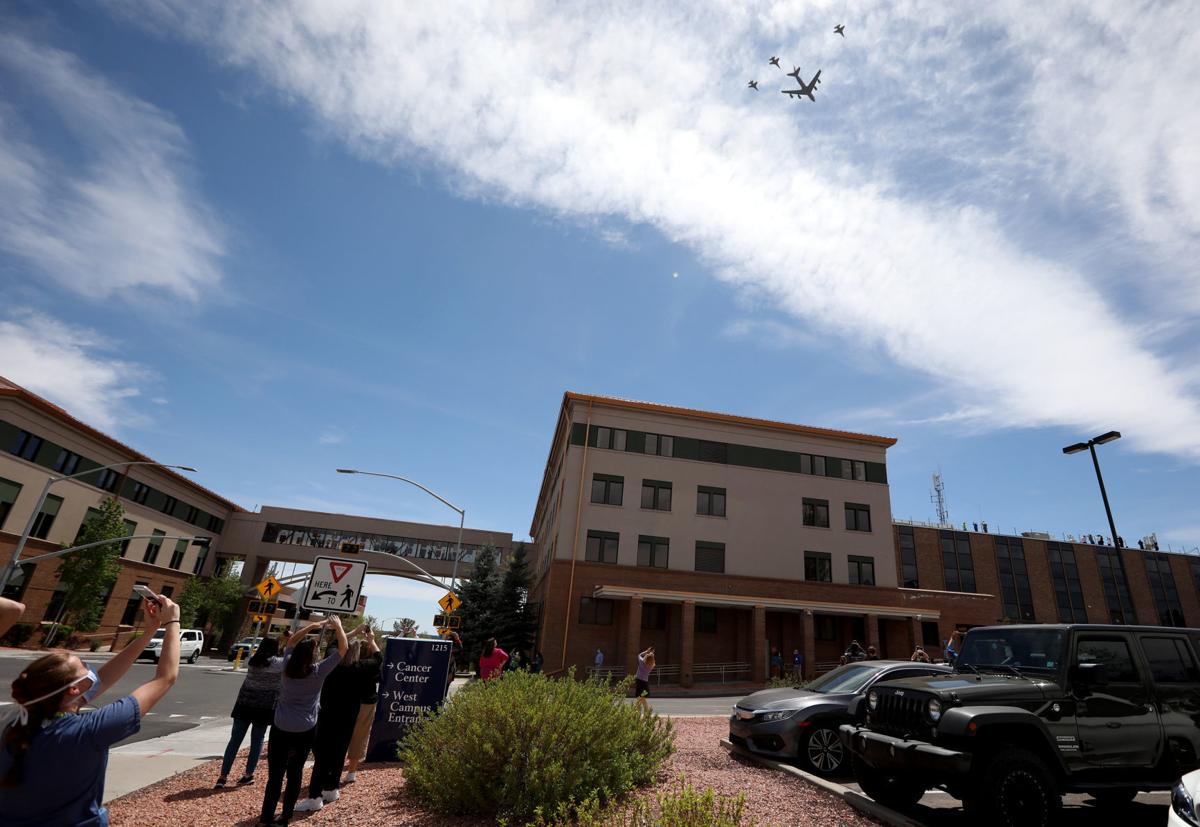 Although it has been staying busy with COVID-19 patients, Flagstaff Medical Center has not been spared from the pandemic's economic challenges.
Since elective surgeries were halted statewide March 19, Northern Arizona Healthcare (NAH), which runs FMC and the Verde Valley Medical Center (VVMC), saw a 16.7% decrease in net revenue for March and 30% in April, according to NAH leaders who commented on the matter throughout several weekly media briefings.
Ron Haase, chief administrative officer for VVMC, said both inpatient and outpatient surgeries are a primary source of revenue for the entire NAH system — essential surgeries make up only about 20 to 30% of overall procedures.
"When you cut your source of revenue by that amount, it has a serious impact on an organization. At the same time, because of the intensity we needed to be prepared to operate at during this crisis, our expenses have not gone down in a similar fashion," Haase said.
Although COVID-19 care units do not necessarily cost more to establish than traditional intensive care units, Josh Tinkle, chief administrative officer for FMC, said the hospital is operating at a loss caring for COVID patients because of the additional personal protective equipment (PPE), pharmaceutical, physician and nursing resources required to care for these patients, who often have extended stays in the facility.
As of early April, NAH was also experiencing increased costs of PPE: N95 respirators that typically cost 69 cents jumped to $8 each, while surgical gowns increased from 50 cents to $5 per gown.
Tinkle said the organization had a good reserve in place to help withstand the crisis financially. Nevertheless, in response to these changes, NAH pushed out some of its contracts when possible to maintain cash flow and senior leadership took 10% pay cuts.
NAH CEO Flo Spyrow explained these salary reductions are not going back to hospital operations, but are instead being used for a "leadership fund" to help support hospital employees during the pandemic.
The organization has also now received federal support, both through Medicare and the Coronavirus Aid, Relief and Economic Security (CARES) Act. Medicare issued a cash advance that NAH must pay back in August, while NAH received its first of two phases of the CARES Act funding in April, plus an additional payment in May for being a high-impact hospital.
"There were about 395 hospitals that have treated more than 100 COVID patients and they got an additional payment out of the CARES Act for being high-impact providers," Spyrow said. "We are really proud to be able to receive that."
According to the Centers for Disease Control and Prevention (CDC), Flagstaff Medical Center received $14.5 million from the Provider Relief Fund for this high-impact service, which was paid the week of May 4. Tuba City Regional Health Care Center, which was awarded $8.7 million, was the only other Arizona provider to receive this funding.
"Those payments -- although we are very, very thankful for them -- are not making us whole or putting us in a status where we would normally be had operations continued, both based on the reduction or elimination of elective surgeries, procedures, ambulatory visits and the increased expenses that we've incurred in order to protect our employees at the highest level positive with personal protective equipment," Spyrow said of the federal support received so far, adding that she hopes there will be a third round of CARES Act funding in the future.
For now, though, the return of elective procedures is likely to help.
In an executive order, Arizona Gov. Doug Ducey announced health facilities could resume elective surgeries on May 1 if they show they have implemented specific COVID-19 safety measures. NAH, still working on a plan to fully reinstate these procedures, began its first elective surgeries at its outpatient orthopedic surgery center starting May 13. FMC began some elective surgeries two days later.
Tinkle said reinstating these procedures will begin with appointments for patients at the lowest risk for COVID-19, such as those who are younger, before expanding into the next phase of patients within the next week or two.
"We believe we're moving in a positive direction and hope for more positive stuff to come in the next few weeks," he said.
If there were to be a surge in COVID-19 cases in the future, Tinkle said NAH would slow down its elective business again to make room for those patients.
Clinics are now running at about 80% capacity and although providers are seeing this spike due to what Tinkle called "pent-up demand" from the state's stay-at-home order, NAH leaders are unsure how unemployment rates and patients' loss of employer health benefits will affect this demand going forward.
Concerned about COVID-19?
Sign up now to get the most recent coronavirus headlines and other important local and national news sent to your email inbox daily.