Along with intense rainfall throughout the Flagstaff area, areas of the city experienced the first flooding in about five days Wednesday afternoon.
Residents of numerous neighborhoods across Flagstaff's easy side were put on notice by 1 p.m. for flash flooding and told either to shelter in place if inside or seek high ground if caught outdoors. A flash flood warning was announced for the entire Flagstaff area until 5:15 p.m. on Wednesday.
But flooding Wednesday appeared somewhat more tame than that of past incidents.
Water was pouring down the Spruce Wash toward the culvert at Linda Vista Drive, but instead of overwhelming the drainage and spilling into the streets, residents and city and county crews stood and watched as the water simply moved through the drainage and into the wash on the other side of the street.
That left streets such as Grandview Drive, which has seen swift-moving water several feet high during past flood events, untouched by water this time around.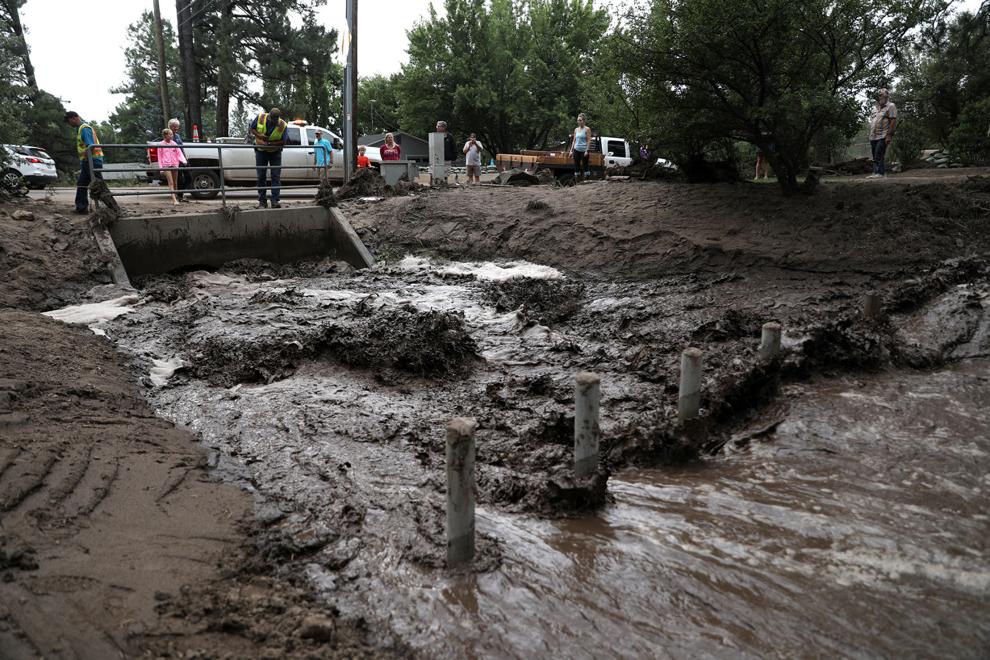 Still, some areas of the Sunnyside neighborhood flooded as drainages and storm water infrastructure in that area was overwhelmed.
One of those overwhelmed drainages was at the elbow of North Rose Street, near a line of small town houses.
Outside the town houses nearest to the drainage stood Killip Elementary School teacher and recent Northern Arizona University graduate Kaitlyn Russo with her mother who is visiting from California.
Wednesday's flooding was the fourth time in just over a week that Russo said she has stood outside her house and watched water rush past. She and her fiancé just bought the house in May.
"We live here with our 1-year-old daughter. She's actually had a lot of fun with this because she got to play in mud and watch big tractors," Russo said.
Indeed, the water appears not to have dampened Russo's spirits either.
Between her home and the drainage sit several large concrete barriers and a number of sandbags. Even so, water has found a way past, flowing through Russo's parking space and into the street. But Russo said the barriers seemed to be doing their job much better overall this time than past days.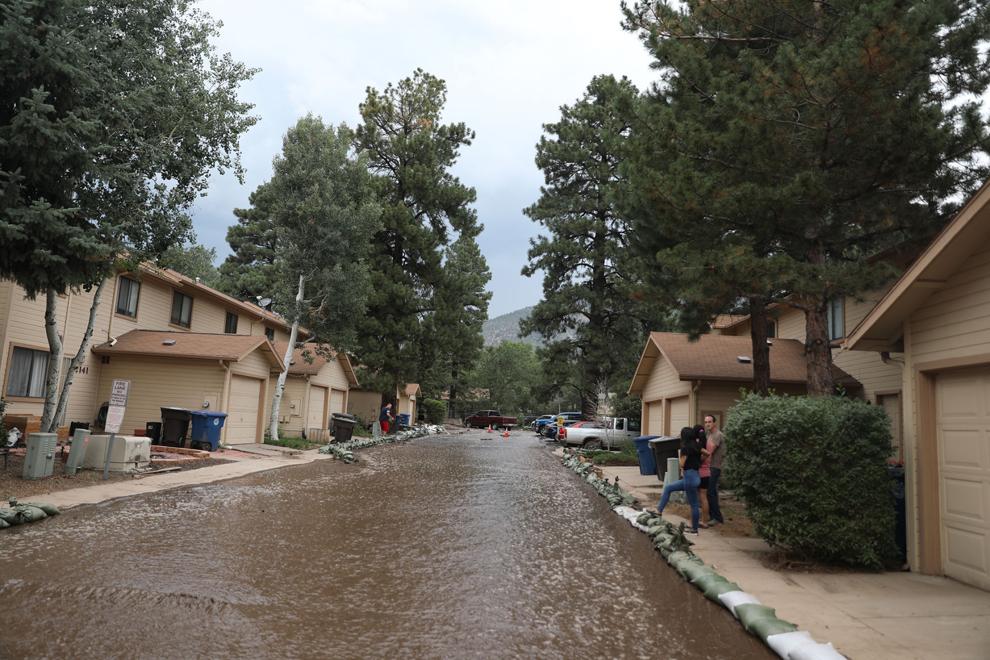 Russo said they did get some water inside the house on Tuesday of last week, when flooding started to show its ugly head in the city. That day, water seep into the living room, damaging about 2 inches of drywall along that side of the house.
And with her and her fiancé's wedding just a few days away, they decided that while this may be their home, they should move some of the most important things out of the house.
Namely, Russo said, her wedding dress is now kept at her mother-in-law's house in Greenlaw.
The flooding came after a flash flood watch was issued for Coconino County and much of the rest of the state for the latter half of the week.
Although last week brought significant flooding to Flagstaff, a weather pattern of more scattered showers over the weekend and in the early section of this week largely missed the Museum Fire burn scar, giving residents a break from flooding.
The flooding has now impacted at least 91 pieces of public infrastructure, including drainages, storm water systems and streets.
City officials have estimated that so far the flooding has caused as much as $2.9 million in damage to public infrastructure. That includes the cost of labor and equipment as crews work to clear storm water infrastructure of debris after each flood.
On top of that there has been damage to private homes in the flooding areas.
Of 108 assessments that city and county staff have completed of private property, 45 have reported interior damage. Another 38 have reported exterior damage, while 25 have reported both interior and exterior damage.
The cost estimate to date of the damage to private property is $1.13 million.
If a home has been impacted on the interior by flooding, residents are asked to report the impacts by calling the Museum Flood Area Call Center at 928-679-8525.
Adrian Skabelund can be reached by phone at (928) 556-2261, by email at askabelund@azdailysun.com or on Twitter at @AdrianSkabelund.