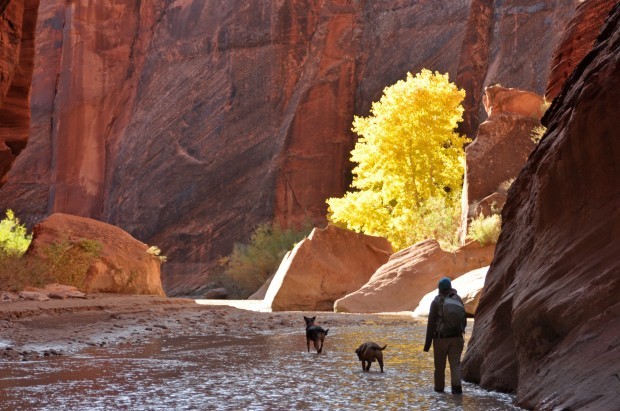 It's happened several times this week, but Wednesday night's 10-foot swell in far northern Coconino County's Paria Canyon was the worst so far.
According to the National Weather Service, intense rains hit much of the Vermilion Cliffs National Monument Wednesday, culminating in the flash floods coming down from Utah Wednesday night.
The area's remote slot canyons are highly popular with adventurous backpackers.
But Susan Dodson, who runs Paria Outfitters with her husband Steve, has been telling customers not to come.
"I've lived here for 20 years and I've never seen the rains that we've had several times this summer," she said. "I don't feel good about putting people in there if it's just going to require a rescue. It's adventure and endurance hiking in the best conditions."
Dodson hopes that things will dry out in the coming weeks as the monsoon retreats and the weather becomes milder. Even if a slot canyon is not at risk for flash floods, it can be nasty to hike in quicksand and standing water.
Many of the roads in the area have also been washed out and are now four-wheel-drive only, or are completely impassable due to streams. The high-traffic but unpaved Houserock Valley Road will need to be graded before its again passable.
Buckskin Gulch, North America's longest slot canyon, is along House Rock Valley Road and was reported to still have flowing water on Thursday.
Kevin Wright, monument manager at the Vermilion Cliffs, said that his staff had been advising hikers to avoid the area as well. The Bureau of Land Management cannot close the wilderness area, but Wright says he doesn't think anyone was in Paria Canyon at the time of the floods.
"I haven't had any reports as far as how extensive the flash flooding was," Wright said. It could be several days before anyone reports an overdue relative, however.
"Once you're down in there, you can't really get help," Dodson said. There's no cellphone service in the area.
It's been an especially rough summer for backpackers in the region. Several hikers climbed the massive walls of Paria Canyon earlier this summer when they suspected a flash flood was headed their way. It never came, but the hikers lost their shoes and were stranded without supplies on the Vermilion Cliffs until Search and Rescue crews found them.
Three people also died in excessive heat at The Wave earlier this summer, which is near the entrance to Buckskin Gulch.