The City of Flagstaff installed separated bike lanes on the thoroughfares of Butler Avenue and Beaver Street in November of 2021 in order to test the approach toward increasing bicycle ridership and safety. The infrastructure has been polarizing, yielding both commendation and complaint.
Now in their second winter, these separated bike lanes continue to represent a challenge — if not a learning opportunity — for city street crews and bicycle commuters.
Last winter, the bike lanes were found to be especially difficult to maintain after snowfall. The curbs used to separate the lanes inhibited plowing at the same time as the streets, and riders complained that the barriers also collected cinders, creating additional slip hazards.
In its June 2022 update, the Flagstaff Bicycle Advisory Committee (BAC) reported that after that first winter, the city spent $21,373 on snow operations associated with the lanes. The city also purchased two Toolcats — utility work vehicles that cost about $80,000 each — specifically to remove snow and cinders from the bike lanes.
This winter, those Toolcats have been put to work.
"They're a tight fit, but they do work," said Samuel Beckett, city streets section director. He noted that they take "significant staffing" to operate.
"And we run into some weird issues with it," he added.
The biggest issue is the frequency of accidents that occur around the curbs. A lot of these collisions are caused by private vehicles, but "some of it, honestly, is our own operations staff," Beckett said.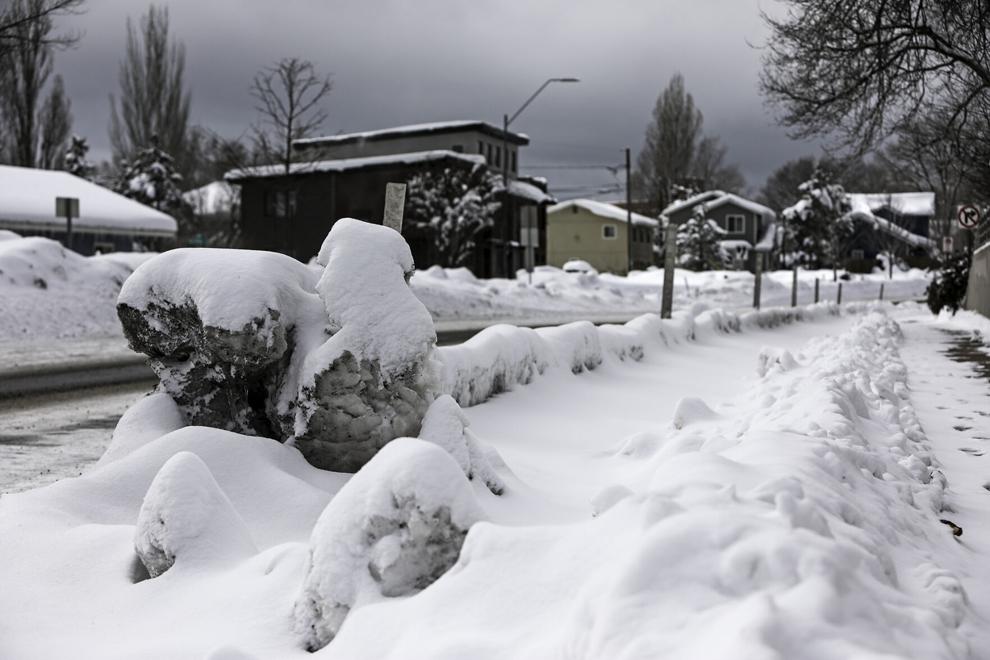 When struck, the concrete curbs have a tendency to shatter and break into large chunks.
"And then that really hinders our snow operations," Beckett said. "If we suck a single piece of concrete curb into our snowblowers, it just destroys it. So now we actually have to walk the infrastructure before we go plow it to ensure that there's no broken curbing in the area that we're going to plow."
Beckett noted that Flagstaff does not use chemical deicers, which are commonly used in other municipalities that have similar bike lanes.
"Our policy is cinders for ice control," Beckett said. "That's one of the unique dynamics that we're learning from as we go through it in comparison to many of the other cities who utilize the same infrastructure."
Complications such as these mean that the bike lanes — despite being considered a high-priority for snow operations — can take longer to clear than one might hope.
Too long, said bicycle commuter May Wiggins. Even with the new specialized equipment, he said, he hasn't noticed much change in the pace or quality of bike lane maintenance from last winter. The separated bike lanes have impacted his travel route.
"I've tended to avoid those areas," Wiggins said. "I don't think they're safe."
Aside from impassability of a lane obstructed by snowfall, Wiggins said that he simply doesn't trust cars in high traffic roadways to operate safely in winter weather conditions — separated lanes notwithstanding. The risk of collision from sliding cars or decreased visibility it too great.
"The main issue is just that [safe bicycle routes] are not really considered like a necessity," he said. "I don't think that the people really value cycling as a mode of legitimate transportation. It's all very car-centric."
Wiggins thinks the program is far from a permanent solution and should be re-envisioned. He is not alone in his perspective, but he also does not represent all bicycle commuters. According to Beckett, while negative feedback about the bike lane program is well known, "We've also had some bicyclists who've been very happy with it."
Based on survey responses, the June 2022 BAC report described cyclist's experience with the bike lane program as "polarized and evenly split."
"About 30% of those who rode a bike in the separated lanes reported that the experience was mostly positive," the report read. "While the same number said the experience was mostly negative."
Cyclists may be split about the experience of the lanes, but drivers had their own opinions. The same survey from the BAC revealed that among respondents who drove alongside the lanes, "Almost half of respondents reported a mostly negative experience with driving along the lanes. Common concerns include narrowing of the travel lanes and difficulty with making turns from or onto the street."
The report went on to state that this narrowing of lanes amounted to "dangerous driving conditions" during winter storm events when snow removal procedures further restricted lane width. In June, the BAC made several recommendations for how to improve the bike lanes, including adjustments to the curb infrastructure to mitigate conflicts with drivers. The improvements are yet to be implemented.
"We're just doing our best to keep it up and running," Beckett said of the bike lane program, "keep it in as good a shape as we can with the equipment and staffing we can."