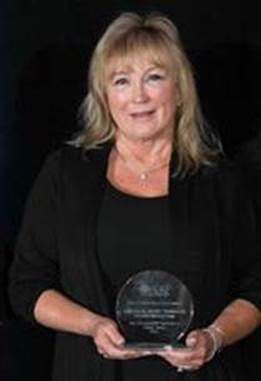 Flagstaff's annual zombie community event was named the "Most Creative Blood Drive" in the world by ADPR, the international division of America's Blood Centers that is dedicated to forging excellence and providing education in the blood banking industry.
Cathy Flores, NAVMC blood drive coordinator  received the award at the ADRP annual conference that was represented by more than 20 countries last May in Dallas, Texas.
In the past four years, the annual NAVMC Zombie Community Blood Drive and Hand Drop Fundraiser has brought in 291 lifesaving blood donations and raised $62,000 for local charities.
Vitalant is the nation's second largest community blood service provider, supplying comprehensive transfusion medicine services for nearly 1,000 hospitals and health care partners for patients in need across 40 states.
Vitalant's 780,000 donors supply 1.8 million donations a year. In addition to blood products, Vitalant offers customers transfusion services, medical consulting, quality guidance, ongoing education, research and more. 
A 501c3 non-profit organization, Northern Arizona Volunteer Medical and Surgical Corp (NAVMC) is a team of medical and humanitarian volunteers that provide care for children and families in Flagstaff and countries across the globe.
NAVMC provides medical and surgical care, education, food, housing, financial assistance and other basis needs, as well as support to blood banks. It was founded in 1995 by two local doctors, Kelly Reber and Bert Mckinnon.