Wood is his canvas. A router serves as his brush, or chisel. And his subject? It could be Fido, or Bernie, or Bono. Or, really, any image you'd like to see memorialized in stained wooden portraits.
Eric Kruse is game for anything. And he takes requests. This 54-year-old woodworker from Flagstaff has built a burgeoning business and reputation as an alchemic artist who can transform discarded, often warped and weathered, pieces of wood into objets d'art.
Take a look at his studio, which doubles as his garage.
One of the first things that greets you is the beaming visage of Bernie Sanders, the Vermont Senator and former presidential candidate, glasses sliding down his nose, his hair disheveled, his brows, as always, furrowed. Another wall features a wood-carved canvas of an album cover from Bono's rock group, U2, the one with the boy staring daggers. And near the door to the house is a large etching of a dog, a French bulldog, sitting at attention with brows scrunched even more than Bernie's.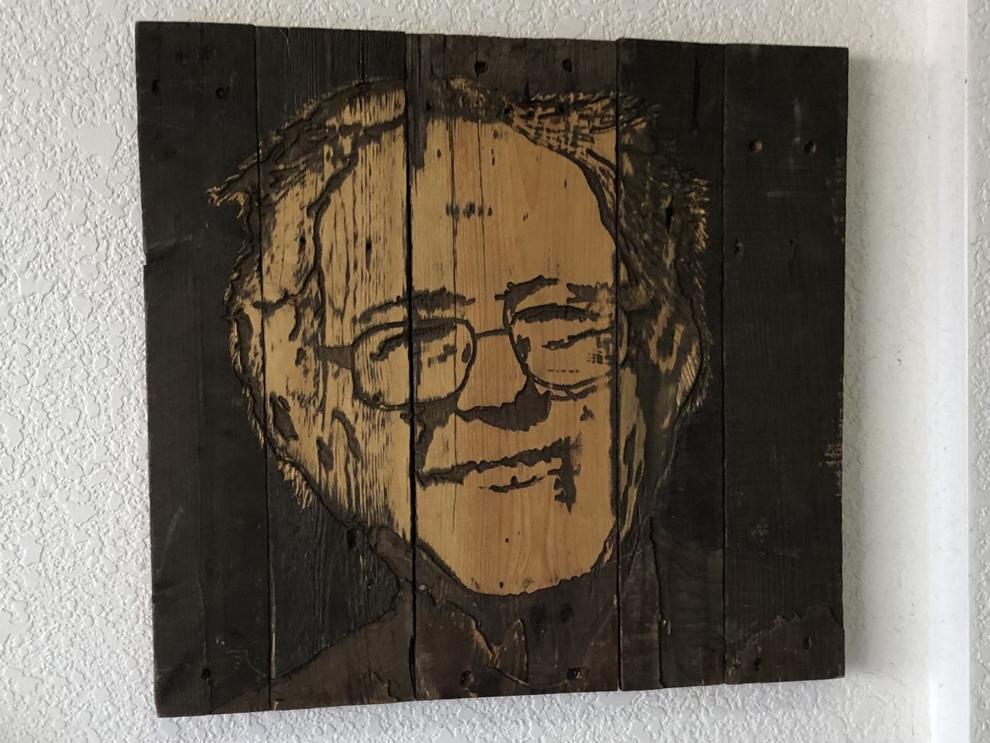 As its name implies, Signed in Wood, Kruse's business, specializes in making signs for businesses or special events. He's chiseled and carved signs for restaurants, such as Dierks Bentley's Whiskey Row in the Valley, craft breweries and area ranches. But he'll also immortalize your beloved pet, or capture the grandeur of your equally beloved VW bus, and make flattering renderings of your wedding photos.
In addition to being a router-for-hire, Kruse does his own art, too, on wood, mostly landscapes and nature depictions. His work is on display downtown at The Artists Gallery, where he encourages patrons not to be shy and feel free to caress his creations.
The great thing about wood as a medium, he says, is its tactile pleasures. Running one's hand along the rough-hewn grain, feeling the grooves and lines, and noticing the precision of the craftsmanship is part of the allure. And when you step back, these intersecting lines and swirling rivulets cohere into a well-wrought portrait of, say, Bernie.
The right combinations
Wood as a medium is nothing new, of course. Artists have been producing wood cuts for centuries, and sculptors sometimes choose it as a material over more precious stone. But Kruse marries the artistic with the commercial as engravings. After all, a guy's got to make a living.
Still, the practice satisfies his artistic impulses and keeps him connected to his family in northern California's East Bay. Both his father and grandfather were woodworkers, his father, Lee, making a living as a furniture designer and cabinetmakers. But whereas his forefathers were more artisans, Kruse has chosen to focus more on the artistic.
"I've always been fascinated with wood," said Kruse, running a hand along his close-cropped salt-and-pepper hair. "I like what weather does to wood. I do a lot of landscape and trees in my work, where it's almost kind of like it all comes full circle. Wood to wood to make it into a tree. That kind of thing."
The wood itself is part of the appeal for Kruse. Back when he started, living in the Valley, Kruse would cruise the area on the quarterly bulk pick-up trash day looking for discarded fencing or pallets. He likes the idea of giving wood new life, repurposing it in an eye-pleasing way. And to Kruse, no piece of wood is too weathered or withered that it can't be fashioned into something beautiful.
He pointed to a stack of boards in a corner of his workshop -- a collection of 6-foot fence posts, 2-by-4s, flooring and such. He reached in and excavated a rotting board that used to be part of a gate, discolored by age and split down the middle in splintered angles, with some paint peeling off.
"I like that it's weathered," he said. "The colors are great and often times it brings out the grain in the wood. I worked with a guy down in Phoenix who refurbished gates and he'd give me all his old wood, all different colors. I was like a kid in a candy store."
Kruse has no problem finding wood for his canvases. It's everywhere, especially since, in Flagstaff, bulk pickup is monthly and people often leave perfectly serviceable wood at the curb.
But it's what Kruse does once he has the wood that gives the pieces new life. As a kid, Kruse would borrow his father's router and do what kids do – carve his name. He said he admired his father's meticulous work in creating furniture, the painstaking measure-10-times-cut-once work ethic. But, as Kruse says, "My art is a lot more forgiving than that sort of stuff." He's more apt to cut away and see what happens.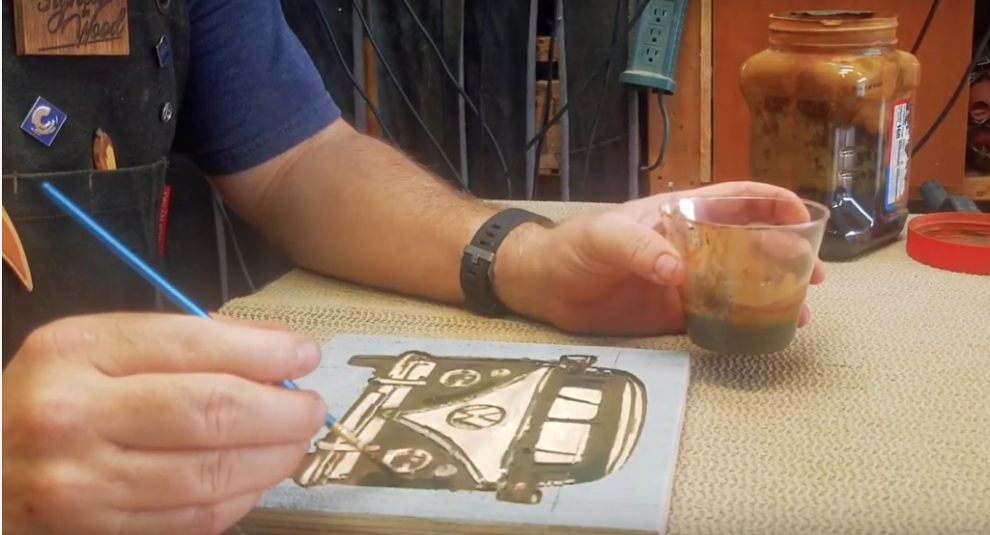 The tools of Kruse's trade will be familiar to any craftsman, but he tweaks how they are used and adds his own twists, especially when it comes to staining the pieces.
He uses a series of hand routers, each with different sized drill bits. Once the wood planks are pieced together, and partially sanded down, he'll lean over the wood with his left hand grasping the base of the router and his right hand guided the intricate movement – back and forth, sideways – switching routers and bit sizes depending on the depth and angle needed.
"The intricacy is, just like anything, the more you do it, the more you know what size to use," he said. "You play around and see what works. I learn as I go. Wood is so different. When you're getting wood from different spots -- sometimes it's oak, sometimes pine or birch -- a lot of times you don't know until you start carving."
When the whine of the router is at last silenced, what had been a blank slab of wood now is a logo or a portrait. The work is not finished, though, until the staining, which adds depth and contrast and gives the work its sheen.
Kruse prefers organic staining. How organic? Well, the stuff he uses could also be a part of your pasta dinner. He mixes spices such as turmeric, chili powder, basil and even spinach to add the yellows and reds and greens. He can thank his wife, Karen, for the inspiration.
"She had a ninja blender and it busted on the top, so I brought it out here and started playing around with different stains," he said. "I take all my rusty nails, drop them in with vinegar and they create (a stain) with different spices to give it a color. Turmeric is great to give it a lighter color."
Asked if doing pet portraits or logos on commission might, pardon the pun, get to be a grind after a while, he shook his head, emphatically.
"Both of those are fun for me because every dog is different, every logo is different," said Kruse, whose prices start at $75 for logos and $90 for pets, and can run as high as $500 for more elaborate landscape wood carvings such as forest scenes, sunflowers and mountain silhouettes. "But I like the big projects."
One commission came from a church in the Valley, which wanted Kruse to carve a 12-foot by 8-foot map of the world so that the congregation could chart where its missionaries were located. Another prospective client wanted him to carve a mandala onto the face on an acoustic guitar, a delicate operation that Kruse had never attempted. That client eventually changed his mind, but Kruse remains intrigued by the possibility and the challenges of carving something so delicate.
As with most artists, Kruse's sales have been affected by the COVID-19 pandemic and cancellation of art fairs and gallery shows. It's not just a loss of income; Kruse said meeting people at shows gives him ideas and inspiration.