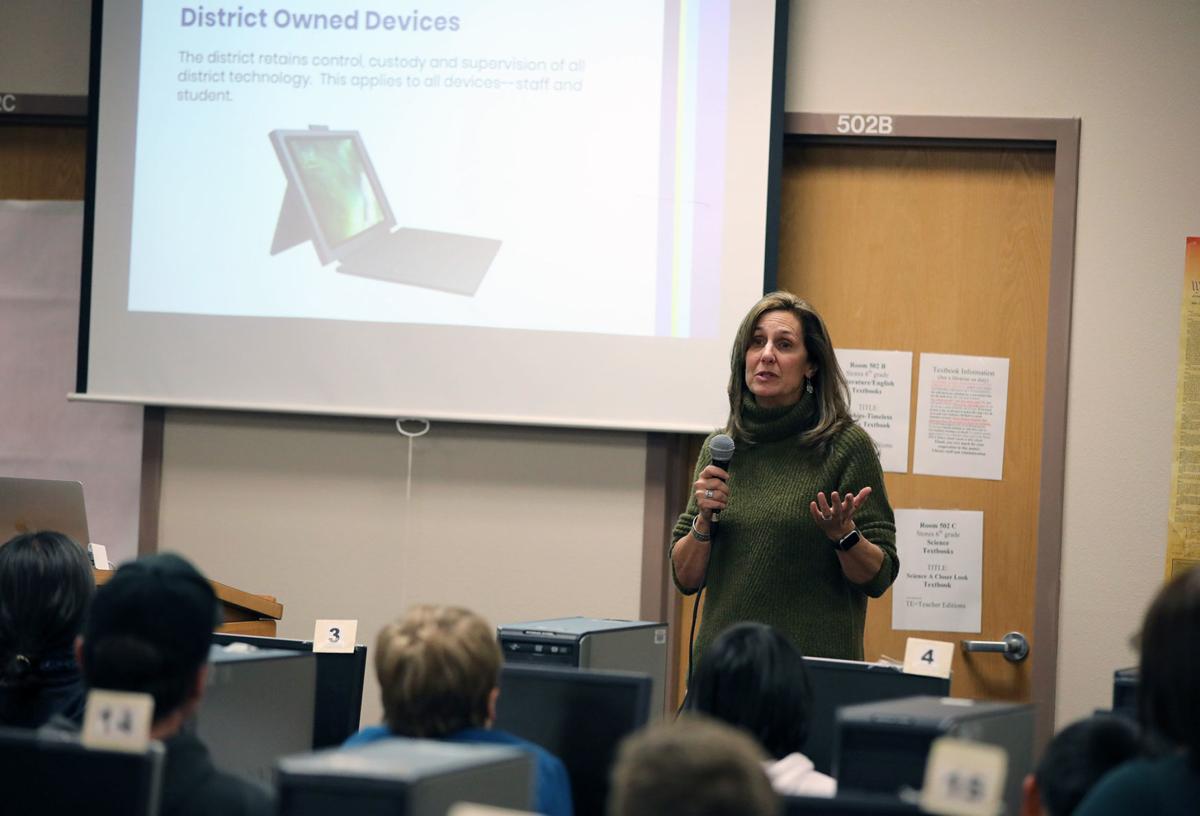 A year after voters approved a bond measure providing Flagstaff Unified School District with $10.6 million to give every student a tablet, the district will begin distributing iPads -- complete with a protective case, detachable keyboard and charging accessories -- next month.
All middle and high school students will receive their iPads at the start of the spring semester, beginning with Coconino High School on Jan. 7. Elementary school students are scheduled to receive their devices at the beginning of the upcoming school year.
Families can opt their students out of using the iPads, but district officials have suggested against it, saying the decision could impact the potential of classroom learning.
"There's no more walls. There's no more barriers," said Mary K. Walton, Assistant Superintendent of Curriculum and Instruction. "It's opening all the doors that our curious learners expect to have open to them."
In a presentation to Sinagua Middle School families last week, Technology Director Mary Knight explained that FUSD implemented shared iPads in its elementary schools in 2012, with about 240 iPads per school. Since the bond measure was approved to increase the technology ratio from one device for every two students to one device for every student, FUSD has increased its internet connection districtwide to support the additional devices, including access points in each classroom that can handle up to 60 devices.
In preparing for the new devices, Knight told the Daily Sun her team's motto has become "go slow to go fast."
"Go slow to implement things, do your homework, be very intentional about the pieces that you're putting in place so that when it's time to push the 'go' button, it's more successful," Knight said. "There's going to be bumps along the road, for sure, but we wanted to position it for success. So we've taken a year since the bond was passed to prepare for this."
Device fee and access
The $25 device protection plan fee will be used to repair and maintain the iPads. It covers theft of the device, water damage or other minor damage to the case, keyboard, touch screen and charging port, but not lost devices or accessories or attempts to change the settings of the device.
Walton compared the fee to those necessary for certain classes, especially in high school. The FUSD Fee Schedule contains fees that range from $15 for basic lab and theater arts to $50 for culinary and art courses, not including the $125 pay-to-play fee for extracurricular activities.
The fee amount is comparable to other Arizona schools with 1:1 technology initiatives, like Deer Valley Unified School District, which also charges $25, and Mesa Public Schools, which charges $30.
Scholarships for the fee are available for families in need. For students with limited or no access to internet outside of school, the district has purchased 50 mobile hotspots that can be checked out from school libraries. Details of the loan would depend upon agreements made between families and school administrators.
FUSD administrators are also encouraging students to use the Wi-Fi available at public sites like libraries and restaurants, and teachers, who received iPad training this summer, will show students how to download the items they will need for their homework so completion does not require internet access.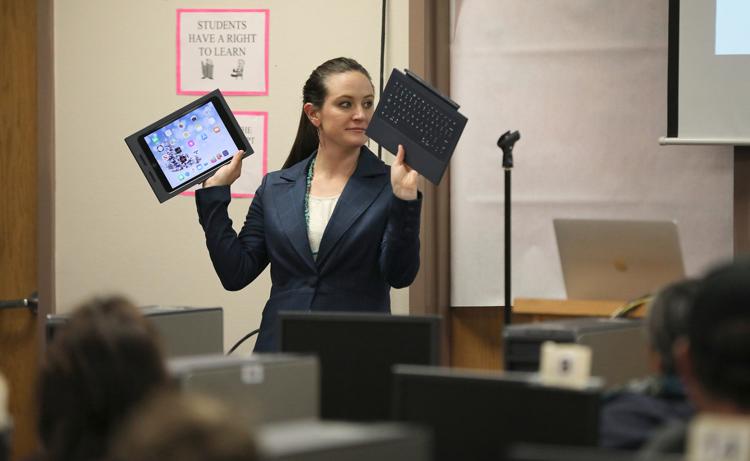 Privacy
Like any FUSD device, the iPads will be monitored to ensure acceptable use.
The Loan Agreement states, "The district reserves the right to monitor student usage of all district technology. Students have no right of privacy in their use of district technology, including stored files. "
This is consistent with many other educational technology policies, including at charter schools like Flagstaff Arts and Leadership Academy.
According to FALA's Responsible Technology Use Policy, "the school can and will monitor electronic mail (email), laptop disk drives, and portable storage devices and receives Internet traffic reports on a daily basis."
Knight said these privacy standards have been included in FUSD technology policies even before the original iPads were introduced, though these new iPads will be more restrictive.
"We track everything that happens online within the district," Knight said. "We have that ability to be administrators and supervise all district-owned devices. Therefore, if there was any reason, any concern, that a device may being used inappropriately, we would have the resources to investigate."
Such investigations would only occur if there is probable cause; she said the district does not have the capabilities or desire to constantly track its students with internet browsers, cameras or otherwise.
Beyond this management, the devices will also be equipped with a filtering system that works with any Wi-Fi connection, at school or elsewhere, to prevent access to inappropriate content. Online services like YouTube would only be permitted with teacher override.
Following governing board approval of a new security package in May -- and September's cybersecurity attack -- FUSD administrators said they will continue to update security measures to protect the iPads and other district devices.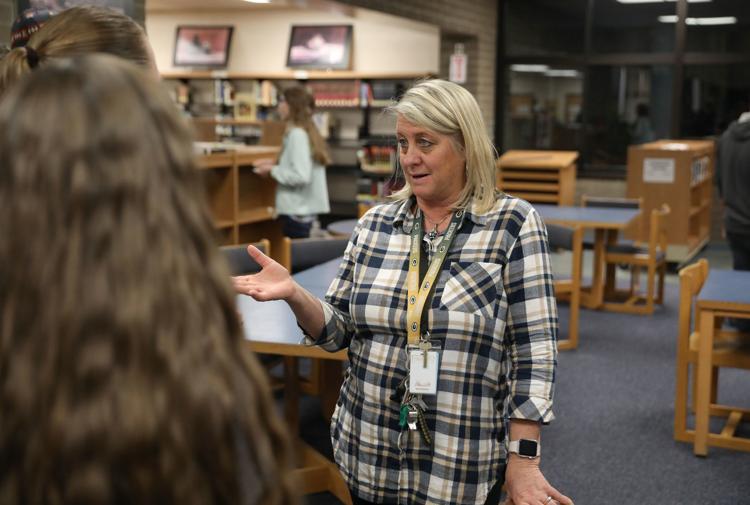 Capabilities and curriculum
Unlike standard iPads, the new FUSD devices will have limited access to Apple features. Students will be unable to use music apps, erase or change device settings, add or remove apps, or use features like Siri, iMessage, Facetime or Airdrop.
"[We want] to make sure that this is an instructional, educational item," said Communications Director Zachery Fountain. "It's not just the iPad that you buy at Best Buy."
Customization of the device and its case, including the internal iPad wallpaper, are not allowed, though Knight said the district may consider increasing customization options for students over time. Students' names will appear on the opening screen of their device to help them identify it.
The iPads will be pre-loaded with educational apps including StudentVUE for checking grades, Canvas Student for managing classwork, Cisco Security, Anonymous Alerts, Pearson Test View for assessments and a self-service portal.
Teachers can manage student devices – projecting content onto all or select devices or even locking the screen view -- using the Apple Classroom app and they can request additional content apps for their students that, upon approval, can be downloaded from the self-service portal. Students will not have access to the App Store.
"This is an educational device and that's really what it's for," Knight said. "It's not uncommon at all for students not to have access to the App Store. [The iPad] has limited storage -- it's 32 gigabytes -- so we need to leverage that for prioritizing educational apps that are associated with their school day."
The district plans to use digital content included with some of its more recent textbook purchases, like English Language Arts for kindergarten through eighth grade. Walton said the next subjects with curriculum to be integrated onto the iPads would likely be science and social studies.
"Both of those content areas lend [themselves] so great to technology because, you figure, in social studies, as soon as you buy a hardcover text, it's already out of date … and to be able to do a virtual dissection of something and to get into things so much deeper in science would be tremendous," Walton said.
As the iPads become a regular part of the school day, but not the sole method of instruction, teachers have been asked to be balanced with their use of the devices to prevent too much screen time.
"As we're leveraging screen time for productive experiences for students, we also want to keep in mind that technology needs to be used when it adds value to what we're trying to accomplish," Knight said. "If a paintbrush is the more appropriate tool, then that's what needs to be used. If a piece of paper and pen is the most appropriate way to do that, then that needs to be used."
Knight said the district will continue to evaluate students' screen time as iPad use continues.