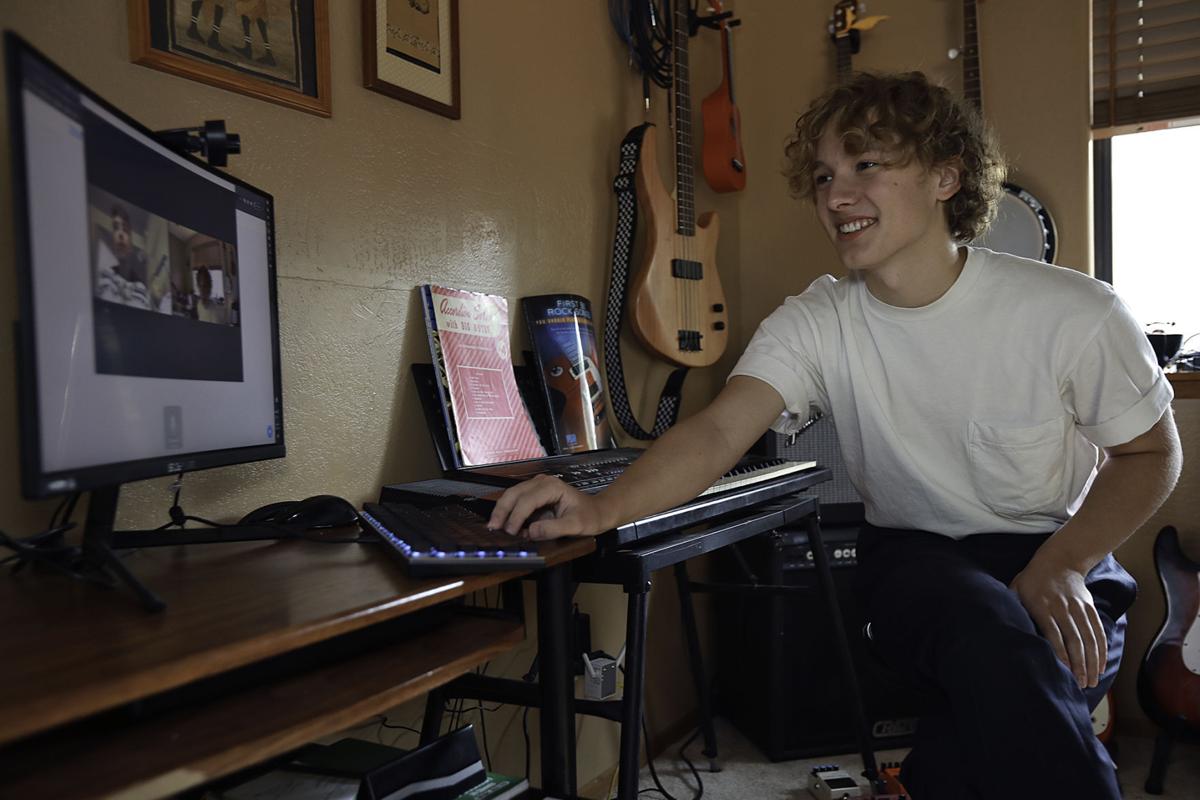 An early version of a hybrid return-to-school plan for Flagstaff Unified School District students prompted mixed responses this week.
This summer the FUSD Governing Board voted to postpone in-person learning until the end of the first quarter, Oct. 9, at the earliest. Though the board is not scheduled to make a decision on resuming in-person learning until its Sept. 22 meeting at the earliest, it heard a presentation Tuesday on hybrid learning options — part online, part in school — that propose splitting student groups in half, with each group meeting in classrooms two days a week while the other completes remote learning.
"It's absolutely a challenge, the hybrid model," Superintendent Michael Penca said Tuesday. "I think we all wish we could go from the remote we're in now to that it's safe enough to just return to full in-person. We all would much prefer that as an option. I just think we have to be realistic that the data may not support full in-person learning for a long period of time.
"… So hybrid is kind of a way to meet in the middle, but it's absolutely most challenging for our staff who have to support kids in both worlds. It's not what we would prefer to do."
Penca said the plans will be further developed in the coming weeks. Currently there are two hybrid options, one where groups meet in person on consecutive days and another where they alternate. Wednesdays would be half-days on which all students attend classes virtually, much like the digital learning that began Aug. 17, to allow for deep cleanings of schools and professional development for staff in the afternoons.
In the first option, Group A, divided alphabetically by last name, would meet Monday and Tuesday for in-person learning, while Group B would meet Thursday and Friday. In the other presented option, Group A would meet Monday and Thursday and Group B would meet Tuesday and Friday.
The days students are not in school they would access class materials online, but would not have live video meetings with their classes.
A third group of students interested in attending school remotely would complete activities on their own each day except on Wednesdays, when they would meet with their class through live videoconferencing.
Assistant Superintendent of Curriculum and Instruction Mary K. Walton said that at first the ideal option was to have cohorts of students separated by a day of deep cleaning, but following guidance from Coconino County on the district's new daily cleaning protocols, FUSD was cleared to switch between student groups on consecutive days.
"So it's really about the learning and whether it's better two days in a row or space it out over the course of the week," Walton said.
At the meeting Tuesday, the hybrid options gathered approximately 35 public comments that covered a full range of opinions.
A frequently mentioned concern with the hybrid options was the loss of time students spend working directly with their teachers. According to the presentation, students participating in in-person learning would meet with their teachers only twice a week, compared to the current five days they spend together virtually. For students who select the online-only option, it would be only one day with live instruction.
Some families favor the return to in-person learning, either in a hybrid form or "all in" with students back in class five days a week, because they say remote learning is not working well for their students. Others, on the other hand, expressed concerns about family members who are in high-risk categories for COVID-19, challenges in finding child care and the disruption of a sudden change in schedule just as their children are starting to adjust to remote classes.
Teachers who submitted comments were concerned about their safety, noting that when they are working in schools now, staff are not always wearing masks as instructed and that a COVID-19 case has already reached Coconino High School, even without students being on campus. Most employees have been working at their school sites; Human Resources Director Dawn Anderson said about 200 have requested telework options.
Teachers said they also worry about the increased workload in having to prepare lessons for separate groups of students and the possible gap in quality of learning between students who are able to attend in person and those who are not.
One student, Carrie Grimm, a senior at Coconino High School, submitted comments on the hybrid options, instead asking the board to reopen schools fully to better prepare seniors for college.
"We are at a point where I can do just about everything I used to, except go to school in person. … I understand that some people like this remote learning format and that it does work for some. Some may even like the hybrid model. But so many of us want to be back in school, need to be back in school in-person," Grimm said.
FUSD is in the process of interviewing candidates for its new chief health administrator position and is sending out surveys to employees and families to gain additional insight into preferred options for the rest of the fall semester.
Reopening benchmarks
The areas making up FUSD and Flagstaff charter schools have both met the benchmarks for beginning hybrid instruction, according to Coconino County Health and Human Services' weekly schools update.
The three benchmarks are based on local COVID-19 case numbers, positivity rates and hospital visits. In Coconino County, only Fredonia-Moccasin Unified, Grand Canyon Unified and Tuba City Unified had not met one or more of these benchmarks by the time the latest report was released on Sept. 4. The next schools update is scheduled to be released Friday.
County epidemiologist Matthew Maurer said school officials have been meeting with his team biweekly to discuss reopening plans, with many schools in the region scheduled not to open until either October or January.
Though the county is within the moderate level of community transmission of COVID-19 and most school districts currently meet the benchmarks, Maurer anticipates some fluctuation.
"I would expect to see their data kind of change up and down within those benchmarks, really going hand-in-hand with what we're seeing in the data countywide or within each of these communities," Maurer said.
Concerned about COVID-19?
Sign up now to get the most recent coronavirus headlines and other important local and national news sent to your email inbox daily.