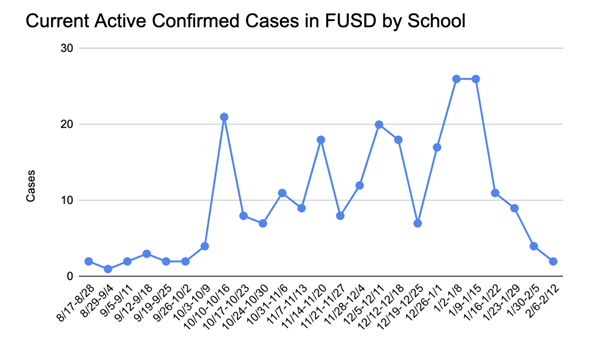 Students of the Flagstaff Unified School District will have the option to return to in-person classes next month as long as local COVID-19 cases remain low.
The FUSD Governing Board voted Tuesday night to approve a phased return to in-person learning starting the week of March 22 following spring break.
The vote passed 4-1, with Christine Fredericks voting against the measure because she felt the district was not yet ready for a return. Those who voted in support referenced declining local COVID-19 cases, FUSD's mitigation strategies, student social-emotional health and the availability of COVID-19 vaccines to education workers, among other factors.
In encouraging the return to school, district staff also pointed to national findings that K-12 in-person schools are not a primary driver of COVID-19 transmission, improvements being made to all district ventilation systems and increased access to COVID-19 testing for staff that could be expanded to high school students when they return to school campuses.
According to the phased return plan, preschool, kindergarten, first, second, third, sixth, ninth and 12th grades, plus students in specialized programs, will return to five-day in-person learning the week of March 22. The remaining students will return the following week. Staff will return March 8.
FUSD Superintendent Michael Penca said Tuesday this phased return was condensed from a previous version to maximize the 10 weeks of the school year remaining after spring break.

This plan has been labeled a hybrid because families have the choice to send their students back to class on campus; the remainder will still be able to access their classes online. The Arizona Department of Health Services (ADHS) recommends hybrid learning when a community is experiencing moderate transmission of COVID-19.
According to an optional form distributed earlier this month, FUSD families indicated 72.5% of students would prefer to return to in-person learning. Responses to the form account for about 60% of the district's total students -- which Penca described as a good indicator for the overall number of students likely to return to school campuses.
"Hybrid learning is defined as some students attending school in person at the brick and mortar school. The CDC says 'a significant portion remaining in virtual or distance remote learning,' so based on some of the numbers we're receiving, we might expect about a third of our students would remain in remote learning. So that, in my mind, would be a significant portion of students," Penca told the board.
Despite concerns about teachers having to simultaneously work with students who are in-person and those who are online, prior to the vote, Penca was adamant that staff can adapt to this learning style, which he believes will be better than what is currently offered and will help to reduce equity gaps among students.
"It will not be perfect on day one, just like full remote learning on Aug. 17 was not perfect, but you know what, it was better on Friday and two weeks later, it was even better than that. I have the utmost confidence in our staff and that our families and students are going to extend the grace that we had through the bumps and hiccups that we've had over time, that we're going to get through this together and it's going to be meaningful for learning," he said.
Reopening would apply to all FUSD schools, including Leupp Elementary on the Navajo Nation.
Penca said in conversations with Nation leaders in the fall it was agreed that FUSD would be permitted to open Leupp and transport older students to its middle and high schools in Flagstaff despite any closures of the Navajo Nation, if families had the option to continue in remote learning and the district implemented the CDC's recommended mitigation strategies.
The board on Tuesday also voted unanimously to revise its benchmarks for reopening to match those of ADHS — to reduce confusion created by the district's more stringent benchmarks — and to use these benchmarks not as the determining factor for reopening schools, but as "a tool that is used in addition with the layered mitigation strategies" recommended by the Centers for Disease Control and Prevention, such as mask-wearing and physical distancing. Any future modifications to the benchmarks made by either the state or CDC would need to be approved by the governing board before being adopted.
Carol Haden, clerk of the board, implored community members to maintain recommended COVID-19 mitigation procedures themselves as the return to school approaches.
"It is really a community responsibility to keep these levels low," Haden said. "To support this decision by the board, we really, really need the community to be on board, continuing all of the safety precautions that we've all been doing for all of these months and to not let the decrease in the numbers let us relax those."
According to the FUSD COVID-19 dashboard, 253 total COVID-19 cases among FUSD staff and students have been reported to the district since Aug. 17, 43 of which have been associated with athletics. For the last reported week, only two cases were investigated districtwide, at Marshall Elementary.
If there is a worsening of COVID-19 numbers over the course of two weeks -- which will be available to check in FUSD's Friday health updates -- the board will then consider a return to full remote learning.
Tuesday, the board also approved an update to the district's COVID-19 mitigation plan, with minor adjustments to match the latest CDC guidance, and the start of spring sports, including allowing each student-athlete no more than two parent or guardian spectators at home competitions.