One hour, over 1,600 successful serves and one new Guinness World Record.
That's basically what it took for Flagstaff resident Trenton Hayward to get his name in the book. Hayward, who is a regional tennis pro that takes care of programs around the city all while working as the tennis director of Pine Canyon, hit 1,658 in-bound serves in 60 minutes to break an 8-year-old world record in May.
Breaking a world record in and of itself is an impressive feat, whether it come from the more obscure records or the mainline ones found in the world of sports.
Hayward had to follow a strict set of guidelines to make sure his record attempt would count. He needed to have multiple United States Tennis Association officials, scorekeepers as well as at the minimum two camera angles and photographs -- none of whom having anything to gain from his potential success.
Beyond the witnesses and officiating requirements, the physical aspect of firing off so many serves during an hour was massive.
The world record attempt came on a day that saw nearly 40-mph gusts at the Pine Canyon courts. To adjust for the wind, Hayward said he had to take a particular approach to this shots -- having to avoid hitting bloopers over the net and find the right pace on his shots to get the ball to cut through the wind.
Hayward wasn't able to serve immediately after he let a shot rip. He had to wait for each ball to land in or out of bounds before he was allowed to fire off another.
"If I blooped the serves, it could take multiple seconds for the ball to land in, and therefore multiple seconds before I could fire the next serve," Hayward said. "That pace probably wouldn't have cut it. So I had to put pace behind the ball, not only to punch through the wind but to make sure I was continuing the cycle to reach the mark in time. If you hit soft blooper serves, the record would have been out of reach. Because of the 40-mph winds -- combined with the need to fire a serve roughly every two seconds -- I needed to put some punch into the balls to maintain accuracy and a record-setting pace."
It was one of just a few tennis world records that can be done without the help of other players -- such as longest rally.
TAKING A SHOT AT IT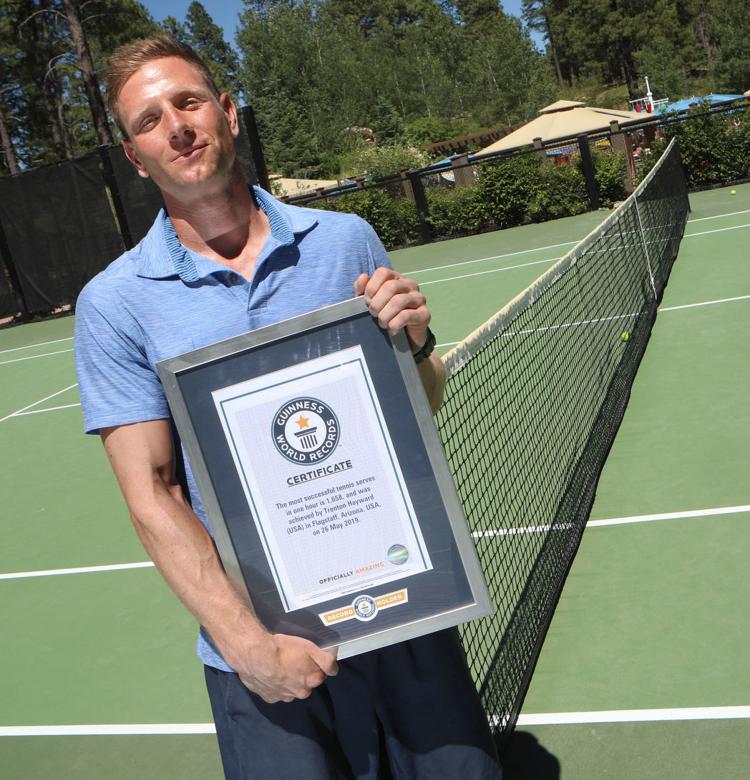 Having played tennis since he was just a kid, Hayward said the preparation that goes into setting a world record really wasn't focused on the record itself -- rather the overall mastery of your sport or trade.
You have free articles remaining.
Hayward, a former all-conference and team MVP performer for Northern Arizona men's tennis, said he logged more than 10,000 hours of tennis training before he even made it to the collegiate level, and has since then continued to train and develop in the sport.
"You grow up in the system of a sport. You master a sport," Hayward said. "When I was a kid I was at the court training. So when you're talking about just the collective amount of training, it's not, 'I need to go train to get the Guinness World Record.' It's just stuff you've done your entire life. And if you're in shape and your arm holds up, you can take a shot at it."
Hayward graduated from Northern Arizona in 2010, last played professionally in 2016 and now focuses on the teaching side of the sport.
MORE TO MASTER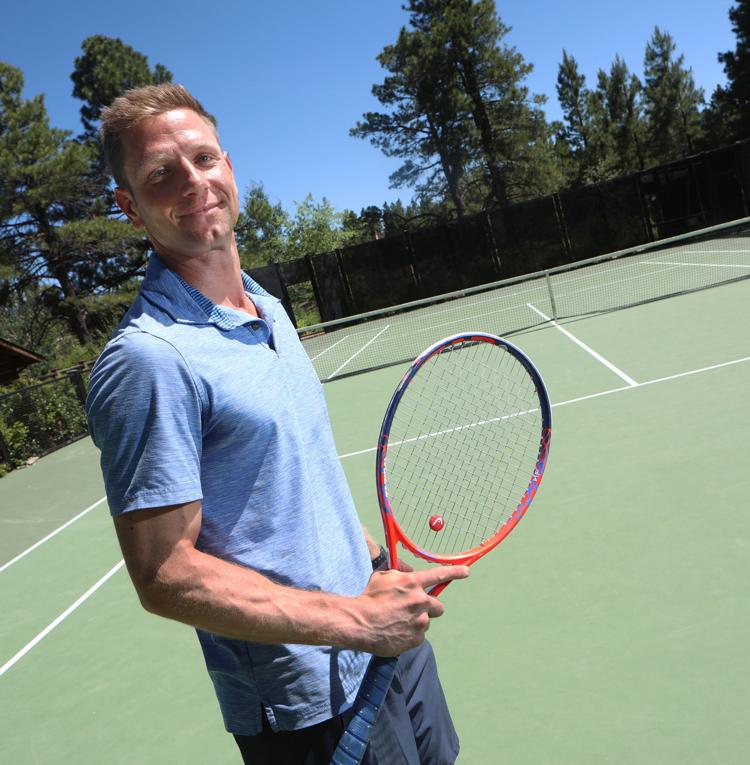 As for why he wanted to break a record in the first place, Hayward said it was the chance to prove his mastery of his craft that helped to seal his decision to go after the record.
"Growing up, if you're an athlete you kinda look at the Guinness Book of World Records and are just amazed by the strongman, the guy that makes the most 3-point shots in a minute, the most chin-ups in an hour -- those are the experts in their sport or trade.
"These guys are proving to the world their mastery of a particular trade or skill set. So I figured let's see if I can become one of them. Thankfully it turned out well," Hayward said.
Hayward broke one of the more "normal" tennis records. Some tennis records are more easily thought of, such as longest rally or the longest professional tennis match -- a mark held by John Isner and Nicolas Mahut set at Wimbledon in 2010. 
Others, not so much. Such as the record for most targets hit with a tennis hit in one minute or most people bouncing tennis balls on tennis rackets at one time.
Hayward said he wants to go after the world record for longest successful rally -- which currently is held by Simone Frediani and Daniele Peci with a total of 51,283 total strokes and lasted over 13 hours.
For him to be able to even attempt such a record, Hayward said he is asking different players around the county to see who would be up to attempt to break the record.