Flagstaff Eagles head coach Beth Haglin looked at her smartwatch to check her heart rate during a marathon second set. It read 116 beats per minute.
The fourth-seeded Eagles outlasted the No. 12 Desert Edge Scorpions 32-30 in the second stanza and ended the night with a sweep at home to advance to the 4A Conference state volleyball tournament semifinals for the first time since 2015.
The Eagles needed a cooldown after the tense match Thursday, exiting their War Memorial Gymnasium just moments after blanking the Scorpions for the second time this season to take a dip in the high school's indoor pool. 
Even Flagstaff High principal Tony Cullen jumped in during the celebration marking Flagstaff's trip to the semis, where the team will face the tourney's No. 1 seed, the Greenway Demons, on Saturday. 
"The last thing we wanted to do was lose a set to them because I felt like they would have gained a lot of momentum, and volleyball is such a momentum sport," Haglin said.
Brooklyn Quick and Tara Brain, both seniors, helped the Eagles close out the second game, which was entirely different than the 25-7 opener and 25-10 closer.
Quick placed a tip into an open space in the middle of Desert Edge's front court for a side-out point that put her team ahead 30-29. After a Scorpions kill followed by a double touch fault, Quick and Brain worked in tandem for a set-winning block, rejecting Desert Edge middle Joi Harvey.
Brain ended her night with seven blocks, as did teammate Madeline Wilson, whose second-set kill helped spark a 4-1 Flagstaff run that closed the deficit to 14-13 after the Eagles had been down as much as six.
"She was big for us in the middle," Haglin said of Wilson. "We struggled in certain rotations and she stepped it up. I told them, 'You need to get the ball to her to spread the offense and keep them honest, you can't just push it outside,' and she stepped up and had some key kills."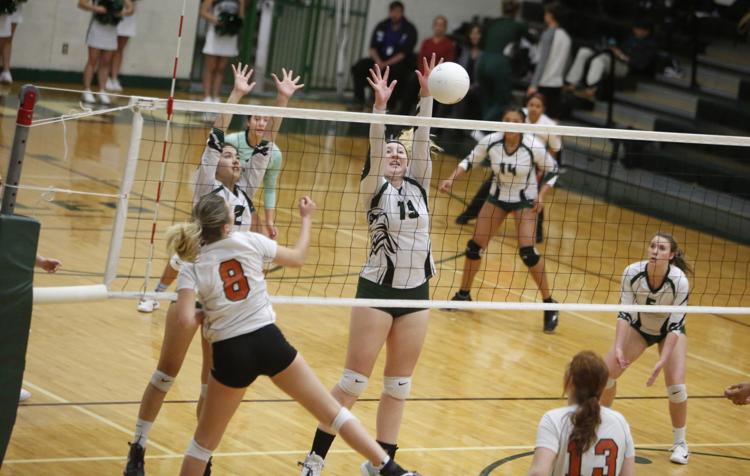 Desert Edge reached the quarterfinals on an upset of fifth-seeded Canyon Del Oro Tuesday night in four sets, two of which went to extra points and ended in favor of the Scorpions. Working against themselves most of the night as errors and faults piled up, the Scorpions' tight-set magic didn't carry over into Flagstaff's gym for the Thursday quarterfinal.
Scorpions head coach Brandon Sparks, who complained about crowd noise while his team was getting trounced in the first set, received a yellow card in the second for a delay of game. Sparks tried icing Wilson during her serve with a timeout call but had none left and got the card for it.
The Eagles opened the first and third stanzas on runs. The first set started on a 7-1 Flagstaff burst, during which Harvey committed four hitting errors and a net infraction. With Hutton Hagerman at the service line, the Eagles went on another surge and gave themselves a comfortable 14-2 lead. Hagerman, who ended her night with 18 digs, had a service ace during the stretch.
Flagstaff's serving made a difference all night.
After she helped close out the second set, Quick set the tone for the third with a strong performance at the line and Flagstaff jumped ahead 5-0.
Devynn Hatathlie notched an ace in the second set that narrowed Desert Edge's lead to 21-18, and she had two more during a 9-0 run in the third set that left the Eagles with a 20-6 advantage. Sofia Quintanilla sparked the tear with a kill on a slide play for a quick side-out, Gracelyn Nez powered a shot off the block to make it 19-6 and Wilson registered a kill on the next point before a service error gave the ball back to the Scorpions.
Quick had key digs tight against the net during the second set as well, ending her night with 13 total, and Jazzy Berry contributed 14 while her and Hagerman played well on serve-receive through the night. Nez had 11 digs and four blocks.
"They didn't want to lose, they didn't want to go home, and that's what I told my girls going into the third set," Haglin said. "State is made up of the top teams for a reason, and no one wants to go home. I told them this has to be your best set because if it's not they will come back."
Flagstaff downed Desert Edge in the regular-season opener at home.
The Eagles will now face a Greenway team that handed them their only loss of the regular season in Phoenix in the second match of Flagstaff's year. The semifinals are set to take place 7 p.m. Saturday at McClintock High School in Tempe.