An auditorium packed with hundreds of eager spectators was brought to silence as a darkened Skype video conversation appeared on the screen in front of them.
"Station, this is Coconino High School. How do you hear me?" asked CHS's Christine Sapio.
Though located 250 miles above the earth's surface and traveling 17,500 miles an hour, NASA astronaut Anne McClain's voice responded in a matter of seconds.
"I have you loud and clear."
The room erupted in cheers as McClain's image appeared, depicting her aboard the International Space Station (ISS).
During a 20-minute window when the ISS was orbiting above Flagstaff Wednesday morning, a handful of participants including Sapio, Coconino Institute of Technology (CIT) teacher and robotics coach at CHS, were able to speak directly with McClain.
The live video was broadcast to all Flagstaff Unified School District schools, allowing students to watch as their peers asked questions about the ISS, working in space and McClain's other experiences.
Just after the connection was made, students gasped as McClain passed her microphone from one hand to the other, causing it to float without the force of gravity to pull it.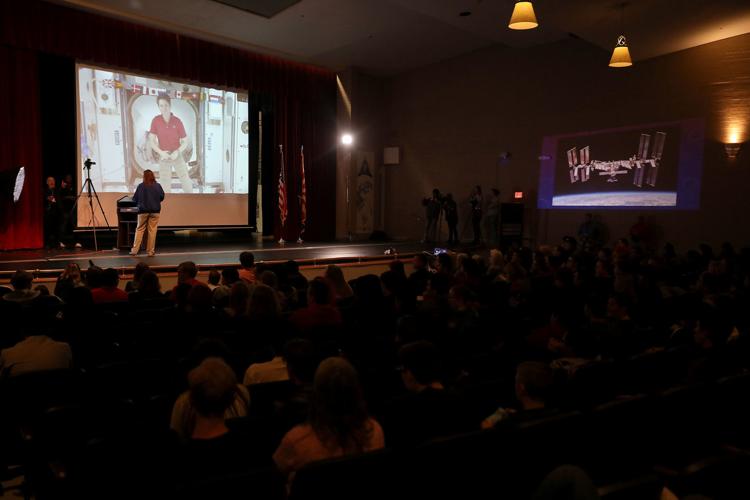 "Up here, what's really interesting is that after a couple weeks … it's like your brain remaps in 3D and you don't think about up and down anymore. You kind of twist and loop through the hatches. … It's really neat to try to get used to floating, but it's really cool when you've been here so long and you're so adapted that you don't even think about it anymore," McClain said.
The communication from Flagstaff to the space station, called "uplink," was the result of a joint grant awarded to Lowell Observatory and FUSD and is the latest addition to the Lunar Legacy series that celebrates Flagstaff's history of and continued connection to lunar research.
Todd Gonzales, Master Teacher at Lowell, said conversations between American schools and the ISS happen only two or three times a month, even though hundreds of schools apply. Lunar Legacy helped distinguish Flagstaff as home to community-wide interest in outer space exploration and research.
"It makes a lot of sense that we continue that legacy by inspiring the students of tomorrow to look at STEM careers. Even though the moon landings happened starting 50 years ago this year, it's our legacy and we need to continue it," Gonzales said.
Prior to the uplink, students like Simon Pickup, 10, a fifth-grader at DeMiguel Elementary, were eager to get a glimpse into space and have an astronaut answer their questions.
McClain demonstrated the effects of zero gravity as she spun around with a plush Earth toy named the "Zero-G Indicator" that arrived to the ISS earlier this week on the Crew Dragon spacecraft, along with Ripley, a mock astronaut.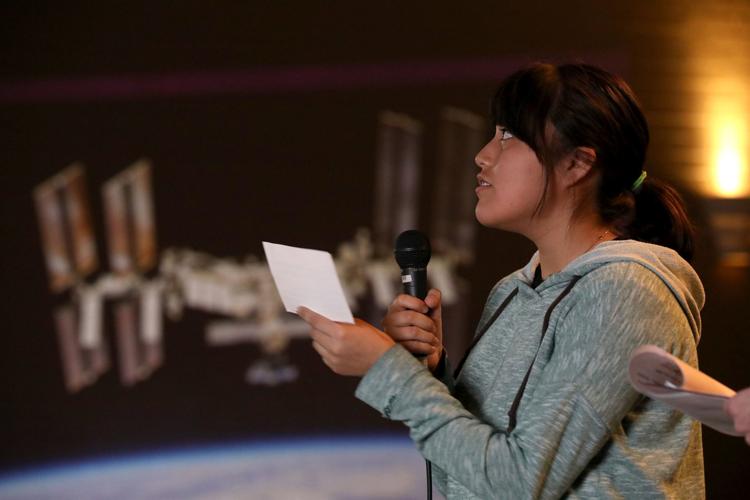 She also demonstrated what bubbles look like in space: releasing one from a drink pouch, allowing it to float through the station before consuming it.
Tristan Steagall, 16, a junior at CHS, said, "Being part of this whole thing, in our own little way, is so cool."
Alex Aytex, 17, also a junior at CHS, said she was especially fascinated by this personalized glimpse into space because "All the rules we know on Earth don't apply."
Although about 500 questions for the uplink were submitted by students throughout the district, only 20 were selected by Lowell and FUSD administrators and approved by NASA Public Affairs.
Zachary Dawson, 15, a freshman at CHS, boldly asked McClain, "How much of what you learned in high school do you actually use?"
McClain's response was one that resonated throughout the audience.
She said, "Here's what I kind of figured out. What you're learning in high school is not only the subject material that you're learning, but you are also learning how to learn … One thing I do know is that there is no such thing as smart people. Yes, some things come to some people a little bit quicker, but if that is not followed up by hard work and determination and dedication and maturity, then it's not going to go anywhere."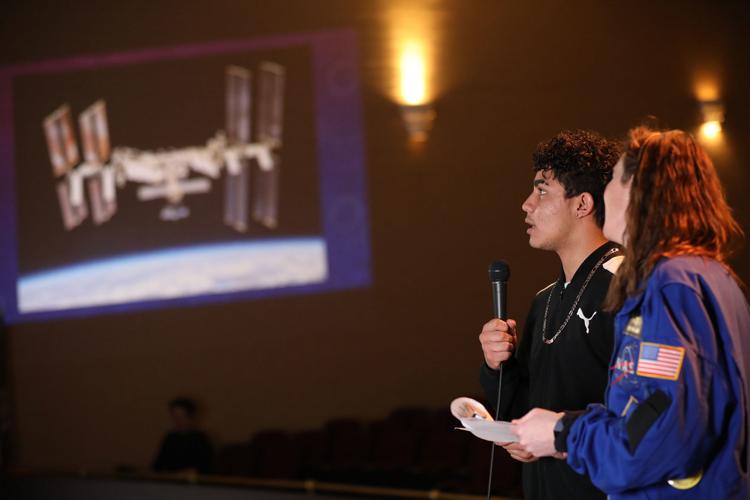 Even as McClain confirmed the importance of high school, students remained as excited throughout the uplink as Sapio was to lead students through trivia questions about the ISS before and after the uplink.
Sapio said she was "over the moon" to be able to answer a call from NASA.
"These kids really took away that what they're learning is relevant and is real and if they dream big enough they can do anything. They can make their dreams come true with hard work and study," she said.
Stacie Zanzucchi, principal at CHS, said she hopes the interaction with a NASA astronaut will inspire students.
"It was so exciting. I feel like our students got to participate in making history," she said.
Get local news delivered to your inbox!
Subscribe to our Daily Headlines newsletter.