"Love what is" reads a carved wooden sign within Flagstaff Sports Exchange on Aspen Avenue, another longtime downtown business that is going out of business.
This motto is a fitting reminder for staff and patrons as the store moves to close late next month following sales to clear out its inventory. All store credit will expire August 2.
Owner Katy Peterson said the change in customer demographics is what made the business no longer financially sustainable after 10 years.
Local shoppers unwilling to pay for parking downtown – even though Peterson's gear swap shop has its own parking spaces – have been replaced by tourists. She said about 90% of store visitors are now from out-of-town.
"A lot of the travelers don't quite get it. They're not invested, they don't have trade credit, they don't recycle here. They come in looking more for T-shirts and mugs and souvenirs," she said.
Instead of plastic trinkets, they find well-loved outdoor gear worn with the memories of successful adventures lining the walls and even hanging from the ceiling, with reminders for employees, flyers for upcoming local events, stickers and dreamcatchers adorning the spaces in between.
Peterson's decision to close the store came just a few months after she had considered transforming it into an employee-owned co-op. Though she and her staff had been working to improve the store's finances by better catering to tourists, she realized about two weeks ago that it was not salvageable.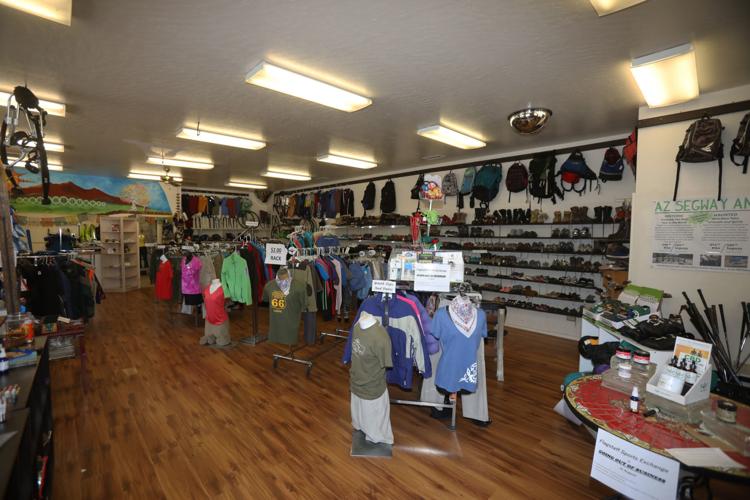 Filling a niche
Formerly a clinical social worker, Peterson opened the store in 2009 to interact with her community in a different way.
She had a bullet list of all the things she wanted her business to be: recession-friendly, family-focused, green and one that would fill an open niche. When a friend mentioned the exorbitant amount of money she had to spend to sporting gear for her kids, Peterson realized a gear swap shop was the answer.
Now, as the store closes, the business closest to filling its role is Snow Mountain River (SMR), which opened nearly a year ago on Milton Road. But the fit is not exact.
Mick Ohly, owner of SMR, said his demographic is different because of the store's proximity to the Northern Arizona University campus.
The mission differs, too. Instead of offering recycled gear alone, SMR also sells new items and pays cash for used goods, not store credit.
Though similar, the two store owners never considered themselves competitors.
"I feel bad that they're closing their doors. I used to own a business downtown, I know how hard it can be," Ohly said.
"My only real marketing message has been to check here first because it's an organic inventory. We may or may not have it, and we will send them to somebody who does. We don't compete with Peace Surplus or SMR, we just want people to get their hands on whatever they're looking for," Peterson said.
A widespread impact
You have free articles remaining.
The store had a reputation for its mission to serve community members, but also for its unique partnerships, even more recent ones.
After the closure of the Boy Scouts store on Cedar Avenue in early May – the only one in northern Arizona – Peterson had her store licensed to sell official scouting uniforms and handbooks.
Andy Price, scout executive of Arizona's Grand Canyon Council, said the Council is working to find another nearby business interested in becoming a distributor now that the store is closing.
It was the employees who made such partnerships possible and defined the store as much as the gear it held.
In the years that Flagstaff Sports Exchange has operated, Peterson estimated it has employed about 50 people, up to five or six at a time.
When the store closes, Callee Hagarty, store manager, said she will miss the current four-person team more than anything else.
"I'm sad. I really love this place. I'm going to miss everybody that's here, everybody that was a part of it. Everybody that works here really cares about the business and works really hard," Hagarty said.
Peterson, too, said she would miss her staff. Some of her favorite memories from the store come from her experiences with them, including First Friday festivities and New Year's laser tag.
Once the store is closed, she plans to travel to see family and maybe return to clinical social work.
"It's frustrating that it's such an uphill climb to be a small business owner in Flagstaff, but I've had a good run and I'm thankful, proud and excited to move forward," she said.
A new opportunity
As Flagstaff Sports Exchange leaves, a new business has already staked a claim to the Aspen Avenue building.
Blake Nabours, owner of AZ Segway and Pedal Tours, has been sharing the space with Flagstaff Sports Exchange for three years. He plans to embrace the change in downtown shopper demographics by expanding his tourist-focused business in the same location.
He has also offered jobs to the employees of Flagstaff Sports Exchange.
"This is the moment of a lifetime for me. I will never find a location like this, one that I'm already operating in and that I understand. It's either do this or do nothing," Nabours said.
As Flagstaff Sports Exchange gradually reduces its inventory, Nabours plans to backfill emptied spaces with new displays and merchandise, so that his store will open the day Peterson's closes.
"Tourists are a real thing. They are people and they deserve respect. I think it's worth leaning into [that market] and treating them right," he said.
The store will feature personalized items, which Nabours will create himself using equipment like laser engravers and embroidery machines. It will also feature selfie spots (displays created to look like Route 66, Sedona, the Grand Canyon, Horseshoe Bend and more) and places for tourists to book third party tours in those locations.
"We are going to be the hub of everything to do in northern Arizona," Nabours said.