Prior to tests completed in late August, it had been seven years since Flagstaff mosquitoes tested positive for West Nile virus, Coconino County Health and Human Services officials reported.
However, unlike then, ongoing research from Northern Arizona University's Crystal Hepp has helped pinpoint the origin of the two positive groups of mosquitoes found south of Lake Mary Road and in Cheshire.
Hepp, an evolutionary biologist, is researching how West Nile virus is moving around the southwestern United States by sequencing the DNA of mosquitoes that tested positive in states throughout the region. Since beginning the project in 2017, Hepp and her team have sequenced about 450 strains of the virus, including more than 200 from Maricopa County.
The strain of the virus found in Cheshire was similar to those found in Maricopa, meaning it was probably transferred here.
She said the differences in the two sets of DNA is likely due to mutations in the virus, which occur over time "according to a molecular clock." For West Nile virus, more than 90% of changes happen this way.
The Lake Mary batch, in contrast, was different from any other strain in her team's database; however, it most closely related to a strain found in Montana.
"That doesn't mean it came from Montana, it just means we haven't sequenced deeply enough," Hepp said. "At this point in time, though, we think it came from outside of Arizona."
She said having two different strains of the virus locally is a good sign.
"If they were closely related, there would be a substantial amount of active cycling between birds and mosquitoes and it would be a bigger problem for management purposes," Hepp said.
Although the virus was transported from Maricopa to Coconino, the two regions are very different for West Nile virus.
According to the latest report from the Arizona Department of Health Services, there have been nearly 100 confirmed human cases of the virus in Maricopa this year and 16 fatalities throughout the state from the virus. The average age of people affected is 62.
The last human case of West Nile virus in Coconino occurred in 2010; however, County Environmental Health Division Manager Eve Wolters confirmed that these cases were not acquired locally.
Hepp said Maricopa's current strain of the virus has been established in Maricopa for five years and re-emerges annually as it moves between mosquitoes and birds, while the virus tends to be imported in Coconino.
"In Coconino County, we only have short-lived importations that are not allowed to circulate throughout the entire cycle. They fizzle out every year," she said.
Whether or not these insects have the virus, though, mosquito populations are not spared from continual testing by another local expert.
Trapping and testing
You have free articles remaining.
After a few quick taps to knock down any stragglers, entomologist Hugh Murray closes his fist around the end of a net and swiftly pulls the drawstring closed, trapping any insects inside.
Murray, an environmental health specialist with Coconino County, has been conducting mosquito testing in Flagstaff, Williams and Sedona since 2006. It's a process he repeats every week from about mid-May to the end of September, one route at a time.
During the summer months, he also routinely tests local fleas for plague.
Like other Coconino County residents, Murray was surprised when tests for West Nile virus on the mosquitoes he had captured in late August came back positive, especially considering the amount collected.
"We didn't get nearly as much rain as we normally get this year, so our numbers [of mosquitoes] have been way off," Murray said.
The last mosquitoes to test positive, in 2012, were collected from the Kachina Village Wetlands Preserve and the same Lake Mary site where the virus was found this year.
After years of practice, it takes only minutes for Murray to set the traps at each site. He begins with either a tree or shepherd's crook from which to hang the trap, a device that lures in bloodsucking mosquitoes with carbon dioxide – the same gas humans exhale.
Dry ice (frozen carbon dioxide) is placed in a container shaped like a hotel room ice bucket, with holes at the bottom, releasing the gas into the air. As the mosquitoes are attracted to the carbon dioxide, they fly toward the bucket and are swept into an attached net by a small, battery-powered fan. Murray said the insects are such "weak fliers" that as long as the fan is on, they will not be able to escape the net, but will remain alive for testing.
The dry ice will only last about a day, so no matter when Murray sets the traps, he must return the following day to collect the mosquitoes, place them in a cooler and bring them back to the county health building for analysis.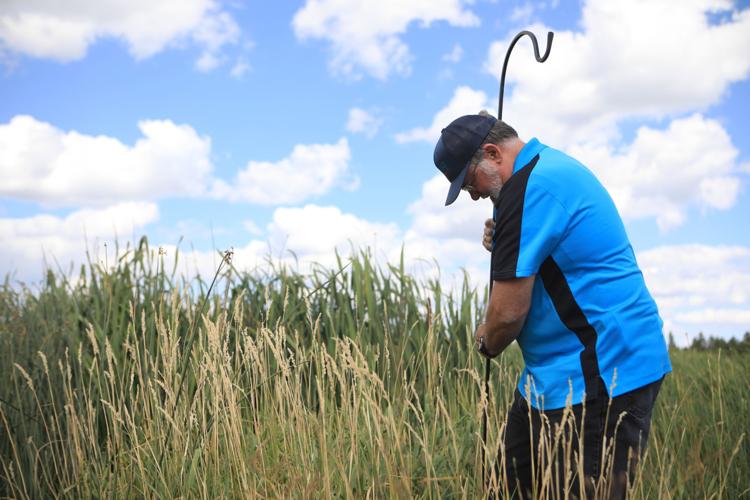 He said traps typically catch two types of mosquitoes: Great Plains Floodwater Mosquitoes, daytime biters that sting when they bite, and Western Encephalitis Mosquitoes, the West Nile virus carriers.
The separation process is where Murray's true entomologist comes out.
Using a dichotomous key, which characterizes organisms from their biological order down to their species, Murray separates the carriers from the non-carriers. He said the carriers can be distinguished from closely related mosquitoes by fine scales along their back legs, as well as a white ring around their long mouths.
Although West Nile virus can be serious for the 20% of infected people display symptoms, Murray remains calm in the heart of mosquito territory.
"I've been bitten plenty of times," he said. "That's part of the risk of doing this type of surveillance."