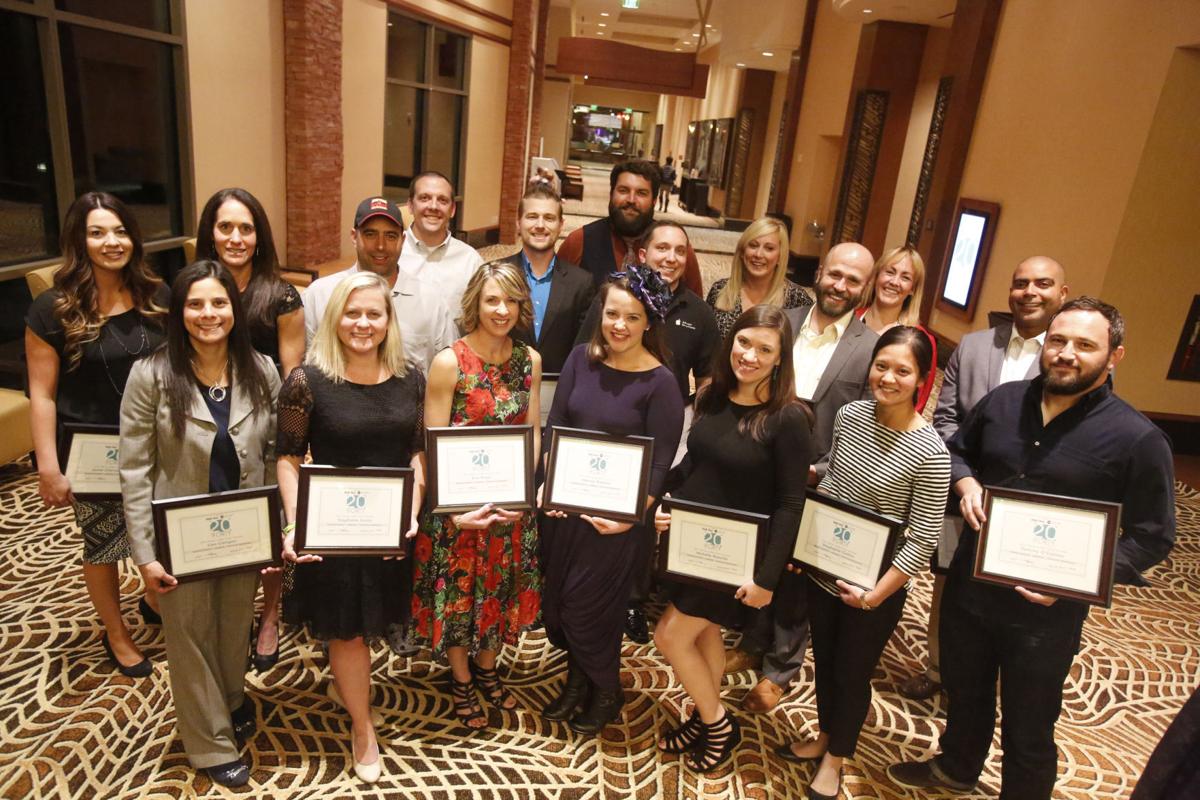 The Arizona Daily Sun and Greater Flagstaff Chamber of Commerce recently asked the community to nominate local business and professional leaders who have achieved success and excelled in their field before the age of 40. I the photo above, the  finalists for the 20 Under 40 awards are, in back from left: Janet Chavez-Vesely, English teacher/Success 101 teacher at Coconino High School; Ari Wilder, executive director of the Literacy Center; Johnathan Mullaney, owner/broker at Village Land Shoppe; Travis Joralmon, an insurance agent with McCullough Insurance Agency; Glenn Leest, an investment advisor for Four Peaks Wealth Management; Brent Harris, a prosecutor with the City of Flagstaff; Drake Louks, CEO of Arizona Tech Advisors; Marissa Griffin, community manager at the American Cancer Society in Flagstaff; Chad McCutchen, vice president of Omni Channel Digital Technology and Deckers Brands; Stephanie Stackhouse, a financial advisor at Edward Jones; Christopher Taylor, general manager of Flagstaff Buick GMC.
In front from left are: Lisa Campos, vice president of Intercollegiate Athletics at Northern Arizona University; Stephanie Smith, assistant to the city manager at the City of Flagstaff; Erin Kruse, Senior Corps Programs Project Director at Northern Arizona University; Marney Babbitt, NAHEC Youth Program coordinator at North Country HealthCare and Girls on the Run of Northern Arizona council director; Michelle Koechle is the owner/photographer at Michelle Koechle Photography; Stephanie Collins, a dentist at Stephanie Collins DDS PC; Tommy O'Connor, owner of Made with Math. Not pictured is Ande Burke, CEO of AB Marketing Solutions; and Kathryn Mahady, attorney with Aspey, Watkins & Diesel, PLLC.
The winners received their certificates at a reception Nov. 10 attended by 95 people hosted by event sponsor Twin Arrows. The Arizona Daily Sun's event partner was The Greater Flagstaff Chamber of Commerce. The business sponsor was Unisource.
Get local news delivered to your inbox!
Subscribe to our Daily Headlines newsletter.