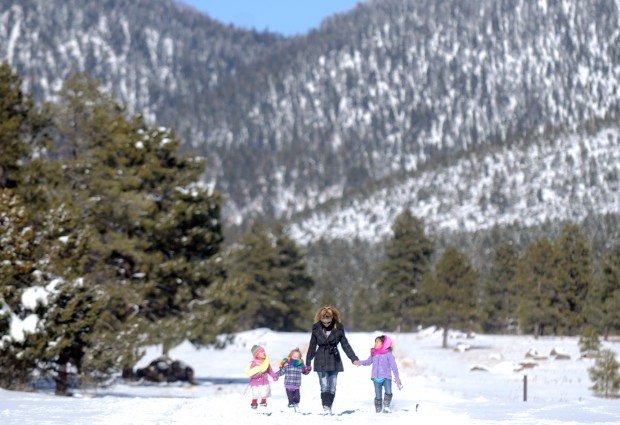 When it comes to iconic places in the city of Flagstaff, many people are quick to name Buffalo Park — an open space with trails that draws people for outdoor recreation and exercise just minutes from downtown Flagstaff.
At the entrance to the park stands a funky but beloved sculpture of a buffalo. This iconic statue by a college art student was formed of a concrete and latex-silicon mixture and weighs three tons.
"As best we can tell, there is chicken wire at the base," said Tonya Watson, who helped repaint him as part of a Rotary Club effort, in a 2009 interview. "He's kind of like most of us in middle age — he's gained in girth. Apparently, he's been tagged by high schools through the years, so he's just been coated over again and again."
Although the buffalo is a notable sight in Flagstaff, what stands behind him is the open space that includes a two-mile loop trail and is joined by connectivity to the Easy Oldham Trail, the Switzer Canyon Trail, the Cedar Trail and the Arizona Trail segment that bisects Flagstaff. The park also offers much ecological wonder.
Originally, Buffalo Park opened 50 years ago this year as a Wild West attraction that included buffalo, goats, deer, elk and antelope. Visitors also were entertained with wagon rides and shootouts. The business continued for about five years before the park began to lose money. A difficult stretch of winters created problems for the animals, and buffalo escaped to forage in residents' yards.