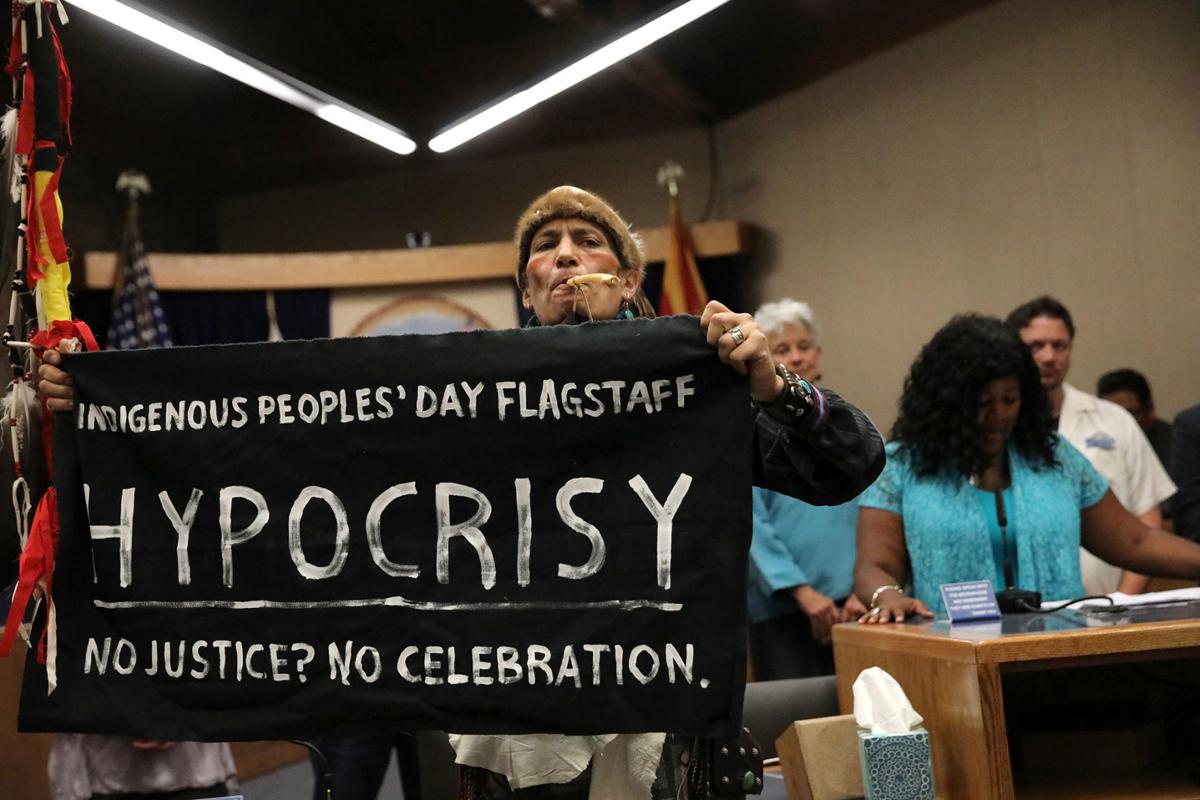 Flagstaff City Hall was filled Monday as people from throughout the region gathered for the city's first Indigenous Peoples' Day celebration.
Last year, the Flagstaff City Council made a proclamation to recognize indigenous peoples instead of Christopher Columbus on the second Monday in October, noting the importance of indigenous peoples to the city's past, present and future.
"We need to rewrite history. Columbus did not discover America. … Columbus got lost," Navajo Nation President Jonathan Nez said to attendees, who celebrated with brunch, guest speakers and traditional dances.
A new holiday name and celebration do not necessarily solve existing problems, though.
"Indigenous Peoples' Day Flagstaff: Hypocrisy. No justice? No celebration," read the banner of Klee Benally, a longtime local advocate for indigenous rights, who protested in the council chambers with his banner and a whistle during Mayor Coral Evans' reading of the proclamation.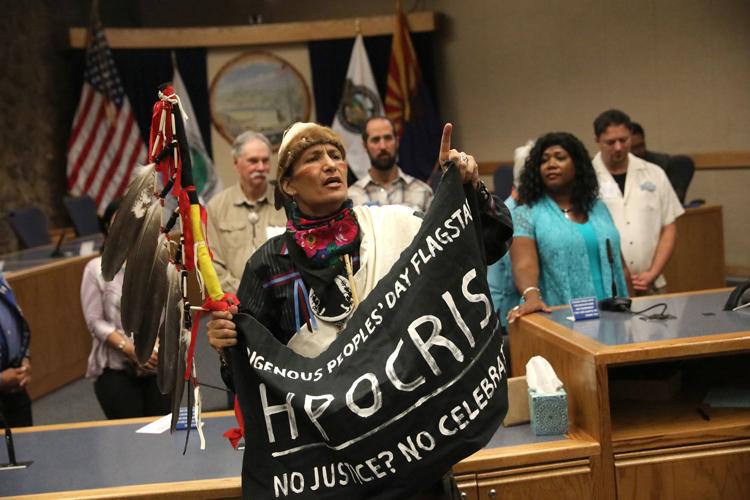 To the surprise of onlookers, though, the mayor asked the officers who appeared at his side to allow the protest to continue.
"The fact that we have people protesting means that we are not yet done … Without a doubt, a proclamation and a celebration does not fix historical trauma and this celebration that we are having here today is not meant to do that. It's not meant to cover up the issues that we have. It's not meant to ignore the issues we have," Evans said to the audience. "Rather, it is a purpose and time to bring us together to work on those issues because if we are not together, if we cannot come together in a simple celebration over food, over culture, over music, then we will always have a problem trying to fix the major issues that we have."
After his protest, Benally walked out of the chambers to applause.
"Indigenous People's Day is a day for justice for native peoples and the City of Flagstaff celebrating Indigenous Peoples' Day while they are perpetuating and benefiting from extreme human rights violations of native people is hypocrisy," Benally told the Daily Sun, referencing Arizona Snowbowl's snowmaking from treated sewage on the sacred San Francisco Peaks, continued anti-camping ordinances and the "disproportionate arrests of native people" within the city.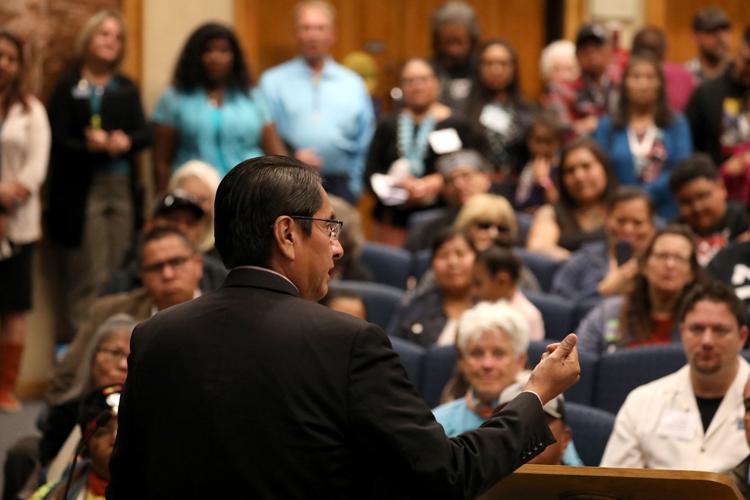 "[The City Council] could have taken these steps years ago, but they flat-out denied upholding our human rights. Those words Coral Evans said [in her reading of the proclamation] actually need to mean something. It means action, policy changes," Benally said. "It's not a radical proposal, it's just common sense to hold somebody accountable because they're committing injustices against your people."
Kaitlin Murphy, a junior at Northern Arizona University who grew up in the Navajo Nation in New Mexico, said watching this interaction between the mayor and a protestor was as insightful as the words of the speakers who echoed similar, though less direct, petitions for action.
"I think calling it Indigenous Peoples' Day is a start … It can be expanded a whole lot more and I look forward to seeing something like that," Murphy said.
Despite the additional action needed, attendees spent the day bonded together in their prayers and wishes for the future, joining the traditional dancers in their bells, feathers and body paint. Together, they spun and skipped around the city hall lawn to the pounding of drums in the full spectrum of colors -- clothes and skin.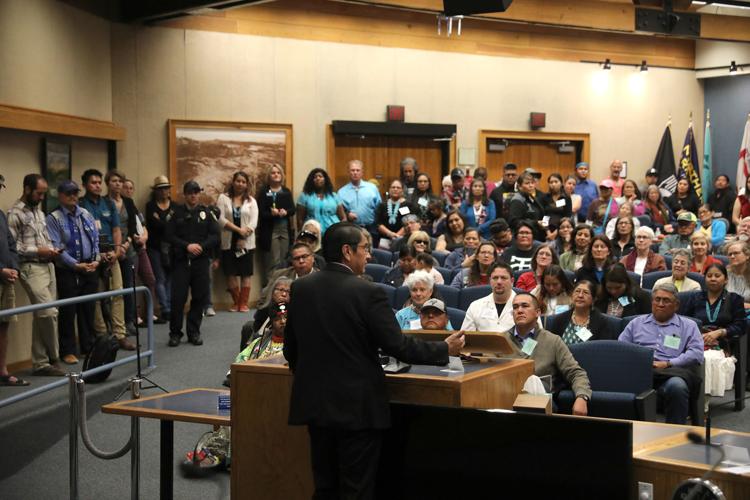 "Although we come from hard times, the future is grand," said Jon Huey, chairman of the Yavapai-Apache Nation. "And the future needs relationships with everybody: state, nationwide and across the world."
Get local news delivered to your inbox!
Subscribe to our Daily Headlines newsletter.