Officers with Flagstaff Police Department's tactical team on Saturday afternoon shot and injured an 18-year-old man who had fled police and was believed to be armed.
One officer also received a minor injury to his leg in what appeared to be a short exchange of gunfire. Both the officer and Flagstaff resident Jose Ernesto Padilla were transported to the Flagstaff Medical Center following the incident.
After the shots were fired, Padilla sustained non-life threatening injuries, according to police spokesperson Charles Hernandez, and was transported to the hospital.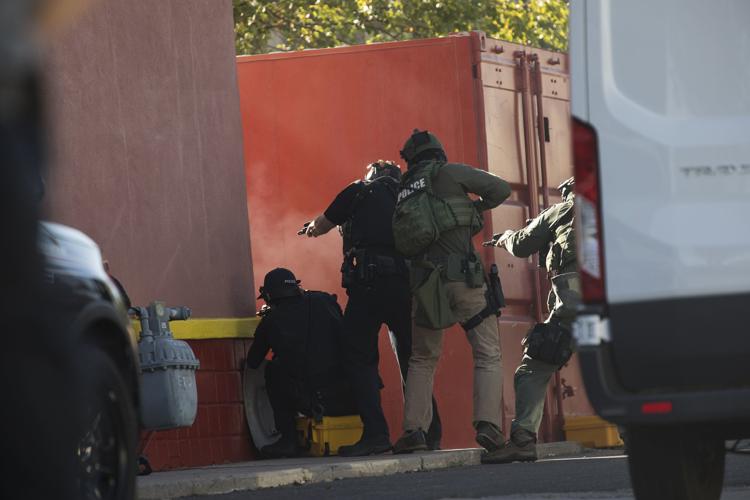 "It looked like he still had some fight in him," Hernandez said shortly after.
The incident was preceded by a nearly three-and-a-half-hour standoff with police that led to the evacuation of the Mexican restaurant El Tapatio on Route 66.
The incident began when Flagstaff police responded to a report of trespassing on East Maple Avenue at 12:14 p.m., Hernandez said. According to a witness, Padilla was on the rooftop of a house and trying to find a way in.
Padilla, who was also being sought in an aggravated assault investigation, allegedly fled from police at that time. Padilla then tried to hide in a storage container behind the El Tapatio restaurant, according to police, who believed Padilla was armed.
Manny Gutierrez, the owner and general manager of El Tapatio, said officers came into the restaurant at about 12:30 p.m. asking if employees or patrons had seen Padilla and looking around the area.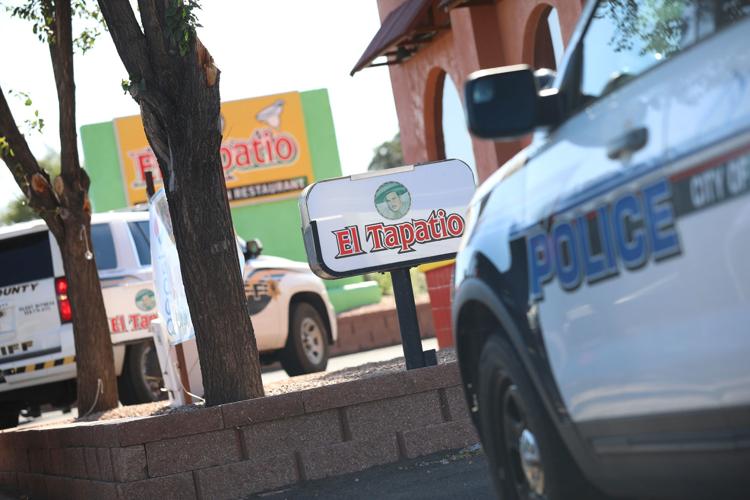 Behind the restaurant is a large metal storage container used to keep bulk dry goods and other kitchen supplies, Gutierrez said. While the officers were looking, Gutierrez said they came to suspect someone was inside the storage container.
Using the restaurant's security cameras, officers were able to identify Padilla and confirm he had entered the storage container, and the standoff began, Hernandez said.
About 12 officers arrived on scene including the police department's tactical unit and a negotiator who began to communicate with Padilla, asking him to come out.
You have free articles remaining.
According to onlookers, at this time Padilla used Facebook Live to stream video of himself in the container and he threatened to kill himself.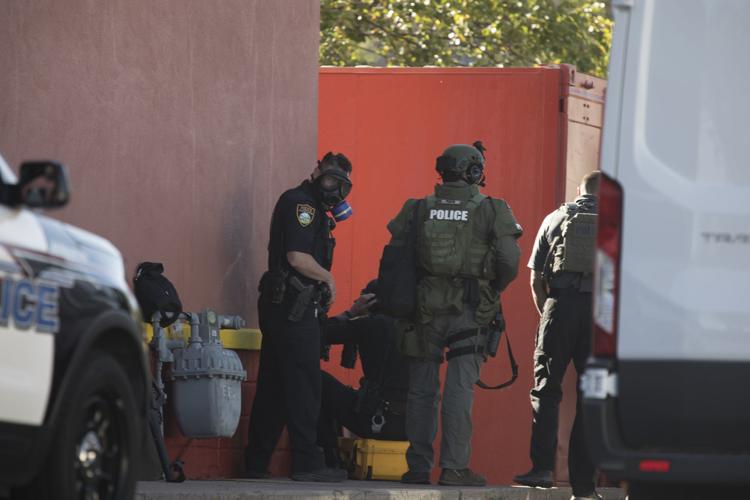 At about 3:49 p.m. with negotiations seeming to have broken down, officers donning gas masks and hearing protection began to use canisters of tear gas and flash grenades on Padilla.
About four minutes later, Padilla fired a handgun at the officers, who fired back at Padilla, injuring him. It was during this exchange of fire that one of the officers was also injured.
"As soon as all the gunfire stopped, it sounded like they started giving him commands to crawl to them, empty hands, which he did," Hernandez said. "Then they dragged him away from the firearm and started administering first aid."
By 3:55 p.m., ambulances from the Flagstaff Fire Department and Guardian Medical Transport had arrived on the scene. By 4 p.m., Padilla had been put into an ambulance and was taken to Flagstaff Medical Center.
"I can't get in the mind of Mr. Padilla, what made him start the volley, but it did happen, and luckily, everyone is OK with minor injuries," Hernandez said.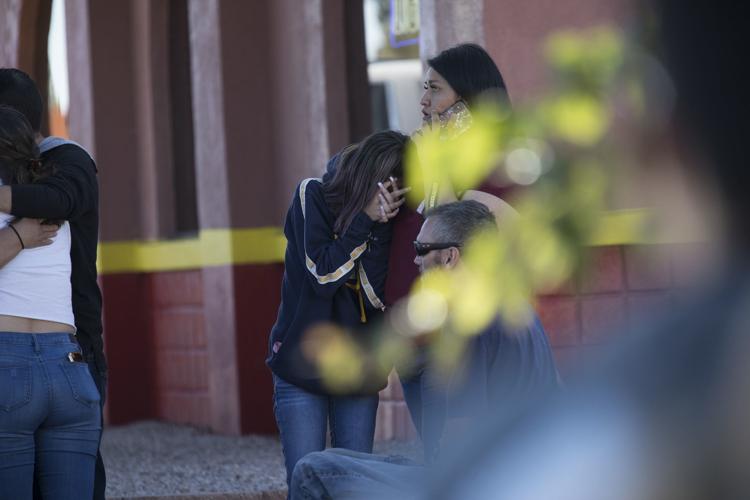 As the standoff dragged on, employees of El Tapatio stood on the sidewalk under the afternoon sun, drinking bottled water and snacking on potato chips. For some time, some patrons of the restaurant who had been evacuated had no choice but to wait with them. Officers felt it was not safe for patrons to walk to the other side of the building and retrieve their vehicles in the restaurant's parking lot.
Eventually, officers were able to get patron and employee vehicles out safely before the incident concluded.
Valentino Gonzales, was not at the restaurant when the standoff began, found himself stranded and unable to work. Gonzales, who lives in an apartment next door to the restaurant, drives a tow truck for Country Club Towing and had his truck parked in the area behind the restaurant.
Hernandez said the shooting will be investigated by the Northern Arizona Shoot Team, as they do with all officer-involved shootings. That investigation will be led by the Coconino County Sheriff's department.