The Flagstaff Police Department now has one automated external defibrillator (AED) in every department patrol vehicle. For a person experiencing cardiac arrest, AEDs can be the difference between life and death.
The devices were awarded to FPD through a grant from Health First Foundation Northern Arizona, in partnership with Griffith Blue Heart. The latter is a nonprofit that specializes in preparing law enforcement officers to handle cardiac emergencies.
Police personnel often will arrive before emergency medical teams or paramedics when 911 is called. Seconds count, and a police officer who is both properly trained and equipped to handle a medical emergency can seamlessly hand off care to medical professionals without missing a beat -- ideally, keeping the patient's heart pumping.
"Only about 20% of law enforcement agencies have AEDs in the field in Arizona in 141 agencies -- 15,000 sworn cops," said Brandon Griffith, the founder and CEO of Griffith Blue Heart. "We have a lot of work to do in order to get cops properly equipped, but it's not enough just to throw AEDs in the back of a car. You have to have a system of care."
In establishing a system of care, FPD has partnered with Guardian Medical Transport. Once the AEDs are installed, Guardian will help keep them maintained and track data about their usage to help organizations like Griffith Blue Heart determine effectiveness.
Griffith Blue Heart trained the entire force of Flagstaff police officers first in the summer on 2022, then again in December on cardiac resuscitation and AED use. 
At the time, supply chain issues had delayed the immediate delivery of the AEDs, but that didn't stop police from preparing for their arrival. 
"During practical testing on-site, officers performed at a 99 to 100% rate," Griffith said.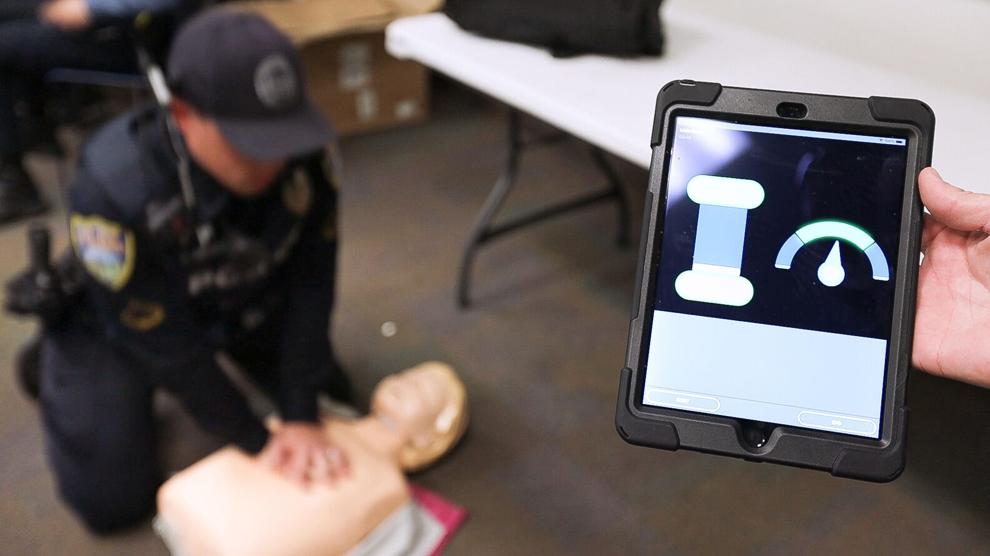 Live tests were administered and the performance of officers were overall successful after Griffith and his group provided training during the Law Enforcement High-Performance Resuscitation Course that took place at the department
The scores come from data collected by specialized feedback mannequins. Unlike typical CPR practice dummies, the pressure and rate of compression officers apply are measured in order to see if an officer's technique would work on an actual person in the field.
"It's really cool to see the officers really engaged in the training, because it's really life-saving stuff," said Josh Wilson, a captain paramedic with Guardian Medical Transport who attended the December training. "It's important for me to be on the medical side of stuff and to see these guys be able to do it faster than I can do out there."
The trainers from Griffith Blue Heart plan to return to Flagstaff in six months to assess the officer proficiency, making sure officers have retained the information previously learned. It is part of the same system of care that will ensure the AEDs are not only installed but maintained.
"Most of the time when we go into courses, our overall resuscitation scores are between 35 and 60%. By the time we're leaving these guys are in the high 90s. The lowest score we've ever gotten on a final evaluation was 98.35%. But we're going back 6 months to a year later and they're still in the low 90s and high 80s. They're retaining the information. Because it's not, throughout the day, here's 5 minutes of CPR. They're doing it throughout the day under stress, and they're doing about an hour of compressions throughout the entire day," said Griffith. "They're building that muscle memory and that skill set and keeping it."