In the quest to create more affordable housing in Flagstaff, one nonprofit is employing a model that takes land out of the ownership equation.
The Townsite Community Land Trust, or TCLT, buys, restores and then sells historic Flagstaff homes at an affordable price to low-to-moderate income buyers. To meet all of those goals, the land trust sells only the house, then leases the land underneath to the homeowner for a 99-year renewable term.
"It's the most effective model for attaining affordable units for workforce housing," said Justyna Costa, housing manager for the city of Flagstaff, which has its own land trust program with 25 units.
After more than four years of work, TCLT is in the final stages of finding owners for its first housing project: four century-old cottages at the corner of Aspen and Bonito in downtown Flagstaff. Two homes already have owners and two are soon to be filled.
Two one-bedroom homes are being sold for $224,500 and two smaller studios go for $205,600.
Christine Graham sits on the porch of her Townsite Community Land Trust home, which she purchased last year. The century-old home is part of a…
While those prices may still be out of reach for many people, the nonprofit's co-founder Duffie Westheimer said they are more than 25 percent below the homes' appraised market value. She emphasized that the homes have undergone massive improvements, including new foundations for two, and are also in one of Flagstaff's priciest neighborhoods.
"TCLT is making homes in the highly desirable historic neighborhoods available to households who otherwise would not be able to afford to own a home there at all, not to mention a safe, modernized and energy efficient home that retains its historic character," Westheimer wrote in an email.
To make such a model work financially, there are several other ways the TCLT homes differ from those bought and sold on the open market.
The homes are only available to households making up to 125 percent of the area median income. That's $55,000 per year for a single resident in Flagstaff and $62,900 for a couple.
A buyer's projected monthly mortgage, interest, taxes and insurance payments can't exceed 28 percent of their gross income. Their other debt, like credit card debt, student loans and car loans, can't be more than 35 percent of their gross income.
Buyers must have savings of between 8 percent and 250 percent of their income and be able to pay a minimum down payment of 3 percent.
In order to keep the homes permanently affordable, TCLT caps the growth in resale price at 1.5 percent of the initial sale price, compounded annually. Sellers get that fixed appreciation, as well as their down payment and the equity they have built through monthly mortgage payments.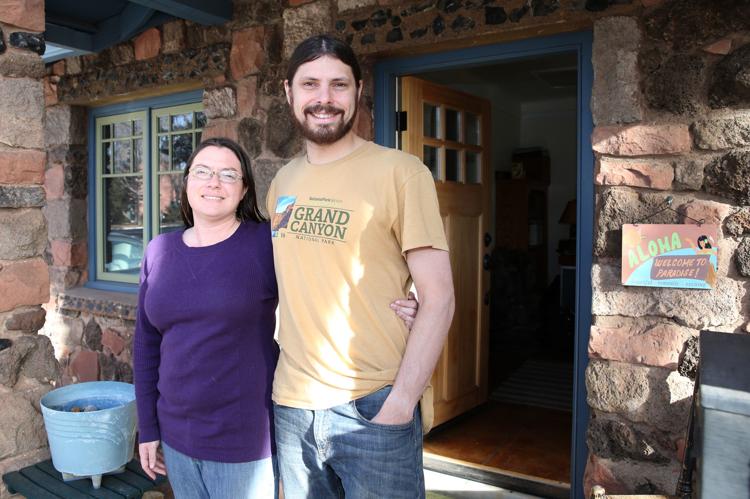 The homes do also come with financial advantages.
Utility bills are low because the homes were built to be very energy efficient.
Because TCLT already owns and has paid for the land, homeowners aren't required to purchase private mortgage insurance.
Because they are owner-occupied historic properties, the homes are eligible for a property tax break.
A shared garden area and storage building with space for each homeowner are other added bonuses that aren't part of the sale price, Westheimer said.
TCLT HOMEOWNERS
The first round of TCLT homeowners, who moved in around early December, represent different backgrounds and different ways of making the land trust model work financially. Christine Graham, a professor of voice at Northern Arizona University, owns one of the one-bedroom, 701-square-foot clapboard homes that face Aspen Avenue. Graham graduated from NAU, then lived abroad in Germany for many years before being asked to come back to teach at the university in 2016.
She initially moved into an apartment owned by a colleague, but kept her eye on the downtown townsite neighborhood and eventually found out about the TCLT cottages. She hadn't planned on buying a house right now, but loved the place and the neighborhood so much that she decided to try to make it work, Graham said.
She had saved money by living frugally in Germany and got help from her mother and brother to make a $10,000 down payment. The $1,400 per month she pays in mortgage costs was a shock initially, but isn't far off from what others pay to rent similar spaces, Graham said.
"It was like a very complicated strategy game," Graham said of the homebuying process.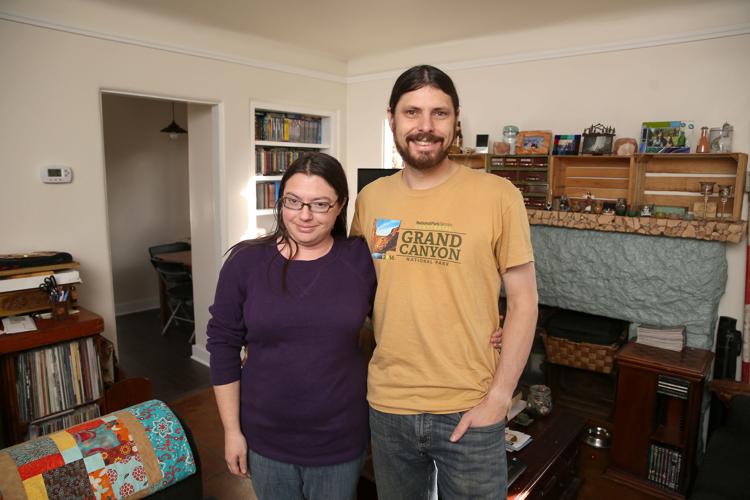 Homeownership was also new to Emily Melhorn and Joel Kane, the new owners of the 650-square-foot stone cottage next to Graham's. The two NAU graduate students hadn't been looking to buy, either, knowing the difficulty of the housing market in town.
"We knew the kind of house that we wanted to have and we weren't really sure we would be able to have it in Flagstaff," Melhorn said.
After finding out about the TCLT program, though, they jumped at the chance to own a small, historic home that is also energy efficient and located in a walkable neighborhood, the couple said.
Thanks to careers they had before going to graduate school, Melhorn and Kane had saved enough money to put up a down payment of more than 20 percent. That's allowed them to have a smaller mortgage payment and they both said the $878 they pay each month is "definitely doable."
They also like being part of a model they both see as a way to rein in housing costs and keep historic homes attainable.
The extent to which TCLT can help provide more affordable housing in Flagstaff depends on the nonprofit's ability to get more historic homes, Westheimer said. The organization is looking all over Flagstaff for the next potential project.
TCLT not only subsidizes the home's price but also commits to continually supporting homeowners, both of which Westheimer said support the mission of preserving historic structures and stabilizing neighborhoods with owner-occupied homes. It's not about short-term payback, she said.
"We have to take the long view on this," she said.