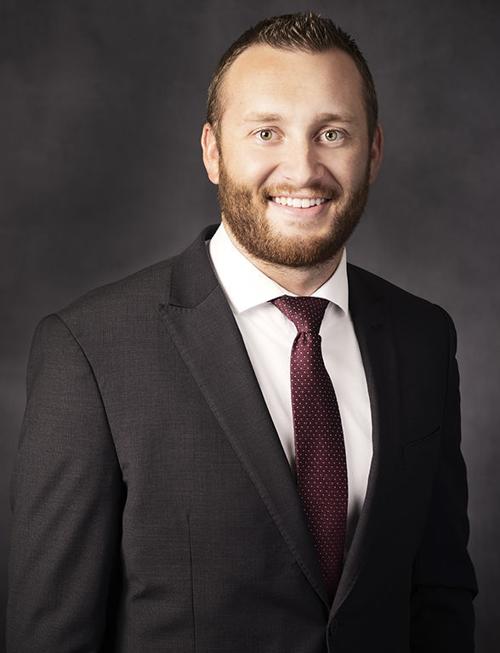 In an exam room packed with 525 people, it would be all too easy to fade into the crowd.
But not for Flagstaff's Trevor Korsten, who earned the third highest score on the Arizona Bar Exam this summer, results for which were released in October.
"It was 99% relief and 1% excited to be top three, but it was mainly just relief," he said.
According to a press release from the Supreme Court of Arizona, of all the people who completed the exam, only 66% passed, including two other Flagstaff residents: Jordan Dikeman and Barry Williams.
Trevor was born in Flagstaff and attended Coconino High School and Northern Arizona University. He decided to double-major in accounting and finance to start a career as an accountant -- until a certain class changed his mind.
Introduction to Business Law, a class typically taken by business students in their freshman or sophomore year, teaches students about the legal issues faced by businesses, concepts like trademarks and corporation partnerships, as well as how the U.S. Constitution affects business, said professor Eric Yordy, who teaches the business law classes at NAU.
While many students struggle with the course, Yordy said, things just clicked for Trevor.
"Seeing these different areas just showed me how broad practicing law can be. … I just naturally gravitated toward it," Trevor said.
"Trevor was an amazing student," Yordy said. "He's just a great young man who has a great work ethic."
After graduating summa cum laude from NAU in 2016, Trevor began law school at Arizona State University's Sandra Day O'Connor College of Law, where he served as the articles editor for the Arizona State Law Journal and received the CALI Excellence for the Future Award for having the highest grade in eight different classes. When he graduated this May, ranking 10th in a class of 222 students, preparing for the exam became his full-time job. He studied from May through the end of July, when he took the two-day exam.
"He had a good sense of where he wanted to go and what he wanted to do and he pursued it and he did really well," said Yordy, who has kept in touch with Trevor since his graduation.
In September, while still awaiting the results, Trevor was brought on as a member of the Estate Planning Practice Group at Ryley Carlock and Applewhite, a law firm in Phoenix.
Trevor said he has been enjoying this role, which allows him to use his background in accounting and finance. He works with clients to help them provide for their children, minimize estate taxes and choose an individual to act on their behalf if they become incapacitated, among other services.
"I try to help people manage things that they view as being out of their control and help them see the bigger picture," Trevor said. "It's not easy, but I think it's rewarding to see that peace of mind."
He credits this desire to help people and be involved in a community to his time spent in Flagstaff, which he still visits regularly.
"Flagstaff is an extremely supportive community whether that be in schools, sports programs, or friends. When coaches, teachers, etc. push you to do your best, it allows you to have the opportunities I have had," he said.
As he continues to settle in to this new job, Trevor hopes to grow his clientele and continue to make relationships in his new community, all the while "learning how to be a better lawyer every day."
Business and law
Though not a common starting point for students interested in a legal career, Yordy said a business degree can be a great entrance into law because it will allow them to understand what the businesses are experiencing, based on documents like financial statements.
In this way, Trevor explained the reality of a career in law is far different from its television depictions.
"It's a lot more reading and drafting documents rather than the courtroom drama," he said.
Each year, Yordy said about one or two of the hundreds of graduating business students eventually go on to law school. Though this percentage is small, Trevor is not the only NAU business student to become a successful lawyer. Yordy described several students who have gone on to top law schools and firms after their time at NAU.
Whether law is in their future or not, though, Yordy's advice to all business students remains the same: "You're going to work hard, you're going to be the best you can be and focus on the impact you have on people."
Get local news delivered to your inbox!
Subscribe to our Daily Headlines newsletter.