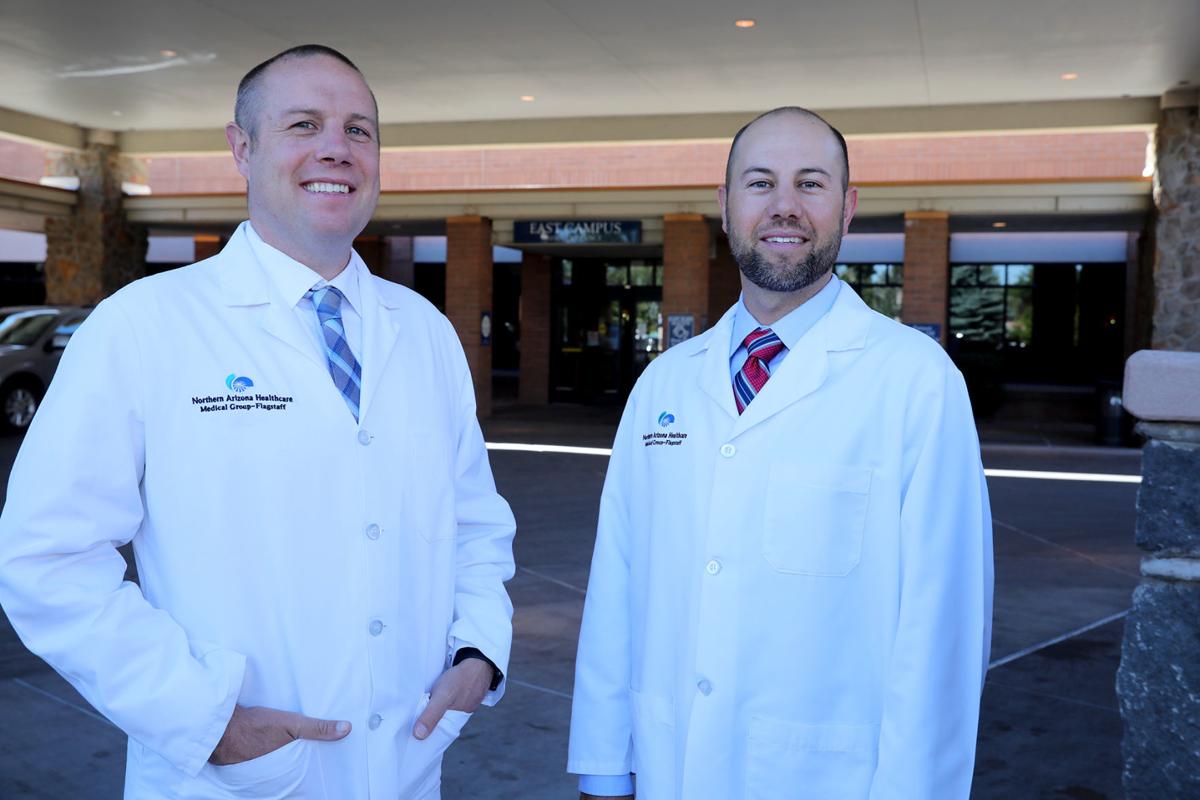 As of this summer, there are now three orthopedics practices competing for clients in Flagstaff, with the Flagstaff Medical Center's almost 2-month-old program joining veteran providers Northern Arizona Orthopaedics and Flagstaff Bone & Joint.
Northern Arizona Healthcare (NAH) began the program with Stephen Ritland, spine and neurosurgeon, who began practicing out of NAH's Medical Group building in early July. Orthopedic surgeon brothers Scott and Peter Gibson joined the team Monday. Two additional surgeons will join the Flagstaff team soon.
NAH also hired another orthopedic surgeon to its Verde Valley Medical Clinic team, bringing the total number of its orthopedic surgeons in the region to nine.
The demand for orthopedics, especially in a town like Flagstaff, is significant, said Scott Gibson, who specializes in shoulder and elbow surgery as well as sports medicine.
"When you have so many active people outdoors doing stuff – skiing, mountain biking, running – you're going to hurt yourself eventually," he said.
His brother, who specializes in hand surgery, added that orthopedics programs are usually rare in rural communities, especially in Arizona, but towns near ski resorts tend to generate a need.
The two work on orthopedic trauma cases as they occur and will also travel to Sedona to see patients there.
As FMC enters this area of medical practice, though, it has disrupted existing relationships with the two local practices that have filled this niche for decades.
Northern Arizona Orthopaedics (NAO) and Flagstaff Bone & Joint (FBJ) once co-owned the ambulatory surgical center on North Beaver Street to provide same-day surgeries to locals, but sold the facility to FMC in early 2015.
The three organizations shared this space, as well as other areas of the hospital itself, for years.
Now that the dynamics between these organizations have shifted from partner to something more like a rival, such services are being questioned.
Vicky Rowell, director of marketing and business development for FBJ, said although the hospital recently ended its orthopedic trauma contract with FBJ in favor of its own trauma specialists, "we expect to co-exist with all health care community participants in a positive way that focuses on the best interests of our patients."
"We will still be operating in their facilities, as long as they allow us, but we will be building our own [ambulatory surgical center]," she added.
NAO did not respond to requests for comment before publication.
Amicable behavior may be the goal, but the competition was already heightened by not only FMC's end to a longtime contract, but also its recruitment of new physicians directly from these practices – including the Gibson brothers.
Scott said this transfer should not be viewed as a sort of "poaching" of doctors, though – the choice to practice at NAH was made in the hopes of increasing his work with patients, reflecting a national trend of physicians moving away from private practices.
"There's so much pressure in private practice now. You're getting further and further away from patient care and more to having to run a business and not taking care of people. I think that's where it frees you up here [at FMC]," he said.
He explained the electronic medical record system at FMC was appealing because it connects patient data throughout an entire health care system, instead of limiting the data to stay within a single practice. This allows him to pull patient information from whichever specialists a patient has previously seen at NAH, even if it was in the Verde Valley.
The American Medical Association's annual benchmark survey reported that 2018 was the first year where there were fewer physician owners than employees, alongside an increase in the physicians working in very large practices. The report stated that only 40% of physicians still work in small practices with 10 or fewer physicians that are physician-owned.
This change has been occurring since the late 1980s.
A 2015 national study by Georgia-based Jackson Healthcare found that the top three reasons physicians were leaving their private practice for employment were high overhead costs, administrative hassles and reduced reimbursement cuts.
For dissatisfied physicians operating out of smaller practices, larger nonprofit hospital facilities like FMC show promise in providing resources to address these concerns, allowing doctors to focus more on their patients.
"We just want to be here in this community and take care of people. I didn't train for all those years so I could bicker about insurance plans and do that for the rest of my life. I just want to show up, take care of people, do what I need to and stay here and have stability in the community with my family," Peter said.
Though Peter explained that federally funded health centers like NAH cannot deny patients access to treatment like private practices, Rowell said physician operated practices like FBJ bring access in other ways, like being able to stay late to work on cases and set their own prices to make services more affordable to patients.
Flagstaff Bone & Joint expansion
Despite the additional competition from the hospital, FBJ is optimistic about the future, with expansion efforts already occurring.
The organization purchased the lots at 501 and 525 N. Switzer Canyon Drive – the former Mercedes-Benz of Flagstaff building – over a year ago to create its own ambulatory surgical center and medical offices.
Construction on the 9,000-square-foot surgical center within the existing structure began in mid-July; it is scheduled to open in spring 2020. It will include a procedure room for same-day surgeries like sports injuries for total joint replacement and spine work.
The 22,000-square-foot medical office building will allow the organization to consolidate its four different offices (most of which are currently located in the North Star Medical Offices on North Beaver Street) and is scheduled for completion in about two years. It will hold 34 exam rooms, three x-ray rooms and a 5,000-square-foot therapy space.
"We are going strong. Our patient demand for our services is high and we continue to grow. We do see the competitive environment, but I think it's an advantage for everybody. It's going to give us a cause to be more competitive and provide more superb service," Rowell said.
Despite attempted recruitment from NAH, no physicians chose to leave this practice in favor of the new orthopedic program.
Get local news delivered to your inbox!
Subscribe to our Daily Headlines newsletter.