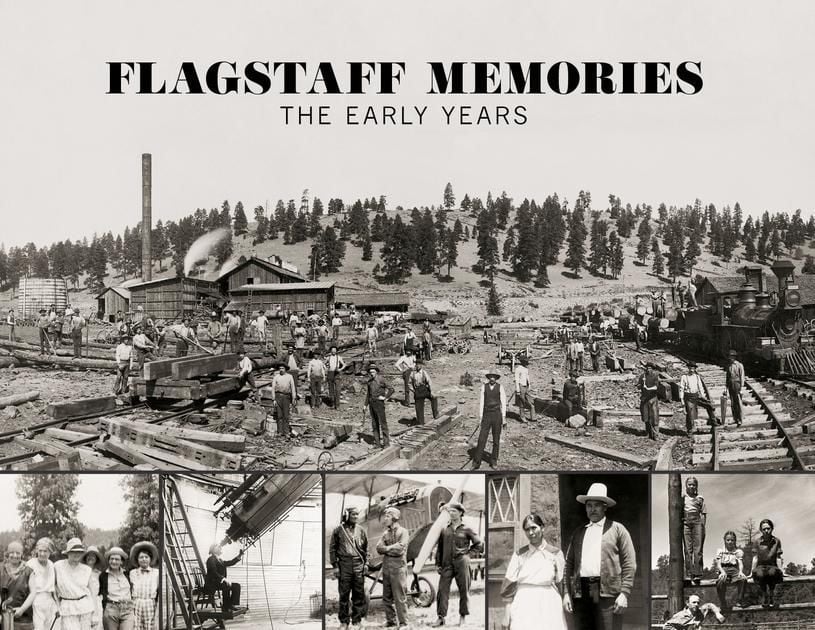 125 YEARS AGO
1895: It was 6 degrees on Wednesday this week.
James Corbett of Williams will be the leader of the grand march at the Masquerade Ball Friday night. It is announced for 8:30 p.m.
C.A. Greenlaw of the Coconino Lumber Co. was in town on Tuesday saying the loggers in that area are working day and night this week.
A.W. Jorden is engaged in putting in the windows, frames etc., on the new courthouse. Superintendent of Construction John A. Wilson says a force of men will probably resume work on the building about the middle of March.
Found: A door key for an M. & W. lock.
The A. & P. painters are at work touching up the interior of the depot.
While hunting ducks last Sunday, Agent McCarty of the A. & P. station at St. Joseph was killed by the accidental discharge of a companion's gun.
A memorial from the Legislative Assembly of Arizona Territory has been presented to U.S. Congress requesting that the lands covered by the Petrified Forest be withdrawn from entry until the advisability of making it a public park can be settled.
Alger's freight team arrived from Tuba City on Monday after being on the road for eight days. The snow is about four feet deep on the level east of the mountain and when John Smith's place was reached the teamster was compelled to leave the trail wagon. It took four days to come on in that distance - 18 miles – with one wagon and several times the driver thought he would be compelled to abandon everything but the horses. He brought 24 Navajo blankets for Harry Hoxworth.
That Salt River Valley now boasts of a 13 and half pound cauliflower head. Can't some cheerful prevaricator of the Verde Valley beat that?
100 YEARS AGO
1920: All of Flagstaff's stores and businesses will be closed next Monday forenoon, in honor of our hero dead.
Inspector Smith of Cleveland, Ohio, when he was here not long ago said that in his 22 years experience, which has taken him all over the United States, he never had seen a second class Post Office that came up to our Flagstaff Post Office in convenience or equipment. He said that the plan of this office should be drawn up for a model for other second class offices to be patterned after.
Herman J. Kahl this week sold his interest in the Kahl Drug Co. to Fred S. Breen and Urban J. Lewis. The business will hereafter be conducted under the name Breen – Lewis Drug Co. Mr. Lewis is to have active management of the business.
Mr. Kahl, whose health has not been good during the last few months, has been for some time anxious to make some changes that would take him to a lower altitude. He and Mrs. Kahl will leave within a few days for Los Angeles where they will remain for several weeks or at least until Mr. Kahl has found a business location.
Urban, or "Jimmie" as he is usually called, is a popular live wire chap qualified by long experience and expert training for his present job as managing partner. He is planning several improvements in the store, among them a redecorated interior and the addition of several new lines of goods.
A big Case automobile belonging to A.C. Conklin of Denver, who travels for Rogers Silverware, got stuck in the mud near Bellemont on Thursday when he backed it up so that he could put on a new tire before coming on in to Flagstaff. It backfired and started to burn up.
Conklin had a pretty lively time getting out his tools, cushions and other stuff, burning one of his hands painfully.
Before the fire reached the 15-gallon gasoline tank, he and Henry Hays, of the Flagstaff Garage, who had gone out to help him, retreated to a very safe distance.
Then, up strolled a farmer who seeing a blue flame around the tap on the tank, smothered it with snow and the tank did not explode. The engine and chassis of the car are in pretty good shape, but sadly it needs a new body.
In addition to the regular picture program at the Orpheum on Friday night, there will be a picture showing the latest activities of the U.S. Navy. This picture is officially authorized by the U.S. Navy Dept. and under the direction of Captain Cyrus W. Cole, U.S. Navy Recruiting Inspector, Western Division, San Francisco.
50 YEARS AGO
1970: Sunday afternoon an employee in the APS Sub-station yard reported a couple of suspicious persons in the yard and found nearly 400 pounds of copper wire that had been dragged to the yard fence where it was leaning over against a post.
Tracks were found leading to a car parked nearby. Sheriff's investigators arrested two local men, Huey L. Irving and Walter E. Wallace who were standing idly near the car.
Auction – Navajo rugs – Flagstaff Armory – 1 to 5 p.m. Saturday, Feb. 26. Dine Ahilandalnish, Inc. – Tuba City.
The Santa Fe railroad has petitioned to discontinue the two passenger trains that service Flagstaff each day. Its numbers can easily show that these trains are operating at a loss.
Two years ago, the Coconino County Board of Advisors put their stamp of approval on the much advertised "Rogersdale" development in Doney Park. Cinema Cowboy Rogers showed up in town to pose for pictures with local officials in a publicity campaign for the opening of a 1,700 acre area east of the Peaks that was to be a Northland Model City. They approved a complete residential and industrial zoning and then awaited progress.
The Planning and Zoning Commission has now requested that this zoning be revoked. Commission Director Jack Smith said "We feel that it is not a good idea to have all that land just sitting there, all zoned." So far no opposition has materialized.
Avalanches of motorists descended upon the Assessor's Office this week as Friday's deadline for the 1970 license tabs approached. The late fee is $6.25.
As if the Flagstaff police didn't have enough already to do, on Wednesday afternoon a "Flying Saucer" was reported in the air just east of town. Investigation soon discovered that it was simply a flying Box Kite!
The site for a 100-unit low income housing development being proposed under the Housing and Urban Development program by Whitaker Corp. of Albuquerque is located on a 20-acre site south of Thomas School. There is a 100-foot strip between Lockett Road and the boundary of the housing site with Fanning Drive forming the east boundary of the project. The plan calls for 50 duplex units. The other 40 units will consist of single residences with 30 four-bedroom units and 10 five-bedroom units. Construction is to be of slump block which will greatly reduce maintenance costs.
25 YEARS AGO
1995: Bald eagles are being seen in substantial numbers at Mormon Lake and Teryl Grubb of the U.S. Forest Service insists he has seen them jumping up and down on the ice to get the minnows who were frozen in near the surface earlier this season to pop out so they could be eaten. Eagles are opportunistic feeders, but this behavior is new news to biologists. These eagles migrate here for the winter from more northerly regions and have previously numbered in the 30s. The count on Feb. 10 this year came to 120.
There's a little something for everyone in the bond override election ordered by the Flagstaff Unified School District. It includes programs, repairs, teachers salary raises, computers and more. All 17 of Flagstaff's public schools would benefit from the passage of the bond and over-ride, with the bulk of the bond money going into renovations. The vote is slated for May 16 and will seek $1.65 million. The question is, is there enough in the improvements to make a majority of district voters opt for higher taxes?
On this Sunday, there is a good chance you may win a prize and support some philanthropic project to boot at the Snowball Slide. The fundraiser is sponsored by the Assistance League of Flagstaff. At the slide, you may buy "snowballs" – plastic Whiffle Balls – that are put into a cement mixer at the top of Leroux and Elm Streets then funneled down a plastic slide to Leroux Street and Cherry Avenue. The first 21 balls win prizes ranging from an Alaskan Cruise for two, a Disneyland family trip for four, Presidential box seats, Suns tickets and gift certificates for books, meals, flowers and more. The snowballs go for $10 each or 3 for $25.
Got hankering for a Vanilla Coke and meatloaf sandwich? Want to gaze upon Route 66 while listening to "Love Me Tender?" You'll have a place to pull up a seat when JB's Restaurants', Inc. unveils The Galaxy Diner next week beginning with breakfast at 6 a.m. General Manager Doug Peters.
All events were taken from issues of the Arizona Daily Sun and its predecessors, the Coconino Weekly Sun and the Coconino Sun.
Get local news delivered to your inbox!
Subscribe to our Daily Headlines newsletter.