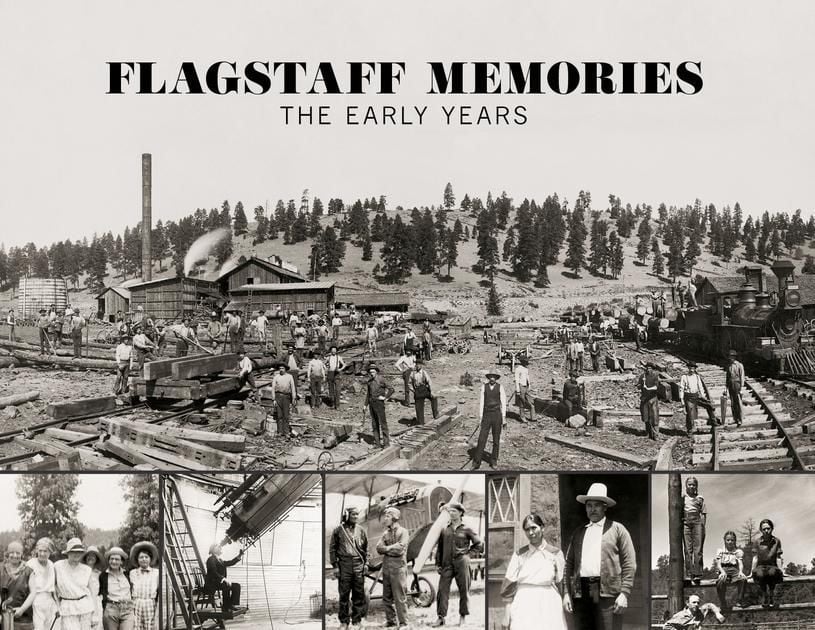 125 YEARS AGO
1894: Christmas was fittingly observed in the churches of Flagstaff. All of them were tastefully decorated, and the evergreen trees fairly bent under their burden of presents.
Milton, the enterprising suburb of Flagstaff, observed Christmas in an appropriate manner. The Arizona Lumber and Timber Co. closed their mill and box factory giving their employees their usual day off and a useful gift as well. On Christmas night, the employees gathered at the residence of company President D.M. Riordan where a Christmas tree was the feature of the evening. Arthur Wells played the part of Santa Claus and a delightful evening was spent.
At long last Flagstaff is about to have a full-fledged Fire Department. This Thursday Town Clerk E.S. Clark gave the pleasing information that the Town Council has made arrangements with the L M. Rumsey Manufacturing Company of Chicago for a complete fire apparatus to be built, including an engine that will squirt a 7/8s of an inch stream over and upon the tallest building in Flagstaff, a hook and ladder truck and all the appurtenances that go with it. It is expected that the engine will carry about 18 men to man it, and if enough water can be procured Flagstaff will no longer be a great sufferer from disastrous fires.
The council will endeavor to secure a section of ground adjoining the Methodist Church as a location for the new fire hall. Volunteers are expected to rapidly fall in with the spirit of the undertaking.
Charles Carnall, the A. & P. electrician, is putting up a telephone line at Williams this week. The line will connect the depot with the office of the Saginaw Lumber Company.
The Postal Telegraph and Cable Co. expects in the near future to run a telephone wire from their office on Railroad Avenue to the office of the Arizona Lumber & Timber Company.
The local forces of the Postal Telegraph Company are comfortably located in the Brannen Building which has been made bright and cheerful by the renovating of Jim O'Neill's artistic brush.
C.J. Babbitt left Thursday for San Francisco by way of Los Angeles. He has been having trouble with his eyes for the past two weeks and goes to that city for special treatment.
The question of organizing a drama club in Flagstaff has been pretty freely discussed by those who would display an enthusiastic interest in doing it, but no one has been found who cares to shoulder the responsibility of manager and director.
A Flagstaff audience is never cold. There are too many of the "young ideas" for that and they never let their enthusiasm lapse. This includes some cheerful urchins who attended the lecture Thursday night at the M.E. Church and decided to share the stage with the speaker who quite naturally objected and led them to their seats.
F.H. Blake met with a painful accident at the box factory last Saturday. One of his fingers was taken off by the saw.
Charles McLean is industriously circulating a petition for the appointment of City Marshall and it is being generously signed. The new officer will probably be required to do night duty hereafter.
100 YEARS AGO
1919: Christmas was a merry day in Flagstaff. It was a clear balmy day, warmer than sometimes in early fall – not a typical Christmas day and all the more enjoyable because it wasn't.
Prosperity is almost universal in our little city, so in cases where the chimney was not big enough for old Santa or Santa had mislaid his addresses, kind-hearted people helped the old fellow out by placing big Christmas trees in various public places where they invited him to visit and where they had gathered in the little folks whose chimneys weren't visited.
R.W. Watson, whose ranch lies north of Maine. was in town the first of the week to get a repair to his threshing machine. He is now threshing for the O'Brien boys, having just finished his own barley last week, returning a yield of more than 58 bushels to the acre. He will feed his harvest to his pigs.
The Santa Fe Railroad giving notice of their intention to place scrip on 178,241 acres of public grazing land lead to an enthusiastic meeting of stockmen held at Williams on Dec. 23. This resulted in the organization of the Northern Arizona Protective Association. Members of the association are from Coconino, Mohave and Yavapai counties. The directive of the association is to prevent the Santa Fe from securing patent to this immense body of grazing land.
The price of newspaper has advanced to such a point that the cost of the paper on which The Sun is printed is not covered by the present subscription price. Every other item concerned in the printing of The Sun – wages, metal, ink have also been and still are increasing in cost as well.
The Sun, although much larger than any other weekly newspaper in Arizona, has been selling for no more than the smallest of them. The subscription price should probably be about $5 a year. We won't go that far, but beginning February 1, 1920 the price will increase to $3.00 a year. Six months, $1.75. Three months $1. In the meantime, you may renew your annual subscription for $2.50.
For Sale: small span of mules or will trade for good milk cow. Anna Bean.
You have free articles remaining.
For Sale: Cattle. The Merritt Craig Cattle and Ranches. See R.J. Kidd or F.E. Brooks.
For Sale: I desire to sell all my real estate in Flagstaff. Mrs. Gavin.
Wanted: Men to cut wood and posts: $3.50 and board. Dave Steele Camp at Angel.
Wanted: Dressmaking – plain or fancy. Mrs. Tennie Moon, 627 W. Railroad Ave.
50 YEARS AGO
1969: The Holiday Inn was the target of two Christmas Day burglaries.
The first theft occurred when the guests went out for breakfast and found approximately $39 in cash and a small Instamatic camera valued at $40 were taken. The second theft occurred while the family was out for most of the day and found $435 in cash had been taken when they returned. The cash included a $100 bill and $230 in twenties. Neither case showed forced entry and whoever the thief or thieves were had used either a pass-key or some type of burglary tool.
Over in Globe, there was a five-second long earthquake on Christmas Day. There were no injuries and no serious property damage. It was felt up to 35 miles away according to Willard Groene, operator of an observatory in Phoenix.
Over the weekend a few brave souls bundled up against the wind and against the cold wind-swept shores to go ice fishing at Lake Mary.
The highway patrol reported 20 minor accidents in the local area and suggested that the exceptionally high winds to be a factor in the number.
According to Dr. James L. Schamadrian, Associate Professor of Engineering at Arizona State University, poppy red Air Medical Helicopters will be flying in mountain areas where their effectiveness to operate in rugged winter conditions will be given a rigid test. They will operate out of Highway Patrol Headquarters in Flagstaff. During bad weather conditions. They'll be able to cover a 50-mile radius around Flagstaff in a couple of hours, to reach any trouble such as stranded motorists or snowbound families and will be quickly spotted.
The Coconino County Planning and Zoning commission has unanimously approved a preliminary request by Summit Properties, Inc. developers of a Ski Village below the Snowbowl. The development is to provide a recreation and resort to support the Arizona Snowbowl on a scale similar to aspen or Vail in Colorado. It would be located on Hart Prairie Road five miles from Jct. 180 at the 8,400 to 9,000 foot level.
The New Year is ringing in a busy time for the Coconino County Assessor's Office. Last year, some 30,000 license plates were processed through the office. That number is expected to increase substantially this year. Already the office is flooded with requests for the new license plate validating tabs.
New left turn signs are being installed on the strip of left turn lanes on U.S. 66 leading from downtown Flagstaff to the outskirts of town. Highway experts say this should reduce the accidents caused by left turning motorists.
25 YEARS AGO
1994: On Christmas Day, a dozen or so Flagstaff residents of "Happiness for Someone Else" and a bulldog in dress blues delivered Christmas stockings full of holiday cheers to about 175 hospital bound patients. The stockings included the things that hospital patients need the most according to Flagstaff Medical Center and Los Arcos Healing Care Center, said Dave Hoshaw a member of the group.
A one-alarm fire at the American Legion building on Saturday morning caused an estimated $30,000 damage. It took firefighters 15 minutes to bring the 4 a.m. conflagration under control. The fire was confined to the bar room and started in a trash can. The building was empty at the time.
The Flagstaff Police Department has decided to put its Cessna up for sale, instead of paying $20,000 to $25,000 just to keep the engine running. The plane was seized in a drug bust in the late 1980s and was awarded to the city by the Department of Public Safety as a part of the RICO program that allows goods confiscated in drug-related investigations to be used by law enforcement agencies.
The plane cost the city $10,000 in rent for the hanger and insurance bills. Upkeep and maintenance were paid for out of the county RICO fund. Fuel costs have been about the same as long-distance road trips. The plane has been chiefly used to ferry prisoners from place to place and to get officers to witnesses around the state without having to make long road trips said Flagstaff Police Chief Pat Madden.
The last Amtrak passenger to arrive in Flagstaff this year will be commemorated with a party Saturday morning. Brix will be serving hot apple cider at the Amtrak Station, 1 E. Route 66, beginning at 7 a.m. New Years Eve Day, David Kill, a supervisor at the Flagstaff Visitor Center said. The last passenger to get off a train coming from Los Angeles will be awarded with two mid-week passes to the Arizona Snowbowl and two Grand Canyon tours from Navajo-Hopi Tour Inc.
Friday morning's snow closed both the eastbound and westbound lanes of a 12-mile stretch along I-40 west of Seligman between 2 a.m and 7:30 a.m. due to two one-vehicle accidents and one fuel spill.
The southbound lanes of I-17 were also closed for about 2 and a half hours when a 19-wheeler jackknifed.
Total Snow for the year of 1994 came to 21.6"
All events were taken from issues of the Arizona Daily Sun and its predecessors, the Coconino Weekly Sun and the Coconino Sun.