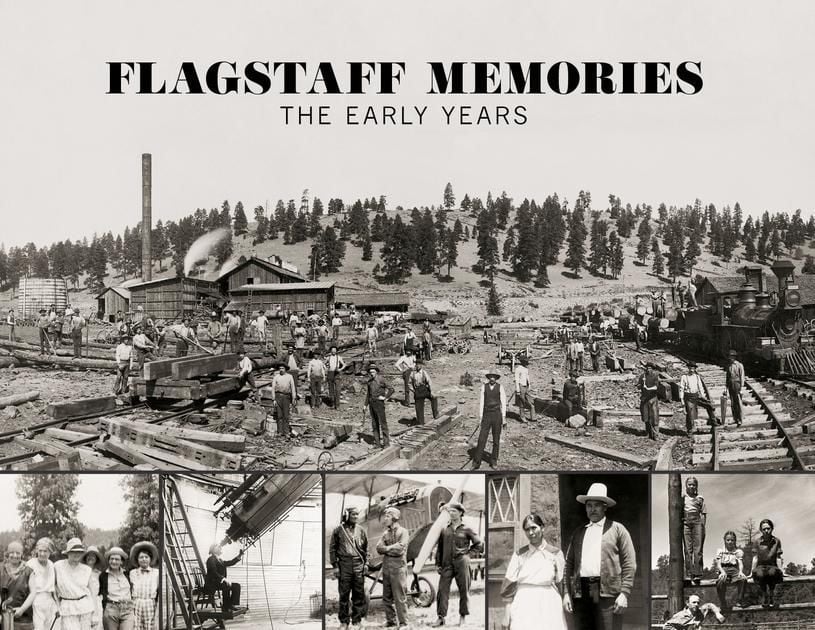 125 YEARS AGO
1894: The latest word from the Courier is that 100 men are at work and 20 more went to work last Saturday. The stamp mill is now running steadily – also six whiskey mills with a seventh under construction. This will make a saloon to every 14 and 3/10 men.
Beginning with September 1, the wages of civilian employees at Fort Whipple, as at other government posts will be affected as follows: A reduction of 20% in the pay of engineers and a 25% in the pay of teamsters. Hereafter, the pay of engineers will be but $80 per month, blacksmiths about $60 and teamsters only $30.
A team left Thursday morning for Verde Station having on board J. W. Jackson as driver, Messrs. Peff, Shinge, Ross, Jay, and F. X. Garett as passengers. When they reached Point of Rock, a man with a flour sack over his head and a trusty Winchester in his hand, gently asked that men elevate their hands. This was complied with in the usual hasty manner people are noted for under such circumstances. When the lone highwayman commenced his work of putting goods, wares and coins on the free list that would make a politician envious. He gained a little more than $150 from the men's pockets. The team then proceeded on its journey. As of press time, there has been no further word although Deputy Sheriff Potts has gone out to search.
C. E. Mills, General Manager of the Commercial Mining Company at Curtis, arrived in town Wednesday at 1 a.m. bringing the news of a daring and successful hold-up at 6 p.m. the previous evening. A lone highwayman in disguise rode up to the store, pulled down on Mr. Curtis with a gun and demanded all the money on hand. The persuasive 45 had the desired effect and all the money on hand was promptly handed over, several hundred dollars thus being secured. Having secured his booty, the bandit then rode off.
He had only proceeded a short distance when Mr. Curtis stepped outside with a six shooter and commenced a fusillade. The robber then turned and issued a couple of shots that hit remarkably close, but did no harm to Mr. Curtis. A posse was organized, but with night coming on the pursuit was abandoned.
W. H. Pierce is again in charge of the A. & P. Railroad pumping plant south of town.
A.T. Cornish is supplying ice to Prescott from the Bellemont Ice Pond that was built last winter.
A. B. Crawford the jeweler, has leased the Moehlenpah residence. Mrs. Crawford will arrive next week from Elgin, Illinois.
The A. &. P. Railroad has made a rate of $10.35 from Flagstaff to Albuquerque and return during the week of the fair.
A heavy rain and hail storm occurred west of Bellemont Wednesday afternoon. Hail fell to a depth of three inches and a flood of water fell as well.
J.J. Gilson, who for several years has been head blacksmith for the Arizona Lumber and Timber Co., left Thursday for Jasper City, Missouri where he intends to reside in the future.
A Post Office will soon be established at Hance's Ranch at the Grand Canyon. It will be known as Tolfree after the hotel at the Grand Canyon.
100 YEARS AGO
1919: Bootlegging matters came up to the front again the first of the week when Sheriff Harrington returned from Jerome Junction with Mrs. Slone Baron or Mrs. Tibricia Lopez as she now says her name is. Mrs. Baron had paid $200 of a $50 fine imposed upon her by Police Justice Gilland. She then flew the coop going to Jerome. The sheriff was on his way to get her when he found her at Jerome Junction boarding a train for Los Angles. She was wanted as a witness against the alleged whiskey importer. She alleged in her confession that he had given her $200 to skip.
This rather explodes the myth that Proctor is a "smooth guy" as he poses and as it was generally believed. It would probably cost him less to stand trial and plead guilty. Proctor was then brought before Judge Gilland on Tuesday and sentenced to 60 days in jail and fined $200. With this latest interference with his "trade," it is hoped that he will decide to go far away and to not return.
Mrs. Baron was released on $400 bail. Chief Neill went to her residence prepared to "tear the house down if necessary." He removed a section of the ceiling and found stored on the rafters seven cases of whiskey which according to prevailing retail prices, would retail for something over $1,600 according the County Assessor Gold. Just a few minutes later, it was discovered that she had jumped bail again. If she is caught she will have to serve out her $350 fine and stand for prosecution by the State of Arizona.
John McWillams has sold his store at Bellemont to Thompson Brothers and will move his family to Flagstaff. He has purchased the W. D. Raudebaugh home on the south side. He has lived at Bellemont for so long the old lumber terminal will not look the same without him.
Jack Wilson of the Elks advises that he has nearly 20 extra applications for the Elk Hunt next month and anyone who would like to in on it should apply to him at once. It is not actually necessary that one be an Elk to join the hunt.
Anyone wanting a policeman at any hour of the night between 8 p.m. and 9 a.m. are requested to call the Western Union Telegraph office as special arrangements have been made with Capt. E. M. Robinson, the Western Union manager, to have night watchman Jim Byron or his assistant Harry Wilson to call the office every half hour during the night. So if you see a suspicious character where you think he shouldn't be, call the Western Union.
Last Thursday, the Vice President of the National Brotherhood of Trainmen were told the striking Santa Fe and Southern Pacific Railroad employees would either go back to work last Saturday or the Brotherhood would operate the trains. The stickers resumed work on Saturday morning. Trains were ordered back on schedule although there has been some delay due the back ups in several locations.
50 YEARS AGO
1969: Even with all the wet weather Flagstaff has been having for the last few days, rainfall figures are still lagging an inch behind those normally recorded here during the month of August with only 1.83 inches against a more normal 3.84 inches. September usually brings clear weather, but Tuesday a deluge fell causing some temporary flooding.
Patrick Crawley of Builder Inc. has announced that construction will begin on the new $3 million midtown Shopping Center located at the corner of Cedar and Izabel Street sometime during the coming week. When completed the principal tenants will be Govway Deptartment Store, Govway Pharmacy, Govway Food Center and McCroryl- McClellan Variety Store. There will also be many smaller rental spaces for many smaller shops.
The City of Flagstaff will be $43,062.50 richer thanks to sales tax returns from the Arizona State Tax Commission that being Flagstaff's share of the returns being sent; back from municipalities throughout the state.
First week enrollment in Flagstaff Public Schools 5,221 in the elementary schools and 2,234 enrolled in high school classes. The total slightly above the number expected. Sturgis Cromer, Superintendent.
The Coconino County Board of Supervisors took the first step in the planned development of the San Francisco Peaks area as a winter resort area by asking for $3,500 planning money for it and other projects. They drafted a letter to Gov. Jack Williams listing benefits of the Peaks development, including an improved access to the Snowbowl and the Inner Basin. The city has already petitioned the Forest Service to limit access to the Inner Basin from where the city gets 35% of its water. The City Water Superintendent says development of the Inner Basin would not be advisable at this time.
Tuesday, Flagstaff took its first official step in planning for an estimated 60,000 population in 1985, when the City Planning and Zoning Commission adopted the city-wide preliminary plan. This is not an ordinance and may be contradicted in the future. This plan includes four senior and four junior high school, as well as 21 elementary schools to serve an estimated 16,000 children in 1985. The new schools would be located in the interior of neighborhoods and a new high school south of I-40.
An improvement in north--south traffic would be made by making Humphreys Street an overpass at Santa Fe Avenue and the railroad tracks. Also included is a new route at the Fourth Street intersection to Lake Mary Road, and an expansion of a route down Cedar Avenue into east Flagstaff.
Northern Arizona University is expected to dominate the population growth with an increase in student pollution from 7,000 to 15,000 or 16,000, and faculty growth from about 300 to 600 or 700 with a corresponding growth in non-professional employees.
New housing growth is expected to develop south of the railroad tracks. "Green-belts" are expected to run along both sides of the new roads in south Flagstaff.
25 YEARS AGO
1994: Forest Service officials announced on Thursday that Slide Rock will remain closed over the Labor Day Weekend. However, it was opened again on Tuesday when county health officials announced that the water samples had been much improved over the past week. They are confident that safe levels can be maintained if there are only 100 people allowed at one time. There will be personnel present to monitor this to be sure the number is not exceeded.
The 45th Coconino County Fair opened on Friday at Fort Tuthill with many children enjoying suitable events with their classes. Then over the weekend events includes a Pig Race, a Safety Magic Show, the Sedona Concert Band, a variety tent, horse shoe tournaments and a Navajo Ramada. Also, Controlled Car Championships, 60s Rock Oldies and Sword Masters of the 16th Century.
Flagstaff firefighters will be at local Safeway Stores Saturday with their "Fill the Boots Campaign" for muscular dystrophy donations.
Nobody seems to know what the downtown dirt parking lot is going to be when it grows up. The City Council voted on Tuesday night to put the 30,000 feet square up for private bid. At least one developer has expressed interest and council members insist that a bid include a plan for the building to be built on the site.
The computer terminals received by the county in February remain dormant. We are still waiting to implement the Arizona Automation Project. The main frame is hooked up and ready to go, but the programmers hired by the State Supreme Court are engaged in fixing major problems.
The Coconino County Board of Supervisors tabled the bid for the Little Mining Company the low bidder for cinders. The company owes the county $14,362 in back taxes and is facing bankruptcy.
City police have arrested Casey Lee Harper of Sioux City, Iowa in the shooting of Sgt. Pat Tarr on Monday evening on charges of attempted first-degree murder and aggravated assault. Officer Tarr was making a traffic stop near Blackbird Roost of a suspicious vehicle. The driver exited the car, pulled his gun and shot Tarr who was unable to return fire. Harper then returned to the car and exited with his hands up. Tarr is a 25-year veteran of the force and is expected to recover.