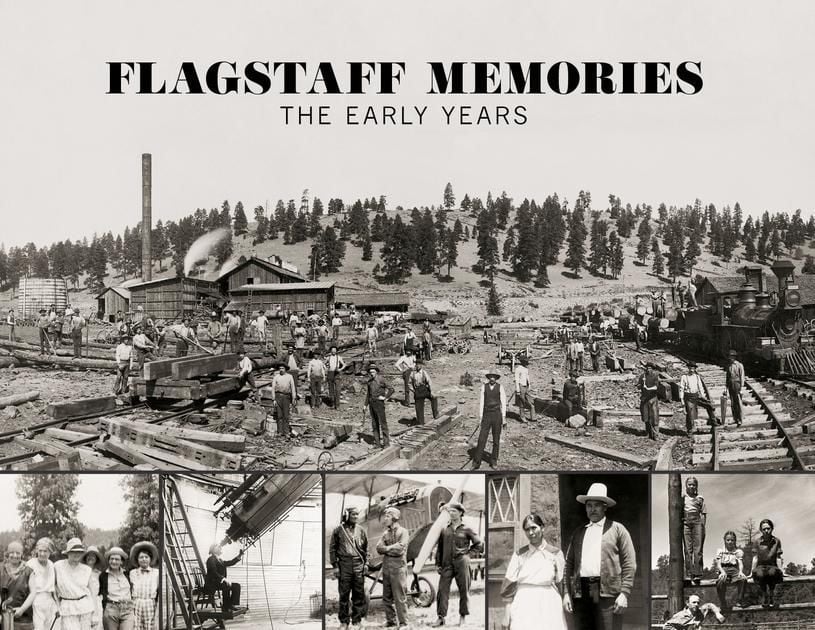 125 YEARS AGO
1894: The Coconino County Board of Supervisors has received a number of bids for the construction of the new courthouse. The lowest bid was not very definite, so it was decided to take time to consider the bids.
The governor's proclamation calling for a general election was received and the clerk was instructed to publish it in the Coconino Weekly Sun.
A request to establish a voting precinct at Mormon Dairy was granted.
The wreak of the No. 3 passenger train, which occurred last Sunday about 14 miles west of Winslow, was a most disastrous one considering the apparently trivial cause. It seems odd that a common ordinary bull was running before a train of rapidly moving cars could derail half a string of coaches and turn the engine into smithereens seems almost miraculously. The most wonderful part was that no one was injured.
The train had left the Denison Station about two miles behind and was thundering along making up lost time. At the approach of the locomotive, a herd of cattle scampered away across the plains except for one ornery bull who must have been a graduate of a Mexican Bull Arena.
When he disputed the right-of-way, the engineer opened the throttle wide with the idea of tossing his bull-ship to one side. The result to the bull was fatal, but he succeeded in wreaking a terrible revenge before joining the multitude of bulls who have gone before him.
For Sale: One first Class railroad ticket to Los Angeles. Apply at the SUN office.
C. N. Mark of Tucson, where he was a reporter for The Enterprise, has accepted a position with the SUN and will endeavor to make its columns more newsy.
The young people of the town gave a dance at Babbitt's Hall last Monday night. Everyone one had a thoroughly enjoyable time.
T. J. Coalter, John Vories, J. W. Francis and Charles Keller returned Thursday from a week's duck hunting at Mormon Lake. They bagged 150 ducks.
Charles B. Eaman of the Verde is here this week making arrangements to ship 400 head of cattle. The shipment will be made this week to Kansas City.
Wednesday night was visitors night at the Observatory and a great many citizens, including several ladies, climbed the hill to get a telescope view of Mars and the moon.
E. H. Crest, general machinist, has opened a shop in Crawford's Jewelry store. He makes a specialty of repairing bicycles, sewing machines, guns and pistols. If you need any mechanical repairing, done call upon him.
A meteor flashed across the sky about 10 p.m. on Sunday night. It was seen by a number of citizens who describe it as being larger than a whiskey barrel and of unusual brilliancy. Its direction was from southwest to northeast, and it seemed to burst when over the Elden Mountains.
Just received 30 cases of fall goods all fresh and new for the fall trade. All woolen goods much cheaper than here-to for. We are selling 52-inch ladies cloth all wool at 60 cents per yard. This is a bargain. We have novelty goods and dress pattern of style. They are beautiful goods. All goods marked low. We want every thing to sell quick. Babbitt Bros.
100 YEARS AGO
1919: Forest Service engineers have made a contour map of 80 acres of government land on Knob Hill adjoining the lots George Babbitt recently sold. It is planned to lease this for summer homes, summer hotels, other buildings and for recreation grounds. This is in accordance with the act of March 4, 1915, when the land was thrown open. The leases, each for five acres or less, will run for 15 years and each lot will pay a fee of $5 to $25 according to its size and desirability. This is good news for those wishing to build summer cottage for rental that are still close in to town.
The booster club has under consideration a plan to build 30 substantial cottages equipped with plumbing to rent. The most appealing phase of the situation will be the encouragement it will lend to propagation of the Switzer Canyon Lake project. The lake would be close to this 80-acre tract making it very desirable. It should encourage us out of our talk-about-it, dream-about–it attitude toward the lake project.
Lovers of good sport will have the time of their lives Monday night Oct. 13 for a boxing carnival has been arranged for that night that for real class has it all over anything staged here for some time. Lou Charlebois has arranged the event for the benefit of the young and thriving Flagstaff Athletic Club.
Forest Willis, wanted here for trial for alleged misbranding of calves, who jumped bond a couple of months ago, has been arrested in Kanab, Utah. Sheriff J. O. Harrington will leave this week to go after him. Willis certainly picked out the place for arrest that would cause the most expense to go after him. Kanab is just over the state line north of the Grand Canyon, so the sheriff will have to travel about five days to get there and as many more to get back with his prisoner.
On Wednesday, for the second time in the past three years, fire wiped out the ranch home of Mr. and Mrs. A. T. Hodges at Doney Park. The blaze was started by their little son who was playing with matches. The threshing crew, who were working across the quarter section did everything possible to save the furniture, but everything was lost including a new piano. They are now staying with Mrs. Hodges father Keith near Cliffs.
Z.R. Towery has a carload of Chevrolet roasters and light delivery trucks for sale at White's Garage. Those wishing a demonstration will be cheerfully accommodated by Mr. Towery. The Chevrolet is a low-priced car with a speedy powerful engine and is one of the best-known and widely used cars sold today.
It's no joke – but still it is. Depends on how you look at it. Sheriff Jack Harrington looks at it both ways. His tires are gone, still he can't help laughing about it. It was done Sunday night when the chief of thieves backed up his Ford and swiped the two best tires in town. The wheels were locked or they might have taken the car.
There will be no special program arranged for the King and Queen of Belgium at the Grand Canyon. The illness of the president made the king adverse to special functions in his honor and bides he is not partial to such things even under normal circumstances.
50 YEARS AGO
1969: Two gunshot wounds marked the opening day of the 1969 Turkey Season. Sheriff Cecil Richardson said that 18-year old Tony Henshied, a Phoenix youth, was shot in the leg when a holstered pistol accidentally went off and a Flagstaff woman, Jean Chapman, received a severe wound in her right leg when her double-barreled 20-guage shotgun she was carrying loaded and ready to fire in her car discharged.
The Flagstaff Police Department's discovery of a massive shipment of marijuana, hashish, marijuana resin and assorted other dangerous drugs was taken a strange turn into antiquity. Police Chief Elmo Maxwell said that a through search of the 53 gallon cans containing the raw marijuana which were confiscated early Monday morning by Sgt. Guy Householder Jr., Detective Bert Stamper and Patrolman James McCann revealed they also contained statues and other artifacts that may be representative of some pre-historic Middle American cultures and are apparently genuine.
Shoppers at the Foodtown Super Market and other shoppers south of the railroad tracks on Beaver Street have their parking spaces back. The City Council voted unanimously to abolish "No Parking" areas in front of the supermarket and across the street that were established several weeks ago and have been nothing but trouble ever since.
The City Council also voted unanimously to abolish temporary paving in the city after Sam Tucker, acting director of public works, recommended that it deny all applications of oil and related products to all unimproved streets that are partially improved. This means that the council is abandoning a policy of temporary paving and that in order to get streets improved residents must go through the accepted route of an Improvement District.
The council approved the leasing of a portion of Koch Field to the Coconino Association of Racing for use in developing a multi-purpose racing facility.
Also approved was a request by James Shirley of the Pine Dell subdivision for one three-quarter tap in the area which is outside the city limits.
25 YEARS AGO
1994: Home buyers are entering a "sellers' market" in Flagstaff. There is inadequate land development. There is high demand and building restrictions push up the cost of building homes. With less than $150,000 to spend, a buyer is limited to older parts of the city like Sunnyside and old town south of the tracks where few if any any on the market and some fix-up can be expected. There several other older developments where the lots are smaller, the houses are only 1200-square feet or less that may sometimes be found for $75,000.
If you are missing something like a bicycle or a wallet or even a ferret like the one found recently at the corner of Cedar Avenue and Turquoise Drive, which has since been taken to the Humane Society, you might start at the Flagstaff Police Department. It may be in the evidence room. Items lost and found including the more or less 10% held for evidence fill four 40-foot boxcars that serve as the warehouse, the evidence room, a vault, a storage room, a bicycle impound yard and a vehicle impound yard.
Helen Tackitt of the Cedar-Turquoise Block watch group said she has distributed 249 fliers about the meeting with FMC and its plan to close Beaver Street where it passes the hospital in order to create a safer crossing for hospital employees and the possible re-routing of this major through street. The meeting came to no conclusion, although the suggestion that an overpass joining the two sections of the hospital that would make a bridge for traffic to pass under was suggested. All other suggestions created too many lack of access problems.
The Coconino County Community college is growing rapidly with 1,378 full-time students enrolled this fall and is looking to expand its quarters. Its governing board has visited three possible sites, including a parcel that could be donated by NAU given that the Arizona Board of Regents would agree to it.
All events were taken from issues of the Arizona Daily Sun and its predecessors. The Coconino Weekly Sun and the Coconino Sun.
Get local news delivered to your inbox!
Subscribe to our Daily Headlines newsletter.