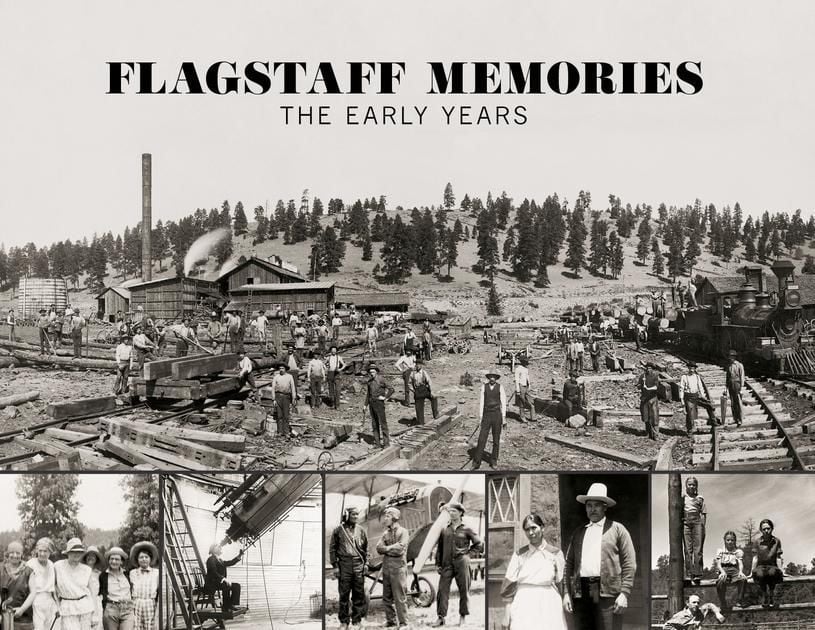 125 YEARS AGO
1894: The effort to organize a fire department should not be a half-hearted one, respond to the call of the Town Clerk and rally at Babbitt's Hall Saturday night.
An incendiary fire started in a vacant residence on Tuesday night, destroyed five houses and two saloons. A.C. Potter was burned to a crisp and his sister was badly burned.
The new train schedule gives us two trains each way, each day, with connections at Ash Fork to Prescott. We hear that the stage coach run between Phoenix and Prescott plans to improve their time down to 20 hours between the two cities.
High 63 Sunday - Low 12 Wednesday - Dec. 5 was the date of the first snowstorm of the 1894-95 season. How do you like it?
One of the Solomonville stage robbers has had his first trial in the United States Court in Florence and was sentenced to a life term in San Quentin. The calling of stage robbing in this territory has received a severe blow and in the future there will be but fewer stagecoach hold-ups in Arizona.
W.J. Hill has gone to Needles, California to manage a meat market for the Flagstaff Meat Company.
A dangerous counterfeit of the $3 silver certificate of 1901 is now afloat. Its work is nearly perfect.
J.M. Rapport, whom you will recall passed through Flagstaff last summer on his walk across the continent from New York City, has arrived in San Francisco thus winning his $5,000 bet that he would leave New York in May and walk to San Francisco before midnight Dec. 1.
Some of the young people of the town are talking up a musical club.
"Curly" Wallace, who met with a serious accident out in the Coconino Basin some weeks ago, is improving rapidly.
100 YEARS AGO
1919: It is anticipated that the Christmas mails will be unusually heavy and in order to prevent congestion and facilitate the handling of same, the public is earnestly urged to Wrap Securely, Address Plainly and Mail Early. Notations such as "Do not open until Christmas" etc, may be placed thereon.
The superintendent of the eighth division of railway mail service has stated that a shortage of mail sacks is already apparent and the situation with reference to equipment is becoming more alarming daily.
The regular weekly visit to the string of meteorological stations maintained by the Fort Valley Experiment station on the San Francisco Peaks culminating with the Spruce Cabin at 10,500 feet, was postponed last week because of the storm.
By Sunday a slight crust had formed on the new snow and two of the station personnel attempted the trip. In spite of the crust, the "webbs" sank in from four to eight inches at every step and loosened the crust with the snow generally piling on top of them, It became necessary to alternate "breaking trail" in short relays. Under the trees there were small icy circles of crust. Above 9,500 feet there were a few inches of wind driven snow, but these respites were so brief as to be merely aggravating. They found 30" of snow at 8,900 feet. At the cabin, they measured 5 feet, 1 inch and had to "go downstairs" to get in after shoveling out the area-way with one snow shoe while balancing on the other. The stove pipe had to be emptied of snow before a fire could be built. When the measured snow was finally melted down to water, it came to 8.2 inches as the product of the four-day storm.
R.E. Bayler, rancher and stockman, was on his way on horseback from his ranch in Kendrick Park to Flagstaff when his horse fell, throwing him against a tree breaking his nose and badly bruising his eyes. He remounted and made for Bellemont, took the train to Flagstaff and then jumped on a train for Phoenix to have his nose put back into its former shape.
Iver Sykes, who came here from northern Montana about three months ago, is now helping Al Alverset on his ranch was in town this week. Iver says he came here for his health and is finding it in our fine climate, our big pines and our pure water.
J.G. Tillman of the new White Garage is walking around with nothing but stockings on his feet, but plenty of them. He "tendered" the aforementioned feet most unmercifully after his car rolled in deep snow and into a mud hole on the Tuba City Road, up the other side of Dead Man's Flat on Thanksgiving night.
He left here on Tuesday of last week with Walter Moore, a government man from Tempe, who wanted to inspect the road to Blue Canyon and Kapita. At Tuba City, they were joined by Walter Runke and Dr. Estock and got to Kayenta, most of the way in a terrific rain and wind storm. They then decided that if they kept on, the mud would likely skid them over the edge of the canyon. They returned to Tuba City where they left Mr. Runke and Dr. Estock.
Thursday morning they set out for home. The further they came, the worse it got until near dark the car got stuck for keeps. They stayed under a cedar tree that night setting out next morning to walk to Skagg's ranch six miles away carrying Moore's grip and a Navajo blanket he had bought as a souvenir of the trip. Presently they chucked the grip away and a little later the blanket was also discarded. They finally reached Skagg's all in.
The next day, Tillman rode to the copper camp on one of Skagg's horses, borrowed a team and went back to rescue the Franklin. After some more muddy trouble, they were able to get back on their way, return the team and then finally get home to Flagstaff. All this was too much for Tillman's feet.
50 YEARS AGO
1969: E. H. "Eddie" Weigel, chairman of the County Board of Supervisors, has appointed George Titus of Flagstaff to the County Air Pollution Advisory Council. This council is charged with advising the Board on pollution matters.
The County Board also approved the bid by the sole bidder of $2,836 for a County Health Department car and okayed a use permit to establish a Kampground of America site on Old Route 66 a mile east of the Winona interchange.
Also approved was the bid of the sole bidder Charles Brunning Co. of Phoenix of $2,836 for a dry-paper mapping magazine for the County Assessor with a $793 offer and credit of $45 for the old machine.
A new Home Health Agency Service was initiated in the county this week. It offers one registered nurse and four home healthcare workers for a maximum of 25 patients on a home visitation basis. County, State and Federal funds are all involved in this project, Walter Thomas, Head of the County Department of Public Health said.
The City Council will next week receive a recommendation saying that what was Buffalo Park should become a City Park dedicated formally to that use.
City Manager H. L. Field Jr. said the recommendation includes that the area be increased by adding adjoining city-owned land on McMillan Heights bounded north of Cedar Avenue, east of Turquoise Drive and west of Paradise Road. The additions would increase the current 40 acres to approximately 300 acres if approved as suggested in the proposal.
Mens and Womens Snow boots From B.F. Goodrich Women's sizes 5 – 10 - Men's 6 – 12 Reg. $13 now $7.97 at Babbitts.
At the Orpheum this week. Dr. Zhivago with Omar Shariff and Rod Steiger. East Side "The Green Race" with Tony Curtis, Jack Lemmon and Natalie Wood
The Planning and Zoning Commission is considering a proposal by Flagstaff land developer James M. Porter to provide low cost housing using pre-fab construction in southern Switzer Canyon. At present, the R-1 zoning permits only on-site built housing.
25 YEARS AGO
1994: Saturday nights snow, icy road conditions and 35 mile an hour winds caused several wreaks and the closure of I-40 between Winslow and Flagstaff. There were also numerous accidents in town.
City Manager David Wilcox reports that there is to be a public presentation of the proposals by two developers, Broman Investments and Kitchell Development Company, for the dirt parking lot at East Aspen Avenue and North Leroux Street into a retail and open plaza area with an eight-screen subterranean theatre. The proposal also includes two above ground parking garages, one taking place of the Old Town Shops Mall on the southeast corner of North Leroux and East Birch. The other would be built on the northwest corner of West Aspen and North Beaver Street. Together they would provide 790 parking spaces. A second proposal suggests that the open space plaza originally about 13,000 square feet be expanded to 20,000 square feet.
The new 40-cent tax on cigarettes went into effect on Dec. 1. Some stocking up before hand pushed sales up, but no one we've talked to suggests that it will make any long term difference to smokers. Some tobacco companies are offering discount coupons to reduce the impact of the tax on their sales.
High winds, snow and slick condition caused the Department of Safety to close I – 40 between Winslow and Flagstaff with traffic diverted Saturday night.
The Arizona Snowbowl is hoping for an early Christmas present with an opening on Dec. 14. General Manager J.R. Murray said the recent rainfall in Flagstaff brought the Bowl about 12 inches. He said another six to ten inches and they can open. What we really need in another good storm.
Monday starts Lowell Observatory's first of six "A Night with an Astronomer" programs. These new programs feature staff or visiting astronomers who will present evening lectures for the general public at 7 p.m. in the Steele Visitor Center. Lowell Astronomer Dr. Jon Holtzman will speak about the repair of the Hubble Space Telescope. Tickets at the door $2.50 for adults - Children $1.00.
The City Council entered into an agreement with Flagstaff Affordable Housing Limited Partnership for the sale of city land and the development of 80 units of affordable rental housing located at 2151 North Isabel. The Council also entered into a consulting service agreement for the historic structure of the Santa Fe Depot.
Increasing costs means that our sewer bills will rise an average of 6%- about $1.50 for the average single family home and give the city's utility fund a $400,000 surplus at the end of the fiscal year. Money from that surplus will help pay for non-utility services. This includes social services, city engineers and community development projects that the city provides.
Citizens and businessmen are gathering forces to oppose the Council-approved plan to build an eight-theater cinema, office complex-retail center and 25,000 square-foot plaza. The project will likely be put to the citizens to vote on should this Phoenix like complex be built in our refurbished down town Flagstaff.
The 160,000 gallons of sewage that spilled into a wash from the Big Park Waste Treatment Facility near Oak Creek will have little effect on livestock, people or the environment according to Yavapai County officials. The Arizona Department of Environmental Quality closed the facility.
All events were taken from issues of the Arizona Daily Sun and its predecessors, the Coconino Weekly Sun and the Coconino Sun.
Get local news delivered to your inbox!
Subscribe to our Daily Headlines newsletter.