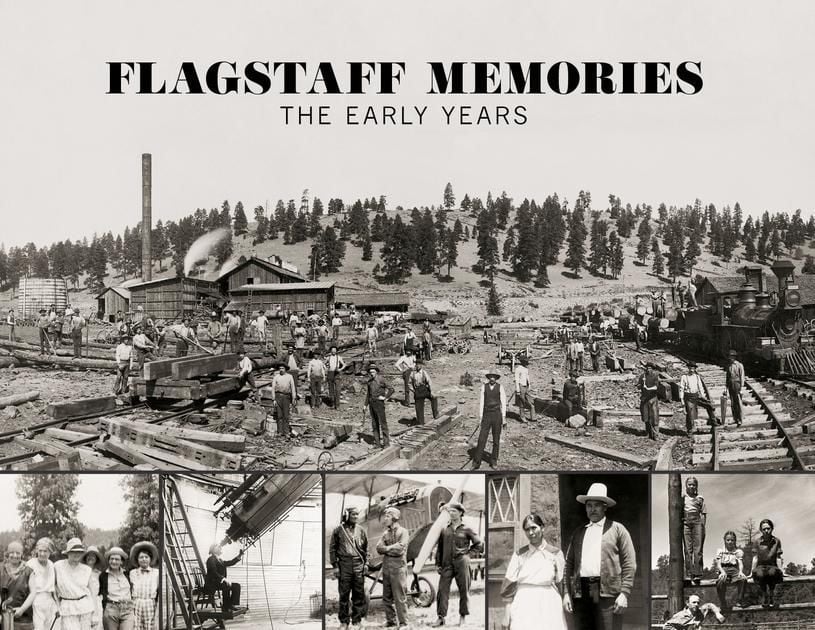 125 YEARS AGO
1895: The Town Council has ordered the purchase of a fire engine, a hook and ladder truck $140, 200-feet of hose $88, hose cart $55, an extra six-foot length suction hose, two dozen rubber buckets and 28 barrel tanks to be made by Ed Whipple at $75 each mounted on three-inch running gear.
W.H. Williams, the Colorado miner who accidentally took too much morphine about four weeks ago, has recovered sufficiently to go to work at the mill, where he secured a good position.
Gregg & Shroyer sold to F.M. Livermore, Lots 3, 4, 5 and 6, block 45, in Flagstaff for the consideration of $1 and other valuable assets.
One of the Moqui Indians in transit to the Alcatraz Penitentiary leaped out of the car window a few miles west of here and damaged one of our rocks considerably. Flying Wind was soon recaptured. He was not hurt.
News from Williams reports there were several interesting rows there last week, plus a suicide and a number of divorce suits are on the list for judicial consideration.
F.J. Joice, assistant machinist at the A. & P. Shops at Williams, was downed by too much Christmas Whisky and lost his job. In a fit of melancholia, he took morphine and died. He was a native of Hamilton, Ontario.
Curly Wallace, whose leg was shattered a couple of months ago by the accidental discharge of his gun in the Coconino Basin, was able to get about on crutches this week. His limb has been restored to him through the skill of the surgeons and he will be his own sturdy self again in time.
The slight cold of which you think so little may lead to serious trouble with the lungs. Avoid this result by taking Ayer's Cherry Pectoral, the best known remedy for colds, coughs, catarrah, bronchitis, incipient consumption and all other throat and lung diseases.
100 YEARS AGO
1920: Chief of Police R.L. Neil has written to Superintendent Matthie of the Santa Fe, asking the latter to instruct trainmen to be more careful about keeping the street crossings clear. Some of the men are careful to cut their train and obstruct the crossing as little as possible, while some others are notorious offenders. Neil pulled an engineer out of his cab on Tuesday because the latter was not only unreasonable, but abusive and convinced him that it would be better to be good than to be in jail.
The local Order of the Loyal Order of Moose, planning to let Flagstaff know they are "there" when it comes to membership and vim, are planning a series of entertainments, to occur at regular intervals during the remainder of the winter. The first one is to be a masquerade ball which will be held at Marlar Hall. The general public is cordially invited.
Judge J.E. Jones this week granted a divorce to Fred Hart from Laura Hart. Mrs. Hart and her council, Walter H. Davis, came up from Jerome for the hearing. C.H. Watson represented Mr. Hart. Hart was sued on the grounds of extreme cruelty and the defendant had filed a cross-complaint also alleging extreme cruelty, but withdrew it.
E.B. Nackard has bought the interest of his partner, George Absalom and in the New York Market the meat and grocery store at 104 E. Railroad Ave. and will continue to run it as the sole owner. Mr. Absalom, who established the store nearly two years ago and sold a partnership to Mr. Nackard last summer shortly after the latter's return from the army. He is undecided as to whether he will remain in Flagstaff or not.
You have free articles remaining.
V.A. Moore has established himself in a suitable office in the real estate business here, to succeed Fred J. Lusk, whose duties with Flavo Flour and Klime now require all of his attention. Mr. Moore already has several properties listed and sales in progress. He is currently located at the J.W. Francis' Northern Arizona Co. Building on South San Francisco.
Our County Jail is currently fuller than usual and contains a murderer, a housebreaker and two crazy men. The murderer, Simplicio Torre, will be retried by Judge Jones as soon as Ike Barth, his attorney can get here. Mr. Barth's little daughter has just undergone an operation in Los Angeles and her father was unable to get here the first of the week. He is also Associate Council for Oscar Nelson in the Nelson-Raymond case motion for trial which was to have been argued before Judge Jones this week. Peter Gomez, the house breaker, plead guilty Wednesday and will be sentenced to the pen on Friday. The maximum term is 15 years.
50 YEARS AGO
1970: Road blocks were set up east and west of Winslow on Friday after Leona Manno, clerk at the Big Shot Liquor Store, reported a man with a pistol took $400 from the store. She said he had forced her to take the cash out of the register, then pushed her into the restroom and warned her not to come come out for 10 minutes. She waited a couple of minutes, then emerged and called the police. Highway Patrolmen apprehended the thief and two juveniles with him. They are lodged in jail here in Flagstaff. They had already managed to evade the New Mexico police who were in pursuit following thefts there.
Saturday night management at The Latin Quarter near NAU called for police about a fight in progress. When Patrolman Michael J. Rice arrived, he saw Edward Kee Kelly of 217 Peterson Hall, NAU, strike a young woman and push her into a wall outside the club. As he was being arrested, Kelly just walked away and a crowd began assembling around the scene. Detective Bert Stamper then arrived and immediately radioed for help. All available patrol cars arrived at the scene and with some assistance, Kelly was placed in a patrol car and taken to the booking station for processing. He was booked for disturbing the peace and almost immediately released on bond raised by his fraternity brothers.
The Arizona State Highway Departmental has called for bids on a 14-mile section of Interstate 17, the "Black Canyon Highway," that will increase it to four lanes from Flagstaff to Munds Park. Bids will be opened on Jan. 30, 1970 and the project is expected to take about a year to complete.
In the interest of strengthening and unifying the community in its common interests, Sedona which is artificially divided right down the middle between Yavapai and Coconino Counties, the Sedona-Oak Creek Taxpayers Association (Coconino County) and the Red Rock Taxpayers Association (Yavapai County) – have been meeting together to discuss the feasibility and desirability of merging. Although they decided in favor the complexities involved will require a lot of solving.
Did you feel like Spring was on the way this week? Thursday set a new record high with a balmy 60 degrees, wiping the record of 57 set in 1910 according to the Weather Service. Enjoy it while it lasts, the snow may come again.
25 YEARS AGO
1995: Trains which played an integral role in the development of Grand Canyon National Park, may once again bring sightseers to one of nature's premier wonders. Charles Newman, president of Railroad Resources Inc., wants to revive train operations along the 63-mile stretch of track between Williams and the South Rim that first brought numbers of tourists to the canyon in 1903. He envisions test runs this spring using 1920s-vintage passenger coaches and coal-fired steam locomotives. The plan calls for inauguration of a daily schedule by July 4, 1970.
He purchased the track from the Santa Fe Railway in August 1983, one day before salvage operations were to begin tearing up the track.
Using steam locomotives and vintage passenger coaches could make the train itself a magnet to draw people to the Grand Canyon area.
Eric Eikenberry, manager of the Williams-Grand Canyon Chamber of Commerce, said the rail service could provide the impetus to revamp the Bill Williams Ski Area and establish for Williams as a quality stop along Interstate 40.
Currently there are about 15,000 stacked railroad ties and a few train cars north of Williams as evidence of the commitment of the Railroad Resources to the plan.
A recently discharged employee is suspected in a bomb threat that sent Sheriff's deputies and Flagstaff Fire Department units to Southwest Forest Industries' mill at 825 E. Butler Ave. about 3:30 Saturday morning. An angry male voice called at that time and said a bomb had been planted in the mill's supply room. The area was cleared then security officers and fire fighters attempted to locate a bomb. None was found. Although the caller had described in some detail its location. A discharged employee is suspected, but no particular person is identified.
All events were taken from issues of the Arizona Daily Sun and its predecessors, the Coconino Weekly Sun and the Coconino Sun.