Out of more than 500 schools, Flagstaff High School was awarded the $75,000 grand prize in the Vans Custom Culture contest, a national competition that has provided more than $1 million in funding for school arts programs since it began 10 years ago.
Graphic design teacher Kayley Quick and her students, sophomores Alyssa Williams and Nicole Dougherty, who designed the winning shoes, stood on a concert stage in the FHS gym Tuesday morning as they received not only an oversized check, but also a vibrant, three-foot-tall trophy.
All the while, they faced the words "Soaring above the rest since 1923" painted on the gym wall, an appropriate representation of their success in this competition.
This year was the first year the school was able to compete; though it applied twice previously, it was not accepted into the 500 participating schools. Coconino High School also qualified for the initial 500 this year, but FHS was the only school in Arizona to proceed to the next round.
The team of three said the cheers of the more than 1,400 students who packed into the gym for the announcement was so deafening, they did not realize they had won until four cannons launched multicolored confetti into the crowd and they saw the number written on the check.
They then huddled together and cried in a mix of joy and astonishment.
In addition to the grand prize, FHS students celebrated with a barbeque – where they received "swag bags" stuffed with Vans merchandise – and a private concert by K. Flay, a singer-songwriter who was nominated for two Grammy Awards last year.
"I told my students from the beginning that we are going to shoot for the stars here. We are in this to win this and I was being a little cocky, I think, but it kind of gave them a drive, a fierceness in their eyes that I've seen since the start of this competition," Quick said.
Both Williams and Dougherty said they were shocked, honored and incredibly excited to win the award for their school.
"It's a once-in-a-lifetime thing. I'm just so happy and thankful that Vans put this on and gave us this opportunity. I'm excited everyone enjoyed themselves today. I did, too," Williams said.
"I can't describe it in words. Everybody's congratulating me. I keep saying 'hi' over and over again," Dougherty said. "I've never seen so much support from so many people all at once."
This marks the first Arizona win for Custom Culture, a competition that was designed to inspire creativity in students and promote art education. This year's runners-up were located in Kentucky, Massachusetts, Pennsylvania and Ohio.
"To Vans, it's important that this is where kids shine and express themselves. We're all about the creative expresser and freedom to draw on the canvas and show what their style is," said Kristy Van Doren, senior director of brand marketing in North America.
Van Doren is the granddaughter of Paul Van Doren, who founded the apparel company with his brother in 1966.
"[Custom Culture is] something we're very proud of and stand for and 10 years later, it's just getting more recognition for small towns. I'm so happy that Flagstaff won. It needed it," Van Doren said.
Months ago, Quick hosted an initial contest between her students to decide which two designs would be applied to pairs of white Vans shoes and sent in to the competition. Williams incorporated her heritage in her design for the "Local Flavor" theme, featuring an outline of Monument Valley and native-inspired patterns, while Dougherty adorned her pair with 20-sided dice and vibrant characters and mounted them to roller skate plates for the "Off the Wall" theme.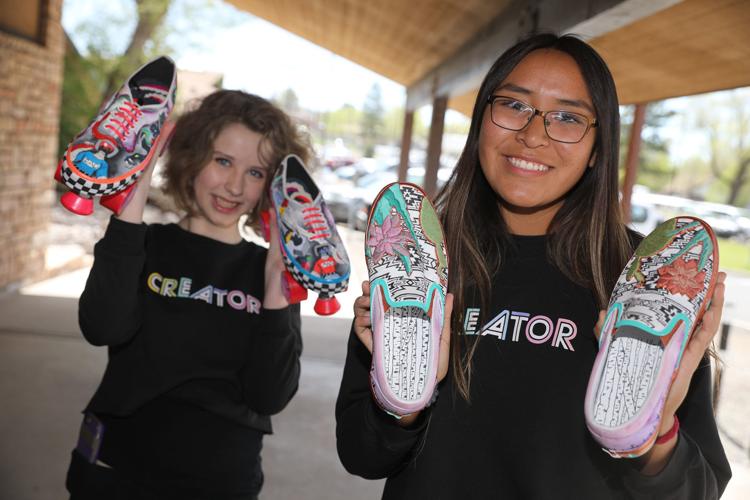 Last week, FHS students and the design team were told that each of the top five schools would receive a party; however, they did not know they had won. The stage and a barbeque area of nine Vans tents were set up by select Vans and Flagstaff Unified School District employees overnight.
"It really seems like everyone knew besides me at this point. It was a pretty good surprise," Quick said.
A decorated van boldly displaying the company's slogan, "Off the Wall," pulled up to the front of the school just after 10 a.m. to the cheers of students gathered there. The entire student body then filled the gym for the announcement and a 35-minute concert, where students danced, cheered, lifted each other into the air and waved their cell phone flashlights to the beat.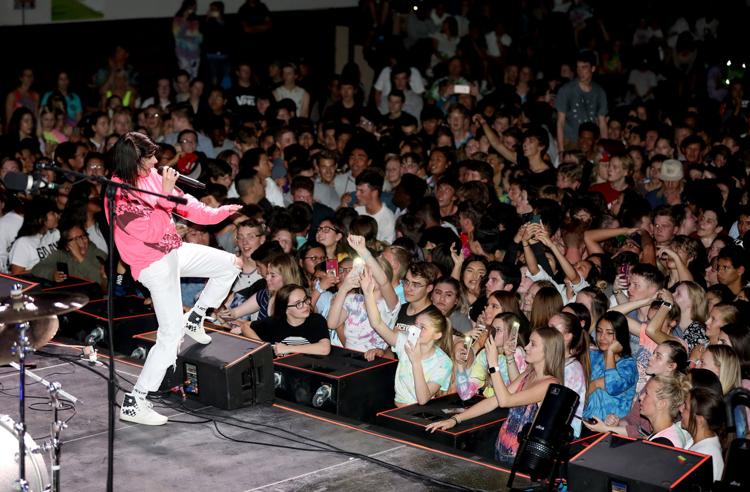 Although Kristine Flaherty (K. Flay) seemed at home as she jumped and twirled across the stage in her performance of seven songs, she said this venue was unique.
"I truly have never played for an entirely high school age audience before," she said. "It's so refreshing to see the raw energy, the unaltered energy."
GIVING THANKS
The victory was not just the result of two talented student artists, though.
Communitywide voters – beyond even family, friends and friends of friends – flooded Vans with votes for the FHS submission during the voting period that lasted from April 22 to May 3.
"I want to thank everyone who voted," Williams said. "The support they gave me and Nicole really helped us get to this next level. Without them, we wouldn't be here."
"The community stepped up in a remarkable way, in a mind-blowing, I-can't-believe-this-is-actually-happening, viral-spread kind of way," Quick said.
The team hopes to use the funds for campus renovation and beautification, as well as purchasing new art equipment.
"One thing that this competition embodies is the community. The community was behind it. It wasn't [Vans]. It was all about the community to vote for the school, the art program, to get us out here," Van Doren said.
Get local news delivered to your inbox!
Subscribe to our Daily Headlines newsletter.