The Flagstaff Eagles finished undefeated in the Grand Canyon Region after beating their crosstown rival, the Coconino Panthers, 3-1, on Senior Night in the War Memorial Gymnasium.
Dropping only one set to the Panthers, the Eagles commanded sets three and four while keeping it close in set one and dropping set two.
After dropping the second, head coach Beth Haglin's Eagles (16-1, 12-0 Grand Canyon Region) came out and answered with a dominating 25-10 performance in the regular-season finale.
"I didn't really make a big deal about losing that set," Haglin said. "I more talked about what we needed to do and … defensively just how to play. I feel like the girls responded well."
Flagstaff seniors Brooke Quick, Sofia Quintanilla, Hutton Hagerman, Jazzy Berry, Trinity Begay and Tara Brain all played, with senior middle blocker Madeline Wilson out sick.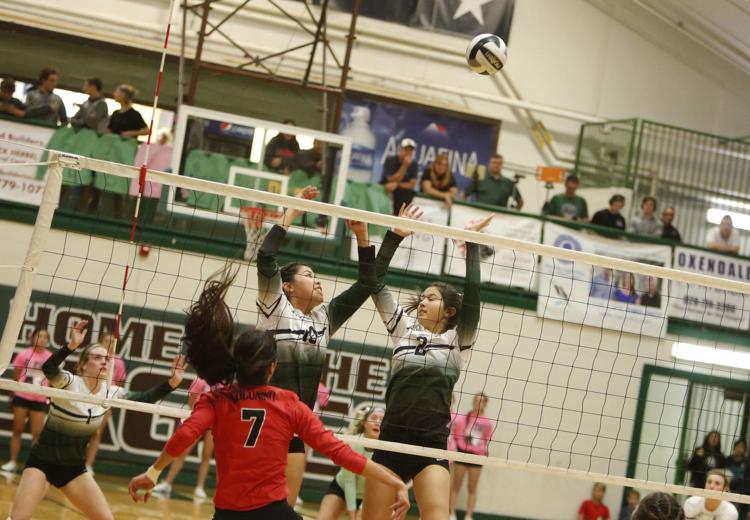 Despite missing a key player, the Eagles, ranked No. 4 in the 4A Conference entering the night, won the region.
Haglin reiterated her annual point that the rivalry match is never just about volleyball, but something more.
"It's a very emotional game. On paper one team should win, but it's emotional -- you see the crowd and everyone's playing tough," she said.
Panthers head coach Bree Davis said that her 20th-ranked team (8-9, 6-6) is a young team and that when matched up against a team like the Eagles, winning becomes a challenge.
"I think Flagstaff is a very good team and a very old team," Davis said. "Looking at our front line, we're all sophomores. I think that (Flagstaff) is very mature and that makes them hard to beat."
Hagerman had 38 digs, three aces and one kill. The senior libero said what made the win special was the fact that it was Senior Night.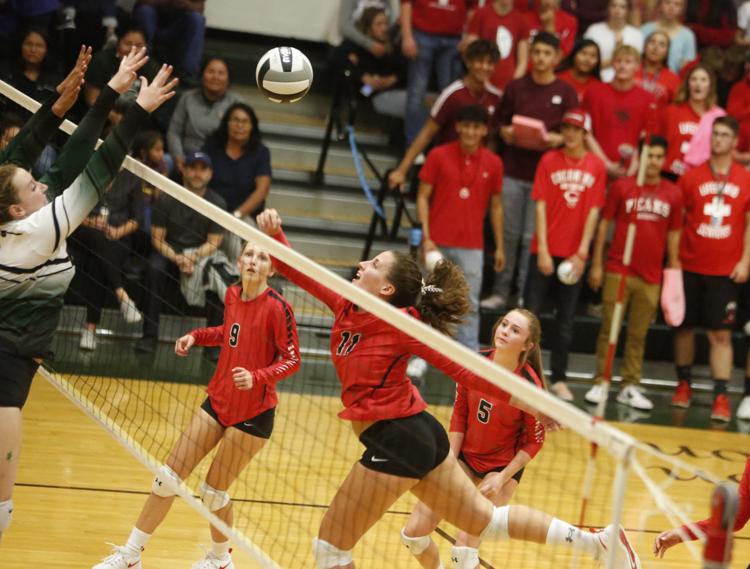 "I'm really glad that we went out with a win tonight, since it was the last game of the season," said Hagerman, whose teammates will now prepare for the postseason.
The game started as many of Flagstaff's matches do -- with an early advantage. After losing the first point to the Panthers, the Eagles came back and took an 11-3 lead before Davis called a timeout. Coconino blocking errors played a major factor in the early point deficit, with the Panthers committing four of them.
Late during the opening set, Quick took a spill and landed on her wrist and was slow to get up from the fall. She subbed out to get checked for injury, but was back in for the opening serve of the second set. Hagerman's lone kill came on set point and pushed the Eagles to a 1-0 match lead.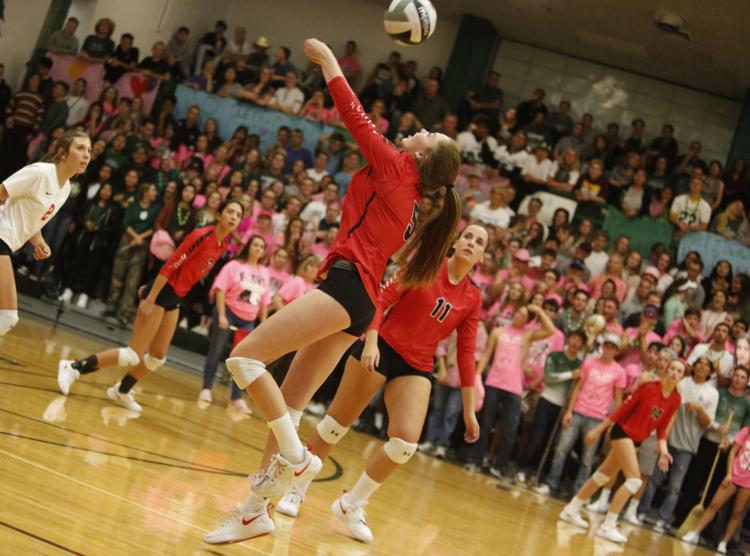 In the huddle before the second stanza, Davis gave her team a talk that fired them up and the Panthers' squad came out with intensity.
"I told them that they were better than what they were doing and that if they wanted to win, they needed to play like the team I knew they could be. And they did it," Davis said.
The set went point for point and despite Coconino's service errors, Flagstaff couldn't make up the deficit and fell 25-21. Both forced and unforced errors played a big role for Flagstaff's lackluster start and their perpetual score deficit, forcing Haglin to use both her timeouts.
The Eagles came back with a vengeance in set three and took an early 5-0 lead within a few minutes. Before long, Flagstaff extended its lead to 16 points, before letting the Panthers back in for six points.
This time around, it was Coconino's errors that cost them the match. Service errors and lack of tip defense caused the Panthers to trail more than expected early on.
Set four was more or less a repeat of set one. Flagstaff took the early lead, only to let Coconino come back and close the gap to only two points. But despite a strong attacking performance from Coconino senior Sophie Sinek, the Panthers couldn't reduce the deficit and lost the set, and the match, 25-14.
Flagstaff's serving was crucial in the win over the Panthers. Flagstaff only missed two serves on the night and had a team total of 10 aces.
Hutton said that significant portions of practice are dedicated to serve-receive and that has contributed to her strong serve game.
The 4A state tournament is slated to start next Tuesday with the higher seed hosting the first round.
Haglin is looking forward to the competition that comes with the run for a state title.
"I think all the teams are playing strong, I think in state everyone plays better than what they've been playing," Haglin said.
Hagerman shares her coach's outlook.
"I think that we've had a little bit of a rough spot the last couple matches, but I think we'll able to peak and play our best and I'm really excited," Hagerman said.
The Panthers, meanwhile, are in position to be in a play-in match on Thursday.