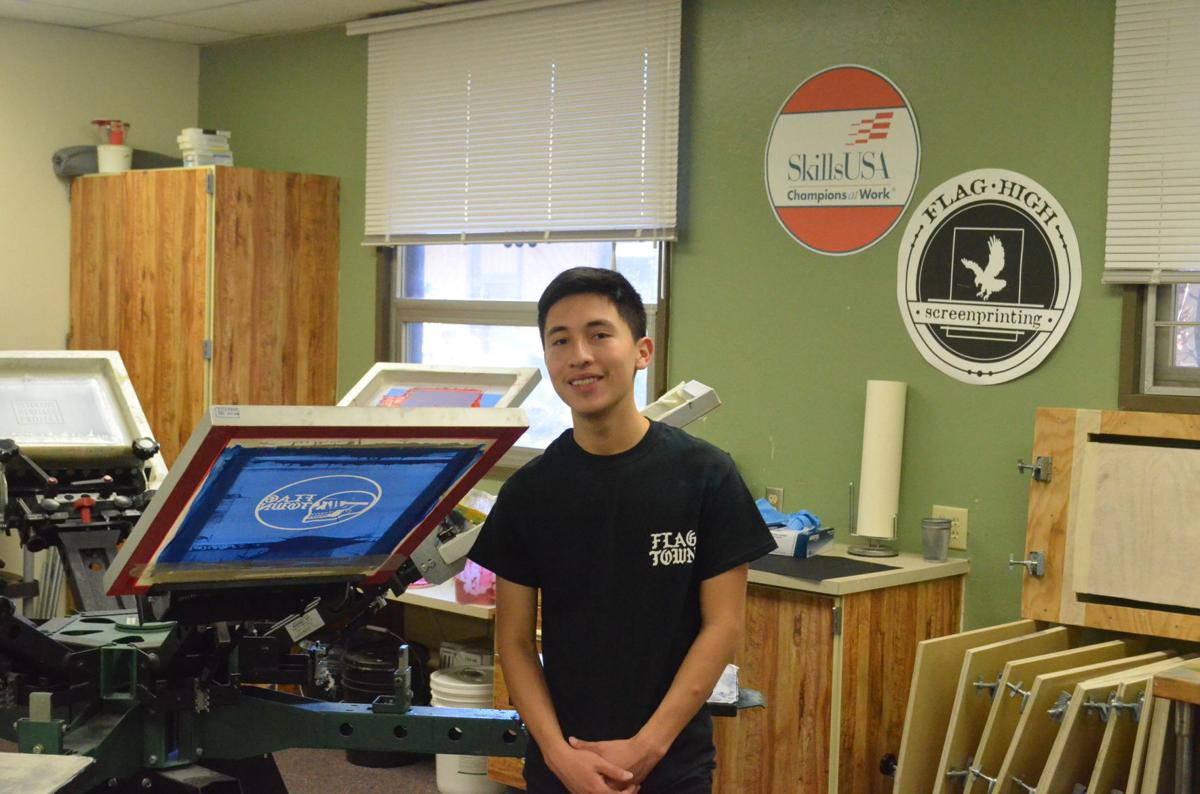 Erik Perez, a senior at Flagstaff High School, was recognized in the SGIA association's prestigious Golden Image Competition with a Gold award for his Flag Town design and screen printed t-shirt. Erik designed his shirt to represent Flagstaff in Adobe Illustrator, then went through the full screen printing process to make a professionally printed garment with his original design.
The graphic design and screen printing programs are led by instructor Kayley Quick. Instructional Assistant, Gregory Contreras, is a huge asset in helping students succeed and perfect their craft in screen printing. Graphic design and screen printing are both programs supported by CTE (Career and Technical Education) and funded by the CAVIAT CTED.
Nearly 100 companies and schools from around the world entered the competition, submitting several hundred entries in 53 product categories. Conducted during the 2018 SGIA Expo in Las Vegas, this year's event was one of the most challenging in recent history.
"The judges had a very difficult time this year, not because of the sheer volume of entries, but because of the overall quality of the work. Judges in virtually every category told me the entries were so good that choosing winners was a real challenge," said Johnny Shell, SGIA's Vice President of Technical Services.
Shell added that the Golden Image competition is judged on the technical accomplishments of each entry, excluding aesthetic issues from the evaluation and scoring process. Prints are judged on the level of difficulty and quality of execution.
"Winning the Gold for Garment Printing (dark) puts Flagstaff High School's Screen Printing Program among the top specialty printers in the world in terms of quality and capability. The ability to consistently print such high-quality products indicates that Flag High Screen Printing is an expert at controlling the many variables involved in specialty printing," Shell said.
Currently, the screen printing lab is setup with Erik's design mounted. 
Get local news delivered to your inbox!
Subscribe to our Daily Headlines newsletter.