It's not about how many times you failed or how you failed, it's your success that counts, 2018 Coconino County Teacher of the Year and Flagstaff High School graduation dedicatee Joe Cornett told more than 300 FHS graduates Friday morning.
Cornett used the example of Abraham Lincoln, who over 20 years failed to get a seat in the U.S. Senate, the U.S. House of Representatives and was turned down for the position of vice president. During those same 20 years, Lincoln also filed for bankruptcy and lost his job.
"Yet he is known as one of the greatest men in the history of the United States," Cornett said. Lincoln is known for his great statesmanship during the Civil War and freeing the slaves.
"What would have happened if he had stopped trying?" Cornett said.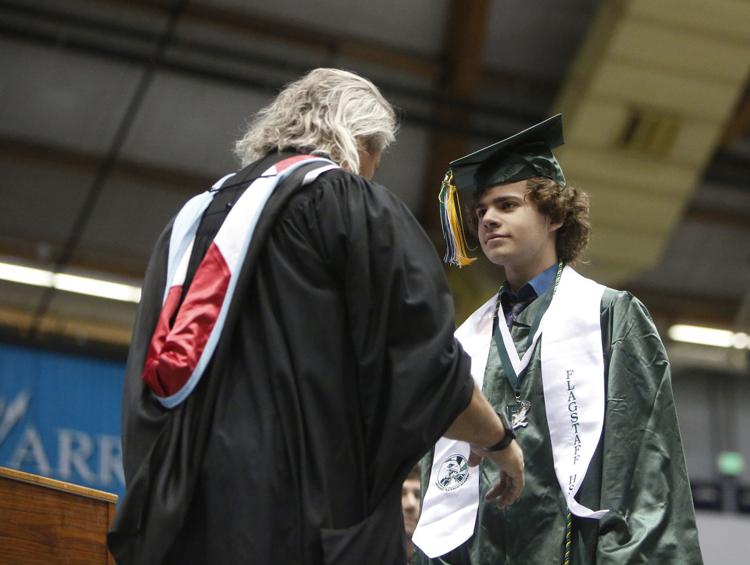 Cornett, who is also the photography teacher at FHS, reminded his students that even the greatest of photographers had to take many, many bad shots before they learned the skills to produce some of their most memorable photographs.
"You have to make a lot of bad images before you become a good photographer," he said. But that's not what people focus on when they're looking at your photos in a gallery or show. They don't ask how many bad images did you take before you got that photo, he said.
"Life doesn't work that way," Cornett said. "It doesn't matter if you ate pavement the first time you took the training wheels off your bike. What matters is that you can ride a bike."
"The next years between the ages of 18 and 30 you will have a lot of freedom," he said. "You will be making a lot of big decisions. Do whatever it is you want, as long as it's not illegal and you don't harm yourself or others. Do what you want, but own it. Own your decisions."
As a final salute to the class of 2018, Cornett cranked up the music and had the entire graduating class and the faculty and staff on the stage dancing to "Stayin' Alive," before exiting the stage for the next speaker, Student Body President Josh Vallecillo.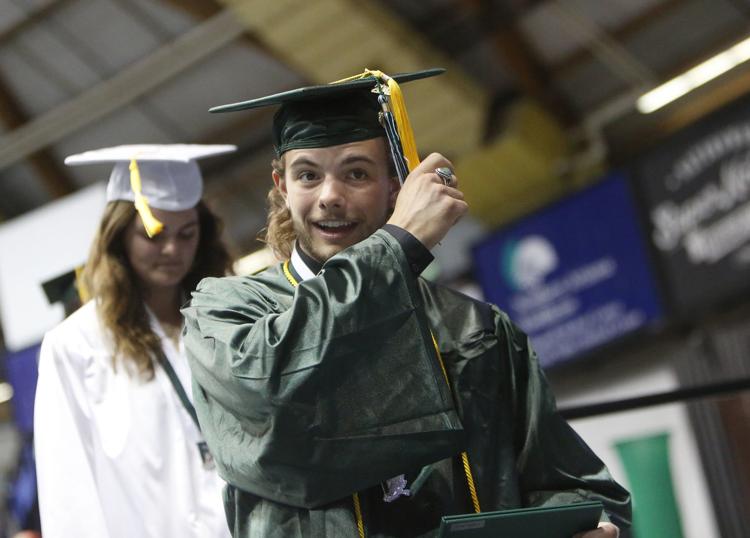 Vallecillo encouraged his classmates to remember the good and the bad times at FHS, but more importantly to remember the rough times.
"Those rough times, where you threatened to drop out and work at McDonald's for the rest of your life," he said. "By the way I worked at McDonald's. Yes, we know the ice cream machine is broken. No, we don't know how to fix it," he said to laughter from the crowd.
Freshman year was a mixed bag for him, Vallecillo said. It was a rough time. He had just left Basis. He hadn't made any friends yet at FHS and his mother had been just diagnosed with leukemia.
"I wouldn't have been able to make it through that year without my counselors, teachers, family and friends," he said. When he said that his mother was at the graduation ceremony and in remission, the crowd erupted into cheers.
"Rough times happen to us all and that's OK," he said. "Because you will have your friends and family and others there with you."
"We have used our voice in the #RedforEd movement and against guns in schools," he said. "We are the change the world has been waiting for."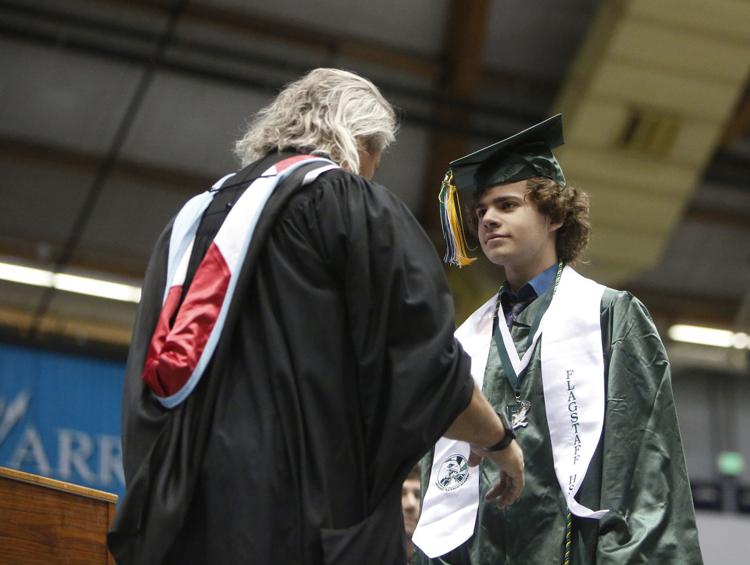 Student speaker Faith Lee reminded her classmates that "this is the start of our lives. Each of us are about to start on our own adventure. Do not face it with fear but with determination."
"Reflect on how we have grown and our friendships. Leave with your head held high and 'Oh, the places you'll go,'" she said, quoting Dr. Seuss.