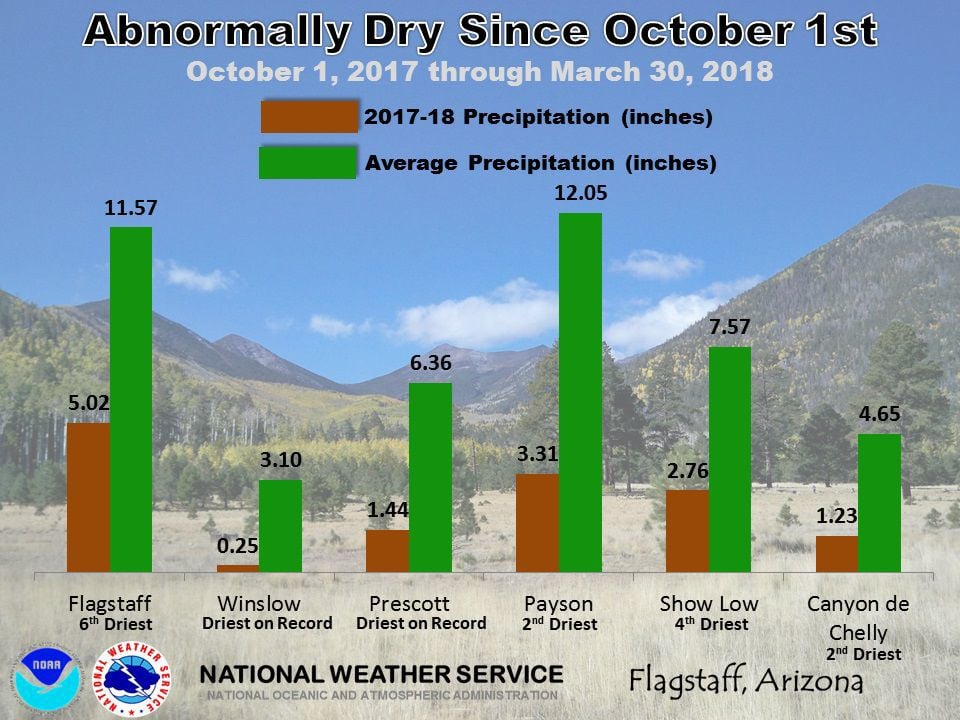 The past six months were the sixth-driest on record for Flagstaff, and forecasts for the next three months do not suggest relief is coming anytime soon.
From October 1 through March 30, Flagstaff received just over 5 inches of precipitation, less than half of the average 11.5 inches for the period.
"Even though a few precipitation events could occur over northern Arizona through June, odds are still tilted in favor of above normal temperatures and below normal precipitation through June," National Weather Service officials wrote in the 90-day forecast outlook.
Forecasts said most of northern Arizona is predicted to continue to have less than half of the normal precipitation in the next 90 days.
The period for both Winslow and Prescott was the driest on record for both cities.
September 1 through November 30 was the driest fall on record in Flagstaff dating back to 1898. During that period, the area received only 0.43 inches of precipitation.
As of March 27, the eastern portion of Coconino County was experiencing "extreme drought conditions," while the majority of the rest of the county was in "severe drought conditions," according to the National Weather Service. Drought conditions worsened for all of northern Arizona in March.
The U.S. Department of Agriculture declared 12 Arizona counties, including Coconino County, "primary natural disaster areas" due to prolonged drought. Farmers and ranchers in eligible counties can apply for assistance from the Farm Service Agency to help cover part of their actual losses due to the disaster.
All of Navajo and Apache counties were in "extreme drought conditions."
For April and May, the National Interagency Fire Center predicts near normal significant wildfire potential for northern Arizona, with some portions of northern Arizona expected to experience above normal wildfire potential in June.
The Weather Service is forecasting sunny skies Sunday with a high temperature of 65 degrees. By Tuesday, the high is forecast to reach 70 degrees.
Get local news delivered to your inbox!
Subscribe to our Daily Headlines newsletter.