For Flagstaff Eagles head coach Todd Hanley, the journey to his first gig as a head coach was a long one.
Hanley, who worked in law enforcement for over 20 years in the Valley, has coached football off and on for nearly all those years throughout Arizona, including a stop at 4A Conference powerhouse Seton Catholic.
Most recently Hanley coached at 3A Florence, where he graduated high school.
Coincidentally, Hanley does have a connection to a pair of coaches in Flagstaff, where he'll be the first-year coach for the Eagles. While working as the defensive coordinator at Phoenix College, Hanley was on staff with current Northern Arizona associate head coach Robin Pflugrad and defensive line coach Everrette Thompson.
The job at Phoenix College came after Hanley finished his six-year tenure at Seton Catholic -- leaving the job because he accepted a new position with the Casa Grande Police Department's Investigative Division.
At the time, he said, he was ready to get back into coaching at a more full-time rate. Then Phoenix College head coach Dan Cozzetto gave him just that chance.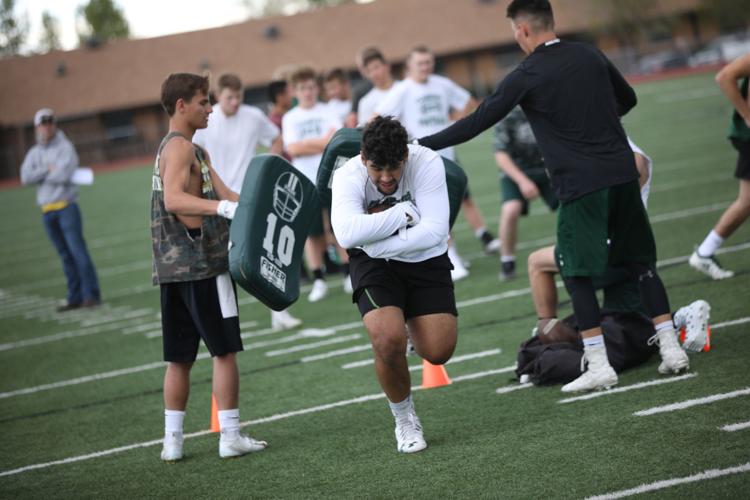 "Dan Cozzetto and Robin Pflugrad, well, I was lucky to know those guys just through growing up in the Valley and being an admirer of them and learning from them," Hanley said at the Eagles' first spring practice on a rainy and cold Wednesday afternoon. "Robin was a friend of a friend, so I just got to learn a lot from him and we got kind of close. Coach Cozzetto invited me over to call the defense over there at Phoenix College, so I took that as an opportunity as kind of a master's coaching class."
Following his time at Phoenix College, Hanley moved back home to Florence, where he spent the past few years once he saw the downward trend that swept through junior college football in the Valley.
Now, Hanley takes over a Flagstaff program that has missed the playoffs each year since 2007 and most recently went 3-7 in 2018.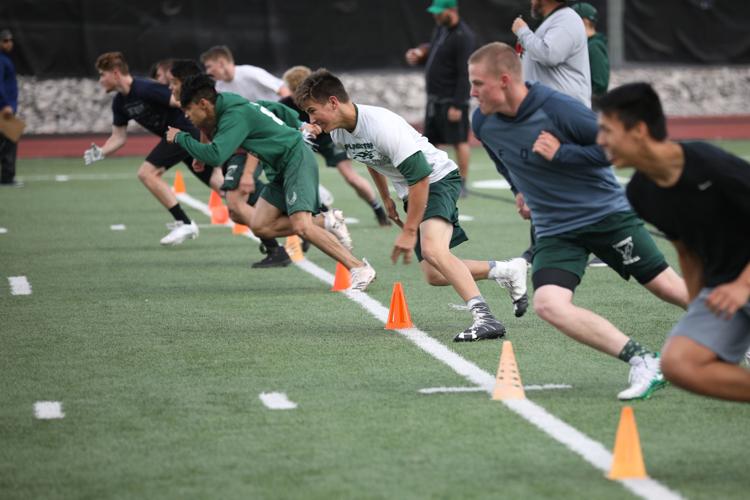 You have free articles remaining.
Register for more free articles
Stay logged in to skip the surveys
Although the team has had its recent struggles, Hanley saw some bright spots even while he was coaching over at Florence while his Gophers played in the Walkup Skydome in an early season game.
"While at Florence, we played up here in that classic and we walked past them and I thought they looked good," Hanley said. "I saw their record and I thought they could be better than what it showed. I really didn't think more of it until a buddy called me and told me the Flagstaff job opened."
Hanley said he knew the job was the right fit for him and his family, adding that it is nice considering that his daughter is attending Coconino Community College next year.
Hanley inherits a strong and dynamic running game.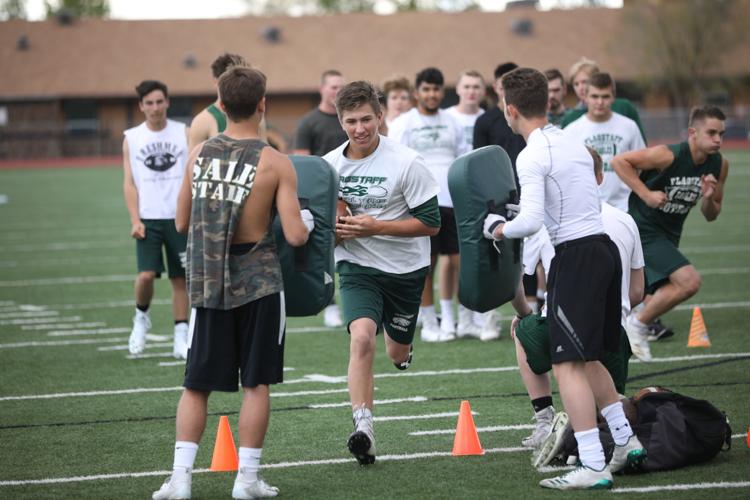 The Eagles are set to bring back possibly one of the best running backs in the Grand Canyon Region in Luis Jaramillo. As a sophomore last season, Jaramillo ran for 1,135 yards on 125 carries and found the end zone 17 times on the ground -- all team highs by a long shot. He also led the Eagles with 15 receptions for 271 yards and a pair of touchdowns.
The big question for Eagles is who will be handing the ball off to Jaramillo. With last season's starting quarterback Henry Tagle graduated, the job seems to be wide open between a pair of seniors and a junior.
Only one of the three has seen any playing time, as Joe Weidinger filled in last season while Tagle missed time due to concussions. Weidinger struggled in his limited time, completing 25 of 47 passes for 295 yards while throwing zero touchdowns and one interception.
"We got three quarterbacks -- two seniors and a junior -- and I'm excited to see that competition," Hanley said. "I love it. ... It's early and I'm really excited with the tons of potential this team has."
With the majority of last season's coaching staff still intact and players buying in early, the new head coach is happy with how the team has reacted so far in the spring even though he admitted he really doesn't know most of his players personally, yet.
"I'm really proud of these kids early on, I mean, I hardly know them and they are showing up and working," Hanley said.